Along with the many catnip benefits for humans, cats are especially attracted by the aroma of this plant, and perhaps they also use catnip as a medicinal herb. Catnip tea benefits resemble peppermint, although not as aromatic. Catnip has been passed over in recent times. However, it has interesting properties.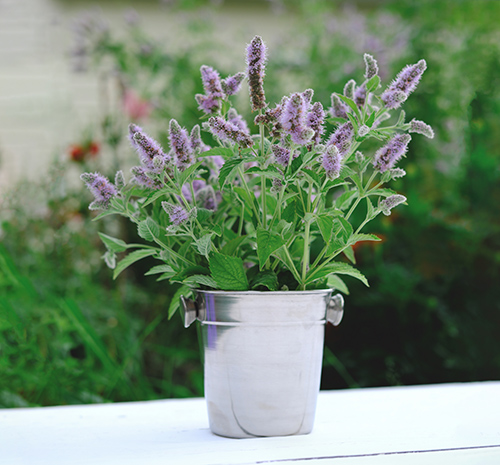 Catnip Scientific Facts
Scientific Name: Nepeta cataria L.
Other Names: Catmint, catnip, catswort, field balm.
French: Cataire, herbe aux chats.
Spanish: Nébeda, menta de gatos.
Environment: Rocky, unfarmed soils of Europe and North America.
Description: Vivacious plant of the Labiatae family, growing from 20 to 60 cm high, with pink or yellowish flowers (unlike balm). The whole plant gives off a typical peppermint scent.
Parts of the plant used medicinally: The leaves and the flower clusters.
Catnip Benefits
The whole plant contains an essence rich in carvacrol, thymol, lactone, and nepetalic acid. It has antispasmodic, antidiarrheic, carminative (eliminates intestinal gas), and pectoral properties. It is mainly used to alleviate diarrhea and its colic pain and antiflatulent and pectoral, in the case of bronchial catarrh.
Catnip is an excellent remedy for children and infants with stomach cramps, nervousness, or gas problems. This plant is a children's herb, but it also benefits adults. It is well known for its mild and soothing effect on the nervous system and for reducing tension. Catnip helps treat diarrhea, chronic bronchitis, mumps, and painful swellings. This plant can be utilized as an enema to eliminate and expel worms. Headaches caused by indigestion can be treated by drinking tea.
Herbalists typically recommend a catnip enema to gently tone and restore the bowels. When combined in tea with lemon balm, spearmint, and chamomile, it is a fantastic healing and calming beverage for children and a remedy for insomnia.
The plant is also recommended for urine retention, smallpox, mumps, morning sickness, insomnia, hysteria, headaches, diarrhea, gas, fevers, dizziness, bronchitis, and colds. It hastily reduces fevers whenever taken as a tea enema. It also helps stimulate the appetite. Use the herb as a fomentation for painful swellings and mumps.
How to use Catnip
Infusion – Steep for five to fifteen minutes. Take one ounce to one cup as needed (do not boil the herb). Tincture – Take ½ to one teaspoon as needed. Fluid Extract – Take ¼ to one teaspoon as needed. Powder – Take five to ten #0 capsules (30 to 60 grains) daily.
REFERENCES
George D. Pamplona-Roger, M.D. "Encyclopedia of Medicinal Plants." George D. Pamplona-Roger, M.D. Encyclopedia of Medicinal Plants. Ed. Francesc X. Gelabert. Vols. 1 San Fernando de Henares: Editorial Safeliz, 2000. 367. Print.[catnip benefits]
Vance Ferrell Harold M. Cherne, M.D. The Natural Remedies Encyclopedia [Book]. – Altamont, TN: Harvestime Books, 2010. – Vol. Seventh Edition: 7: pp. 149, 150.
Last update on 2023-12-03 / Affiliate links / Images from Amazon Product Advertising API