When most people mention herbal teas, we can all agree that German chamomile is one of the first that comes to mind. We could also say that chamomile tea is the best of the best.
Plant Therapy Organic German Chamomile Essential Oil 2.5 mL (1/12 oz) 100% Pure,…
100% PURE USDA ORGANIC CHAMOMILE GERMAN ESSENTIAL OIL: Chamomile German Organic is steam distilled from the flowers of the Chamomile plant to produce a high-quality essential oil with absolutely no additives or fillers. Stored in an amber glass bottle to protect the oils from sunlight. Also includes a top sticker and European dropper cap.
EASE ACHY MUSCLES FROM OVER-EXERTION AND SORE JOINTS DUE TO THE NATURAL AGING PROCESS: To ease achy muscles and joints associated with aging or normal wear and tear, add 2 drops of Chamomile German Organic, Chamomile Roman Organic, and Peppermint Organic to 1 tablespoon of your favorite Plant Therapy carrier oil and gently massage on the problem areas.
HIGH QUALITY AT AN AFFORDABLE PRICE: Plant Therapy is renowned in the essential oil industry for our strict standards of quality and use the finest sources and processes in creating our top-quality essential oils.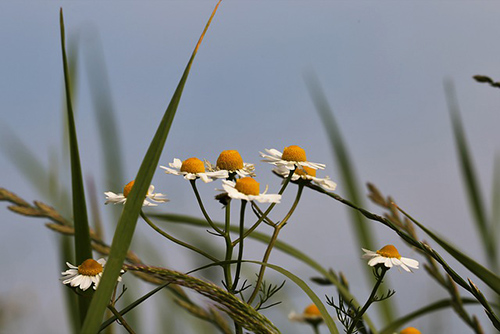 Healing Properties of German Chamomile
Chamomile's most crucial active component is its essence, whose main components are chamazulene (with anti-inflammatory properties) and bisabolol (with sedative properties). It also contains coumaric and flavonic substances and a stimulating bitter principle. The plant has many properties which have been proven by scientific research, such as: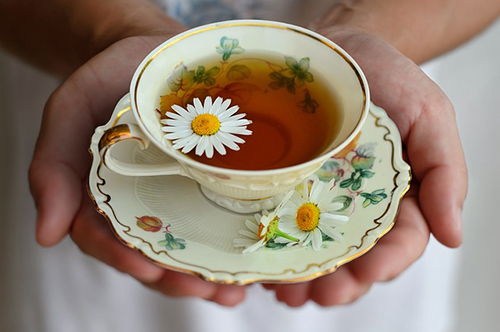 Sedative and antispasmodic. It is helpful for stomach and intestinal spasms caused by nervousness or anxiety. It is also used in any colic-related issues, especially in the liver and kidneys, because of its relaxing and sedative properties.
Carminative and intestinal invigorating. Although it may seem to be an inconsistency, chamomile also stimulates the movements of the digestive tract. It is thus recommended for post-operative patients and those who suffer from an excess of gas, which chamomile helps expel because of its carminative properties. The action of German chamomile is that of regulating and balancing the functions of the intestine.
Eupeptic. An infusion of chamomile is recommended for a bloated or upset stomach. It alleviates nausea and vomiting and softly stimulates the appetite. All sour chamomile species have a more decisive eupeptic action.
Emmenagogue. This plant stimulates menstrual functions, normalizing its amount and regularity and alleviating menstrual aches. The Greek physician, pharmacologist, botanist, and author Pedanius Dioscorides called it Matricaria, from the Latin word matrix (womb).
Febrifuge and sudorific. It raises the temperature and promotes sweating, so it is recommended for fever, especially in children.
Analgesic. Chamomile eases headaches and some cases of neuralgia.
Antiallergic. Some calming properties of German chamomile on allergic reactions, such as asthma, allergic rhinitis, and conjunctivitis, have been proven. It is recommended for healing acute allergic crises and being an ongoing treatment to prevent them. The best results are obtained when combining internal applications (herbal teas) with external ones (eye drops, nose irrigations).
Healing agent, emollient, and antiseptic. In external applications, chamomile renders good results for washing any wound, sore, and skin infection. Chamazulene has been proven to be effective against hemolytic streptococcus, golden staphylococcus, and proteus. A German Chamomile infusion is an adequate eye drop for eye bathing in the case of conjunctivitis or eye irritation. It is also used as an anti-inflammatory, applied in compresses on eczema, rashes, and other skin afflictions. Anal cleansing with an infusion of chamomile reduces the inflammation of hemorrhoids.
Antirheumatic. German Chamomile oil is used to massage lumbago, stiff neck, bruises, and rheumatic aches.
Chamomile is an excellent herbal remedy for nervousness and insomnia. It increases appetite and helps people with weak stomachs. It lessens inflammation and aids with sleep and digestion. Six ounces of chamomile infusion or one to two teaspoons of the tincture at a time is beneficial in treating bladder, spleen, kidney, or menstrual cramps. The herb also acts as a nerve tonic and diuretic and is helpful for anxiety, indigestion, and stress.
Chamomile is a safe remedy for children with nervous disorders, indigestion, and colds. It can help relieve menstrual cycle cramps and hasten the coming of the period. It is also used as a relaxing anodyne bath additive and antispasmodic. Additionally, the plant can treat swellings, measles, kidney problems, jaundice, hysteria, gas, and dizziness. This herb is also suitable for rashes, rheumatic pains, and lumbago.
Chamomile is also used as a mouthwash for minor gum and mouth infections. The herbal tea is a good wash for open sores and sore eyes. Use it as a compress or wash for inflammations and skin problems, primarily for swelling of the mucus membranes. It can temporarily relieve toothaches by keeping a mouthful for a time. Utilize it as a sitz bath to help in hemorrhoids or a hand or foot bath for sweaty hands or feet.
For wounds and hemorrhoids, the flowers can be made into an ointment. Children with asthma or cold symptoms can benefit from a vapor bath of the tea. Also, a fomentation can be used for swellings, gas, and cramps.
Note: Do not confuse this German chamomile (Matricaria chamomilla) with Roman chamomile (Anthemis nobilis), which is used less but is also an excellent medicinal herb. Roman chamomile is quite different in its applications and properties; however, it is also sometimes called chamomile.
In Germany, the plant's name means "capable of anything." The dried flowers make a well-known tea, used medicinally for arthritis, cramps, flu, fevers, colds, headaches, sciatica, gout, indigestion, insomnia, diarrhea, and colic. The essential oil is anti-allergenic, anodyne, antibacterial, and antifungal. The oil contains two dozen anti-inflammatory compounds that combine to reduce inflammation, fevers, etc.
All over the world, chamomile is used for inflammation of the respiratory tract and inflammation or spasms of the gastrointestinal tract. In addition, the plant can also treat inflammatory conditions of the mouth and gums and bacterial-induced skin diseases.
Warning: This herb should not be used continuously for an extended period because it can lead to a ragweed allergy or constipation. People allergic to ragweed should avoid or use chamomile with caution (same family). Please do not use it with alcohol or sedatives.
Other uses of Chamomile
Against insects. Little bags of chamomile in the wardrobe make moths and other insects go away.
Relaxing. When adding a chamomile infusion to bathwater.
Hair cosmetic. Brown or blonde hair, when washed with a chamomile infusion, becomes brighter and more beautiful.
German Chamomile Scientific Facts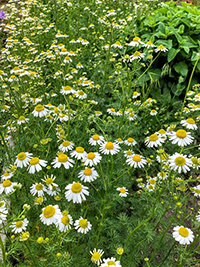 Scientific name: Matricaria chamomilla
French: Camomille.
Spanish: Manzanilla.
Environment: Common in grasslands, unfarmed soils, and roadsides all over Europe, and warm regions.
Description: Herbaceous plant of the Compositae family, which grows from 20 to 50 cm high, with very branched stem, and daisy-like flowers which gather in flower heads of about two centimeters in diameter. It has a characteristic aroma and sour flavor.
Parts of the plant used medicinally: The flower heads.
How to use Chamomile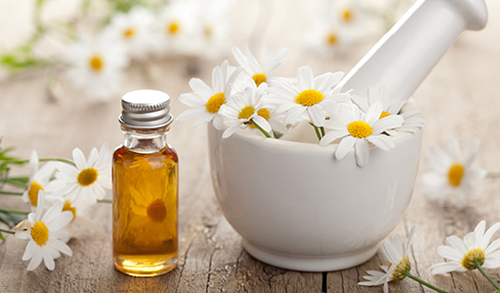 Infusion
Eye, nose, or anal washing, with a slightly more concentrated infusion (up to 50 g of flower heads per liter of water). Steep for 15-20 minutes, and strain well before using.
Baths. Add to the water of a bathtub from two to four liters of concentrated infusion. These lukewarm baths have a strong relaxing and soothing effect.
Compresses with the abovementioned concentrated infusion, applied on the affected skin area.
Friction with camomile oil. Prepare the German chamomile oil by heating for three hours in a double boiler 100 g of flower heads in half a liter of olive oil. Strain the mixture and keep it in a bottle.
Infusion: Steep for ten to thirty minutes. (do not boil flowers). Take six ounces two to three times daily. Tincture: Take thirty to sixty drops three times daily. Fluid Extract: Take ½ to one teaspoon three times daily. Powder: Take five to ten #0 capsules (30 to 60 grains) three times daily.
REFERENCES
George D. Pamplona-Roger, M.D. "Encyclopedia of Medicinal Plants." George D. Pamplona-Roger, M.D. Encyclopedia of Medicinal Plants. Ed. Francesc X. Gelabert. Vols. 1 San Fernando de Henares: Editorial Safeliz, 2000. 364, 365. Print.
Vance Ferrell Harold M. Cherne, M.D. The Natural Remedies Encyclopedia [Book]. – Altamont, TN: Harvestime Books, 2010. – Vol. Seventh Edition: 7: pp. 151.
Last update on 2023-12-02 / Affiliate links / Images from Amazon Product Advertising API