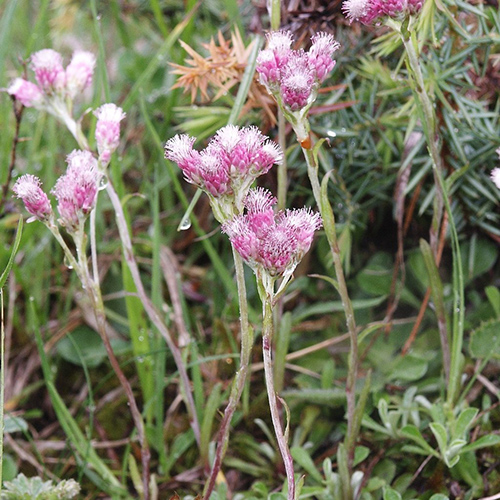 The cats foot plant evokes the smoothness of cats. Its flowers resemble the pad which covers the claws of such felines. It has been used from the 18th century onwards. For some time, the plant was supposed to have anticancerous and tuberculosis healing properties, which could not be proven.
Healing Properties and Indications
The whole plant, and especially its female flower clusters, contains mucilage, to which it owes its bechic (alleviates the irritation of the throat), expectorant, and anti-inflammatory actions on the respiratory passages. In its composition, we will also find flavonoids, to which its cholagogue properties are due (the plant promotes the emptying of the gall bladder).
Its main application is for respiratory afflictions (easing the irritation of the throat and the itching), dry cough, and bronchial catarrh (by liquefying the mucus and promoting expectoration). An ideal way is to combine the internal use (infusion) with the external use (gargle).
It can also be used in biliary dyskinesia (atony of the gall bladder), in combination with other plants with active action on the bile duct.
Cats Foot Plant Scientific Facts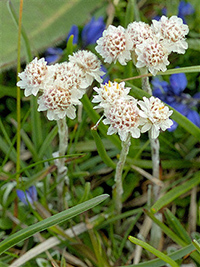 Other names: Mountain everlasting
French: Pied de chat.
Spanish: Pie de gato
Environment: Common to mountain meadows throughout Europe, the plant is also found on the Pacific North American Coast.
Description: Dioicous vivacious plant of the Compositae family, growing from five to 20 cm high, with hairy leaves, white in their underside, and forming a basal rose. The masculine flower clusters are white, while the female flower clusters are pink.
Parts of the plant used medicinally: The female flower clusters (pink colored) when dried.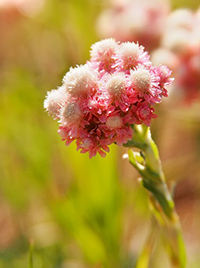 How to use Cats Foot
Infusion with 30-40 g of dry female flower clusters per liter of water, drinking three or four cups daily, sweetened with honey.
Gargles, from five to ten minutes, three times a day, with the same infusion employed for internal use and not swallowing the liquid.
REFERENCES
George D. Pamplona-Roger, M.D. "Encyclopedia of Medicinal Plants." George D. Pamplona-Roger, M.D. Encyclopedia of Medicinal Plants. Ed. Francesc X. Gelabert. Vols. 1 San Fernando de Henares: Editorial Safeliz, 2000. 297. Print. [cats foot plant]