The fraxinella plant is beautiful and fragrant. Andrea Mattioli, the most outstanding translator of Dioscorides, said regarding fraxinella. "This fact proves that nature has bestowed excellent virtues on it." The reason this Renaissance physician gave is interesting. It is beautiful; therefore, it is good. Therefore, many baseless virtues were allegedly attributed to fraxinella until the 20th century. Its valid properties are currently well-known.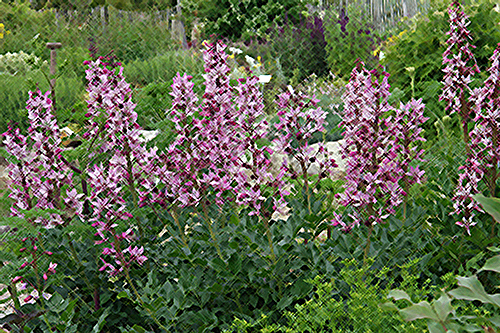 Fraxinella Scientific Facts
Scientific Name – Dictamnus albus L.
Other Names – Bastard dittany, burning bush, dittany, false dittany, gas plant, diptam.
French – Dictamme.
Spanish – Díctamo.
Environment – The plant grows wild in southern and Central Europe, though it is not very common. It is cultivated as an ornamental plant in gardens and parks and as a medicinal herb.
Description – Vivacious plant of the Rutaceae family, growing from 50 to 70 cm high, with leaves resembling those of a bird's tongue and large, aromatic, white or pink flowers.
Parts of the plant used medicinally – The leaves and the root's bark.
Fraxinella Plant Benefits
The plant contains an essential oil rich in anetol and estragol, bitter components and choline, and dittammine, an alkaloid that acts on the uterus. Fraxinella has emmenagogue, digestive, antispasmodic, vermifuge, stimulating, and diuretic properties. It is a general stimulating substance for the body. It is an ingredient in many medicinal herb concoctions because of its fine aroma.
Warning
The Fraxinella plant can cause miscarriage and uterine bleeding when administered in high doses. Contraindicated for pregnant women.
Royal Dittany
A variety of this plant that grows in America is royal dittany (Dictamnus fraxinella L.), very similar to the European type and with the same medicinal properties. Both species are frequently called fraxinella. There is no risk of mistaking them.
How to use Fraxinella
Infusion with a teaspoonful (5 grams) of fresh leaves or a tablespoonful of dry leaves per cup of water. Some grams of ground bark can be added to the infusion. Drink up to two cups a day.
REFERENCES
George D. Pamplona-Roger, M.D. "Encyclopedia of Medicinal Plants." George D. Pamplona-Roger, M.D. Encyclopedia of Medicinal Plants. Ed. Francesc X. Gelabert. Vols. 1 San Fernando de Henares: Editorial Safeliz, 2000. 358. Print.[fraxinella plant]
Last update on 2023-10-01 / Affiliate links / Images from Amazon Product Advertising API