Winter savory is a genuinely sensual plant. Its intense aroma seems to prove it. It is not strange, thus, that for ages, its seasoning and aphrodisiac virtues were known. It is said that ancient Greeks dedicated this plant to the god Dionysus, called Bacchus by the Romans, in whose honor many orgiastic festivals were celebrated. Winter savory encourages digestion and promotes vital functions. The Middle Age monks were not allowed to cultivate this plant in their gardens. In Mediterranean areas, especially in Andalusia, one of the typical dishes is olives seasoned with winter savory.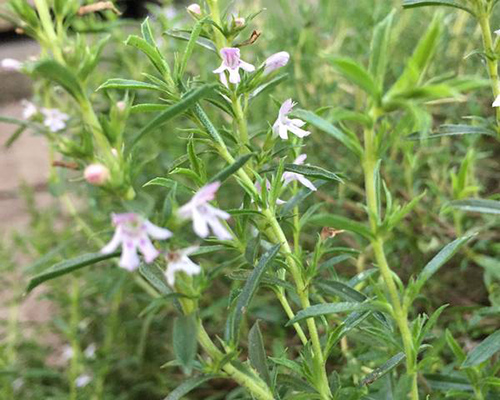 Healing Properties and Indications
Winter savory contains up to one percent of an essential oil rich in carvacrol and cymol, which gives the plant stimulant, carminative, antispasmodic, vermifuge, diuretic, and pectoral properties. The oil also contains tannin and polyphenolic substances.
The plant also features appetizer properties and serves to ease digestion. Moreover, its carminative properties are interesting. According to Font Quer, the outstanding Spanish pharmacist and botanist, winter savory "fights the winds of the stomach and intestine." There's nothing better than winter savory to-season dishes. Besides, it relaxes the intestine muscles (antispasmodic properties), thus beneficial for abdominal spasms and diarrhea. It is recommended for people suffering from gastritis, and it also presents some vermifuge properties.
For the nervous system, it offers mild stimulating properties, being thus recommended for chronic fatigue, weakness, low blood pressure, and asthenia. Of course, the use of this plant must be accompanied by other natural treatments within the frame of a reinvigorating cure.
Its aphrodisiac properties are not overwhelming and dramatic but discrete and progressive. When a more vigorous action is wanted, winter savory should be combined with other plants.
It is mildly diuretic and depurative and is thus recommended for people suffering from obesity, arthritis, and gout.
It has balsamic and expectorant properties because of the essential oil it contains. Winter savory is thus helpful for acute and chronic bronchitis, as well as asthma.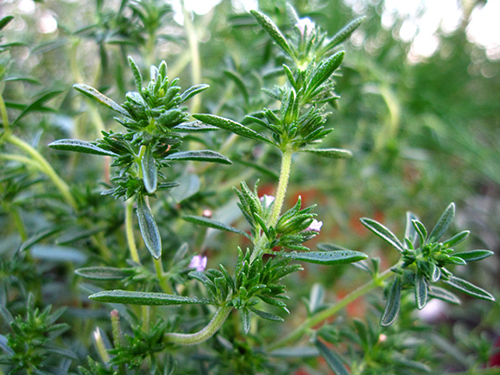 Summer Savory
There are several savory species, all of them similar in regards to their composition and properties. One of them is summer savory, which is sometimes called oregano and marjoram. Besides its medicinal properties, summer savory is cultivated because of its leaves, which serve as seasoning. The essence is also a valued seasoning.
White savory grows in Catalonia, Spain. In Mediterranean Spanish nations, you will find fine or tiny savory.
Winter Savory Recipes
Winter savory recipes include stews, which can be used both fresh and dry, and even ground utilizing a pepper mill. Its essence is also used as a seasoning.
As a seasoning for raw olives, this recipe has a long tradition in southern Spanish villages. Olives are put in water for some days, changing the water until it is clear, and the olives lose their sour flavor. Then, put the olives in water and add savory (a handful per liter), salt, garlic, and orange rind (in the case of black olives), or lemon rind (in the case of green olives). Satisfaction is guaranteed.
Winter Savory Scientific Facts
French: Sariette.
Spanish: Ajedrea.
Environment: Though native to the Mediterranean areas of Europe, at present, this plant is widespread in warm regions all over Europe and America. It resists dry, sunny climates better.
Description: Shrub, growing up to 25-30 cm high, of the Labiatae family. Winter savory calls attention because of its aroma in any place. It has delicate, small, point-tipped leaves with small holes in which the essence-producing glands are housed. The flowers are small, pink or white, and divided into two lips.
Parts of the plant used medicinally: leaves, flowers, and stems.
How to use Winter Savory
Infusion with 20 g of plant per liter of water. Drink up to three or four cups daily.
Essence. The recommended dose is from three to five drops after every meal.
REFERENCES
George D. Pamplona-Roger, M.D. "Encyclopedia of Medicinal Plants." George D. Pamplona-Roger, M.D. Encyclopedia of Medicinal Plants. Ed. Francesc X. Gelabert. Vols. 1 San Fernando de Henares: Editorial Safeliz, 2000. 374, 375. Print.
Last update on 2023-09-30 / Affiliate links / Images from Amazon Product Advertising API