The benefits of rosemary go far beyond its aromatic qualities; this herb is beneficial. It is not easy to go to the countryside in Mediterranean countries without finding this noble shrub. It gives us its evergreen leaves in winter and spring and summer, its cool fragrance.
Supreme Nutrition Rosemary Supreme, 120 Pure Rosemary Vegetarian Capsules
ROSEMARY SUPREME – 100% Pure Rosemary Leaf (Rosmarinus officinalis).
PURE HERB – Like all Supreme Nutrition products, there are no fillers, binders, flow agents, or other substances added in the encapsulation process.
LABORATORY TESTED – Raw materials pass both laboratory and clinical evaluations.
cGMP STANDARDS – Supreme Nutrition goes above and beyond Current Good Manufacturing Practice standards.
100% SATISFACTION GUARANTEE – This product is backed by a 30-day 100% Satisfaction Guarantee.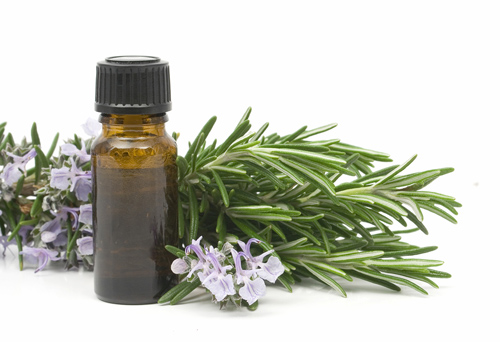 We can even see some bees sipping the nectar from its small flowers so that the exquisite rosemary honey will be produced. The benefits of rosemary oil have been known for centuries. Egyptian Pharaohs reportedly ordered a rosemary bouquet put on their tombs to perfume their journey to the afterlife.
In the fourteenth century, Queen Elizabeth of Hungary, who suffered from rheumatism, was cured by this plant and even recovered her youth to the point that, at age 72, she was proposed to by the king of Poland. Since then, "water of the Hungarian Queen" has been a reference point and one of the many rosemary names.
Another famous woman also suffered from rheumatism; Madame de Sevigne even wrote that she was madly in love with the benefits of rosemary, which to her became "alleviation for all sorrow."
Rosemary Scientific Facts
French: Romarin
Spanish: Romero
Habitat: Native to the dry, hot regions of southern Europe, it grows on calcareous soils near bushes.
Description: Woody shrub of the Labiatae family, growing up to one meter high, with narrow, elongated leaves, dark green on their upper sides, and covered with a layer of fine silver hairs on their undersides. Its flowers are small, blue, or light violet. The whole plant has a pleasant camphor aroma.
Parts of the plant used: The leaves and the flower clusters.
Preparation and Dosage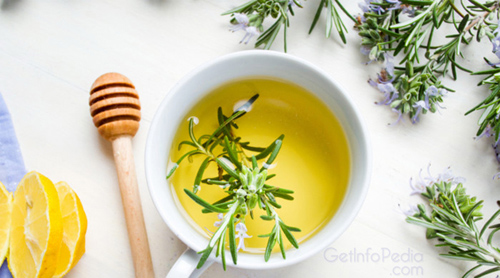 Infusion of decoction with 20-40 g of leaves or flower clusters per liter of water. Drink up to two or three cups of rosemary tea daily.
Essence: The recommended dose is 3-4 drops, three times a day.
Baths and cleaning with a concentrated infusion or decoction made with 80-100 g per liter of water. Steep for 20 minutes and strain. This decoction can be applied directly on the inflamed area or poured in the bathtub's water for a refreshing bath.
Gargles: With the concentrated infusion.
Massage with rosemary alcohol: See the method to prepare it below.
Frictions with rosemary essence: Dissolved into alcohol or oil, in a proportion of 2-5 ml per 100 ml.
Fomentations and hot compresses: Soaked into the concentrated infusion or hot water, to which 15-20 drops of essence per each liter have been added.
No products found.
Benefits of Rosemary
Rosemary contains an essence with terpenic derivatives, to which the plant owes most of its medicinal properties, phenolic acids with diuretic properties, and flavonoids with antispasmodic action. Its properties are as follows:
Invigorating
The herb's most significant effect. Convalescent people and those suffering from exhaustion, depression, and aged people will find infusions such as rosemary-infused water beneficial and stimulating, which will bring them back to their lost vitality, as they did to the Queen of Hungary. Baths with an infusion or decoction, and massage with alcohol or essence of rosemary, have a significant stimulant effect for low blood pressure or physical exhaustion.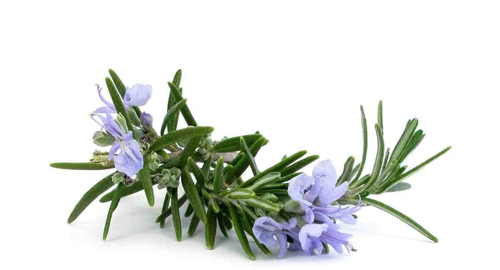 Diuretic and Antispasmodic.
It is recommended for sufferers of renal colic when the expulsion of calculi is required.
Digestive
Its cholagogue properties (stimulant of the bile secretion) and its hepatic protective and regenerative, and carminative (eliminates intestinal gas) properties make rosemary effective at easing digestion when ingested after meals. However, perhaps its external applications better highlight the benefits of rosemary, which is widely known due to its incredible effectiveness.
Vulnerary and Antirheumatic
The many benefits of rosemary also include strong anti-inflammatory properties, which make it an ideal plant to perform massages on sprains, edema, muscular and rheumatic aches. It is applied as massages (with rosemary alcohol or essence), fomentations, or hot compresses. The latter effectively relax the back's muscles and ease pains in the cervical, back, or lumbar areas.
Healing and Antiseptic
Rosemary stimulates wounds, skin ulcerations, and eczema healing, making rosemary oil benefits for skin conditions something to write home about. Also, when applied as gargles, it heals mouth sores.
How to prepare rosemary alcohol
To prepare rosemary alcohol, mash a handful of green rosemary leaves in a bowl. Once mashed, put them into a hermetic bottle with 100-150 ml of ethyl alcohol, steep for three days, and strain. Apply it in the form of a massage on the painful area, with the help of a cotton cloth.
REFERENCES
George D. Pamplona-Roger, M.D. "Encyclopedia of Medicinal Plants." George D. Pamplona-Roger, M.D. Encyclopedia of Medicinal Plants. Ed. Francesc X. Gelabert. vols. 2 San Fernando de Henares: Editorial Safeliz, 2000. 674, 675. Print. [benefits of rosemary]
Last update on 2023-12-01 / Affiliate links / Images from Amazon Product Advertising API