The high mallow plant symbolizes sweetness and calmness that was already known by the Greeks more than 2000 years ago. Hippocrates recommended it as an emollient and laxative herb, two properties that have been proven and are still used.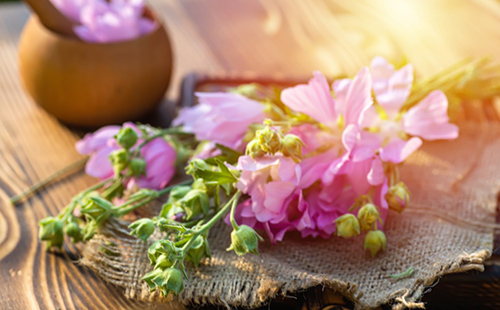 High Mallow Scientific Facts
Scientific Name – Malva silvestris L.
Other Names – Mallow, cheeseflower, common mallow, country mallow.
French – Mauve, fromageon.
Spanish – Malva, malva real.
Environment – Common along roadsides and in wet fields all over Europe. Naturalized to America, especially to the United States and Mexico.
Description – Biennial plant of the Mauvaceae family, growing from 20 to 70 cm high, with bright purple flowers with five petals.
Parts of the plant used medicinally – The flowers and leaves.
Common Mallow Healing Properties
The entire plant, and especially its flowers and leaves, contain a high amount of mucilage. The flowers have a coloring hydrosoluble substance of the anthocyanin type.
Mucilage gives this plant emollient and laxative properties. It covers the mucosa with a dense layer, thus protecting the membranes from irritative agents. The use of high mallow is recommended in the following cases:
Chronic constipation – It acts as a non-aggressive laxative, even when taken in large doses, which lubricates the intestinal tract. It is particularly recommended for children and older people.
Respiratory afflictions – It has antitussive and expectorant properties, thus being prescribed for colds, influenza, bronchitis, irritative or dry cough, and asthma.
Afflictions of the skin and the mucosa – When applied locally, it helps heal pharyngitis, vaginitis, anal and rectal inflammation, eczema, acne, furuncles, and as a rule, all superficial irritation.
How to use High Mallow
Infusion or decoction with 30 grams of flowers and leaves per liter of water. Drink three or four hot cups daily.
Infusion or decoction – The same used internally, but slightly more concentrated, is also used externally in gargles, vaginal irrigation, enema, and compresses on the affected skin area.
REFERENCES
George D. Pamplona-Roger, M.D. "Encyclopedia of Medicinal Plants." George D. Pamplona-Roger, M.D. Encyclopedia of Medicinal Plants. Ed. Francesc X. Gelabert. vols. 2 San Fernando de Henares: Editorial Safeliz, 2000. 511. Print.
Last update on 2023-12-06 / Affiliate links / Images from Amazon Product Advertising API