The Lady's mantle plant has already been studied by Dioscorides in the 1st century A.D. Andres de Laguna (16th century), the Spanish translator and commentator of Dioscorides, recommended baths with a decoction from this plant to "close tighten the lower parts," stating that lost virginity could be restored in this way. That famous Spanish physician also prescribed Lady's mantle decoction for women since, in his words, "it makes breasts become like apples."
Sale
Current medicine still recommends this plant for women's health without stating such extremist positions.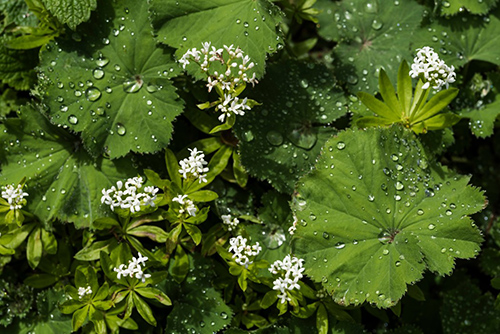 Lady's Mantle Scientific Facts
Scientific name – Alchmilla vulgaris L.
French – Alchemille, patte de lion.
Spanish – Pie de leon, alquimila.
Environment – Meadows and wet pasture lands in mountainous regions of Europe, North America, and South America.
Description – Vivacious plant of the Rosaceae family, growing from 10 to 40 cm high, with large, palm-shaped leaves and small, green flowers without petals.
Parts of the plant used medicinally – The whole plant, including its root.
Healing Properties
The entire Lady's mantle plant contains high amounts of tannin, salicylic acid, and diverse fatty acids. It has astringent, anti-inflammatory, mild sedative, and healing properties. Its many uses are the following:
Gynecological disorders – The main application of Lady's mantle is menstrual pain (dysmenorrhea) and vaginal flow (leukorrhea). In the last case, it is applied as vaginal irrigations.
Problems of the digestive system: diarrhea, chronic colitis, gastritis, and lack of appetite.
Sore throat – It is applied as gargles and as drinking its decoction.
Skin wounds and sores – Applied in the form of compresses and washings.
How to use Lady's Mantle
Decoction with 40 to 60 grams of leaves and ground root per liter of water. Boil for 10 minutes. Drink three or four cups daily.
Vaginal irrigations with well-strained liquid resulting from a more concentrated decoction than that used internally, in a proportion of some 100 grams per liter of water.
Gargles with this concentrated decoction.
Compresses soaked in the decoction mentioned above.
Washings on the affected skin areas with the liquid from the concentrated decoction.
REFERENCES
George D. Pamplona-Roger, M.D. "Encyclopedia of Medicinal Plants." George D. Pamplona-Roger, M.D. Encyclopedia of Medicinal Plants. Ed. Francesc X. Gelabert. vols. 2 San Fernando de Henares: Editorial Safeliz, 2000. 622. Print. [lady's mantle plant]
Last update on 2023-10-01 / Affiliate links / Images from Amazon Product Advertising API