Natural remedies for ingrown hairs can be effective for these hairs, mainly on the neck, that grow into the skin and result in irritation. This condition tends to be caused by hairs that curl. People with curly hair are more prone to this disorder than other hair types.
Natural Remedies for Ingrown Hairs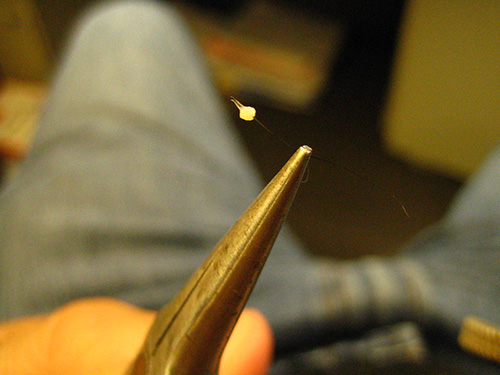 The best solution to this issue is to pull it out with tweezers. Avoid pulling at just anything. Wait until the hair is in your sight. If necessary, place a warm compress on the area for a time to aid in it being seen better. Then use tweezers or a sterilized needle, followed by a dab of hydrogen peroxide on the site.
Individuals that continue to find this a problem might want to consider growing a beard. Once established, that generally remedies the problem. If beards are frowned on at your job, have your physician note that it is a medical necessity for you to have one.
An electric shaver is better than razors because razors tend to sharpen the hair end more. If you do use a razor, try not to shave as close.
If your neck hairs tend to be angled in different directions, train them to grow in only two directions by only shaving up and down instead of crossways.
Women need to shave their legs down instead of up. Shaving upward is far more likely to cause inward-growing hairs. This is because leg hairs grow downward.
Natural Hair Tonics
Natural Hair Conditioner
Too much sunlight, harsh chemical shampoos, dyes, and hair preparations containing alcohol cause hair to lose natural oils. A hair conditioner replaces these natural oils. After a few weeks of applying one or another of the following conditioners, your hair should be softer to the touch and more attractive.
Rub olive oil into your hair every two to three nights before bed.
If you would like a sweet-smelling oil mixture, apply this formula to your hair every so often: one ounce of rosemary oil, three ounces of sweet almond oil, and thirty drops of lavender oil.
Here is a formula that can help keep your hair in good condition: Add a little marjoram oil to some olive oil and rub it into your hair. Every so often, combine a fresh batch and repeat.
Here is a formula for an orange-scented oil for dry hair: Mix one ounce of Rosemary oil, three ounces of sweet almond oil, and twenty drops of oil of orange.
If you have naturally oily hair, only apply one of the above essential oils, and do it once a week at the most.
If your hair is faded, combine one ounce of rosemary oil and one ounce of coconut oil with three ounces of oil of sweet almonds. Rub a small amount gently into your scalp every other night.
Natural Hair Fixer
Commercial preparations, sold to keep your hair in place, frequently contain harsh chemicals, including alcohol. Here is a formula that will help keep the hair in place and tend to give it a beautiful sheen:
Squeeze a little lemon juice into a small bowl. Then apply it to your hair with cotton; it will dry within a few minutes.
Natural Remedies for Dry Hair
You can use natural remedies for dry hair if it bothers you, lacks luster, and is brittle. There may also be split ends. Dry hair needs natural oils. Harsh shampoos could be a source of your problems because they strip hair and scalp of all oils. Lack of proper nutrition is also a cause of dry hair.
Incorporate enough unsaturated fatty acids in your diet (unheated vegetable oils, such as wheat germ, sesame, corn, soy, or flaxseed oil.
Avoid using heat to arrange your hair. Both curling irons and electric curlers produce heat that is too intense. Instead, women should use unheated plastic cylinder clippers.
Dry hair tends to produce frayed ends. Snip them off about every six weeks.
Stay clear of whipping winds. They also tend to fray your hair. Women do best to swim bareheaded. Use a bathing cap. It will protect the hair. Rub a little olive oil before putting on the cap for extra protection.
Shampoo with extreme care, using only mild shampoos.
Do not wash your hair every night. When washing hair, only use warm, not hot, water. When rinsing the hair, always utilize cool water. This increases circulation.
Pour sesame seed oil into your hair and massage. Or apply flaxseed oil.
Massage avocado into your hair. It provides both protein and oil to the hair shaft. Mix one peeled avocado, one teaspoon of jojoba oil, and wheat germ oil in a bowl. After shampooing, rinsing, and dying your hair, apply the combination, massaging it in. Then cover your hair with a plastic bag. Leave it on for fifteen to thirty minutes. Then rinse thoroughly. Repeat once a week.
Natural Remedies for Grey Hair
To restore natural color to grey hair, the following vitamins have been proven successful for some people:
Brewer's yeast
Blackstrap molasses
Folic acid (800 mcg)
Pantothenic acid (1,000 mg)
PABA (para-aminobenzoic acid, 1000 mg)
Multivitamin/ mineral formula
Kelp
Dulse
Hair Rinses
Mix sage, rosemary, and nettles, and use them as a hair rinse to blacken the hair.
Henna is a natural, non-toxic coloring herb used for centuries to make hair blonde. It works best on thin, light, porous hair.
Chamomile and lemon combined make an excellent rinse for blonde hair.
Rosemary and sage rinse will help shine dark hair.
Cider vinegar rinse helps balance the pH balance of hair.
Kelp or seawater adds mineral body to hair.
Apply jojoba to damaged, brittle, and overprocessed hair.
References
Vance Ferrell Harold M. Cherne, M.D. The Natural Remedies Encyclopedia [Book]. – Altamont, TN: Harvestime Books, 2010. – Vol. Seventh Edition: 7: pp. 385, 386, 387.