Roman chamomile got its name because it was cultivated in Rome during the 16th and 17th centuries. There is no proof that ancient Romans or Greeks knew the plant. Despite its properties being quite similar to those of German Chamomile, Roman chamomile has preserved its personality and place in phytotherapeutic science.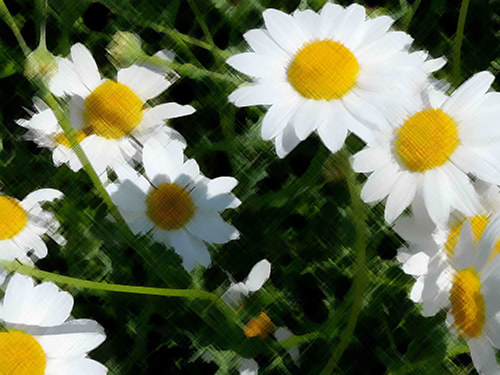 Roman Chamomile Scientific Facts
Scientific Name – Anthemis nobilis L.
Other Names – Chamomile, garden chamomile, ground apple, low chamomile, whig plant.
French – Camomile romaine.
Spanish – Manzanilla romana.
Environment – Farmed fields in western Europe. The plant also grows in areas of America.
Description – Vivacious plant of the Compositae family, growing from 10 to 30 cm high. It is shorter and more common than German chamomile. Roman chamomile has finely divided leaves and flowers, similar to German chamomile but with a more intense aroma.
Parts of the plant used medicinally – The flower clusters or flower heads.
Roman Chamomile Benefits
The essence of Roman chamomile contains chamazulene, with anti-inflammatory properties, several esters (organic compounds), and a bitter component with digestive and carminative (helps expulsion intestinal gas) properties. It also contains coumaric and flavonoid substances with antispasmodic properties. The plant also has emmenagogue (stimulates and balances menstruation) and antirheumatic properties. It is applied internally in the treatment of:
Digestive disorders (its most important application) – dyspepsia, flatulence, nausea, upset stomach.
Intestine, gall bladder, or liver colics because of its antispasmodic properties.
Menstrual pains.
Externally applied, it is used for:
Rheumatism – in massages and lotions.
To heal wounds, apply compresses to the skin.
Eye baths – as eyedrops.
How to use Roman Chamomile
Infusion, with 5 to 10 grams of flower heads per liter of water. Drink up to six cups daily.
Powder – The dose varies from two to 10 grams a day. Prepare it in a water solution, and add some honey.
Essence – The recommended dose is from two to four drops daily.
Compresses, soaked in a decoction made with 20 to 30 grams of flower heads per liter of water. The cloth is then applied to the skin.
Eye bath with the same decoction.
Lotion on the skin, with the plant's essence dissolved in alcohol.
REFERENCES
George D. Pamplona-Roger, M.D. "Encyclopedia of Medicinal Plants." George D. Pamplona-Roger, M.D. Encyclopedia of Medicinal Plants. Ed. Francesc X. Gelabert. Vols. 1 San Fernando de Henares: Editorial Safeliz, 2000. 350. Print.
Last update on 2023-10-01 / Affiliate links / Images from Amazon Product Advertising API