Those familiar with the quince fruit benefits may think it is a variety of pears. However, they would be disappointed with the first bite: it is so harsh and bland that it is impossible to eat. However, quince jelly is delicious and even appeals to children.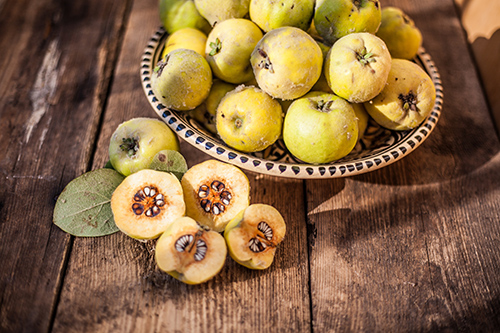 Quince Scientific Facts
Scientific name – Cydonia oblonga Mill.
Other names – Elephant apple, pineapple quince.
French – Coing.
Spanish – Membrillo, gamboa.
German – Quitte.
Description – Fruit of the quince tree, of the botanical family Rosaceae. The fruit is similar in appearance to the pear.
Environment – The quince is native to the Caucasus and Turkey. It was introduced to western Europe by the Greeks and Romans. From Spain, it went to the American continent, where it is grown today, particularly in Argentina.
Quince Fruit Benefits
Raw quince contains 13.4 percent carbohydrates in the form of sugars. But QUINCE JELLY is more than fifty percent sugar since it is made by adding its weight in sugar. Its protein and fat content are negligible (less than one percent). It is rich in vitamins C and E and minerals such as potassium, iron, and copper. The fruit's astringent and anti-inflammatory impact on the intestine is due to two elements at odds with each other.
PECTIN – Soluble fiber that helps the intestinal wall and helps bowel movement.
ASTRINGENT TANNINS that dry out the intestinal mucosa and decrease its inflammation.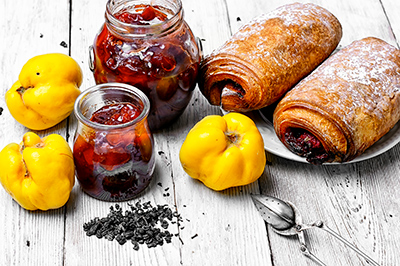 It is beneficial for adults and children with a propensity to flatulence and loose feces as a dessert or snack. It is well advised in cases of diarrhea caused by colitis or gastroenteritis as the first solid food after the critical phase. Its pectin content helps reduce cholesterol levels in the blood.
How to use and Prepare Quince
RAW – The quince's harsh, acid taste makes it inedible, even when ripe.
QUINCE JELLY – The traditional form in which quince is eaten. It is cooked in water and converted to a paste to add its weight in sugar. Some manufacturers use brown (raw) sugar, which is richer in minerals and more healthful than white sugar.
REFERENCES
George D. Pamplona-Roger, M.D. "Encyclopedia of Foods and Their Healing Power." George D. Pamplona-Roger, M.D. Encyclopedia of Foods and Their Healing Power. Trans. Annette Melgosa. Vol. 2. Chai Wan: Editorial Safeliz, 2005. 221. Print. [quince fruit benefits]
Last update on 2023-10-01 / Affiliate links / Images from Amazon Product Advertising API