The white stain in the wild clover leaves was why people defending the theory of signs said the plant was good for cataracts. The great Greek physician, pharmacologist, botanist, and author Pedanius Dioscorides (1st century A.D.) said the juice of clover, mixed with honey, "heals clouds, white stains, and other spots which darken the vision." Now, we know its actual applications.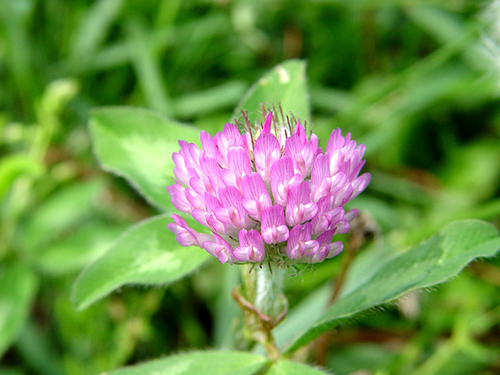 Wild Clover Scientific Facts
Other names: Red clover.
French: Trefle rouge, trefle commun.
Spanish: Trebol comun, trebol rojo.
Environment: Wet meadows and pasture lands, especially calcareous soils, all over Europe and North America.
Description: Vivacious, herbaceous plant of the Leguminosae family, which grows up to 50 cm high, with leaves divided into three oval folioles with a white stain on their upper side. The flower heads are violet-red.
Parts of the plant used medicinally: Flowers and leaves.
Healing Properties and Indications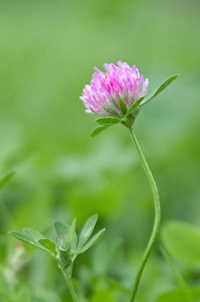 Wild clover contains tannin, glycosides, organic acids, and coloring substances. It is helpful for respiratory (bronchitis, cough, hoarseness) and digestive afflictions (diarrhea, gastritis, lack of appetite). It has not been proven to be beneficial for cataracts.
In external applications, it is used in baths and compresses to treat skin irritations and inflammations.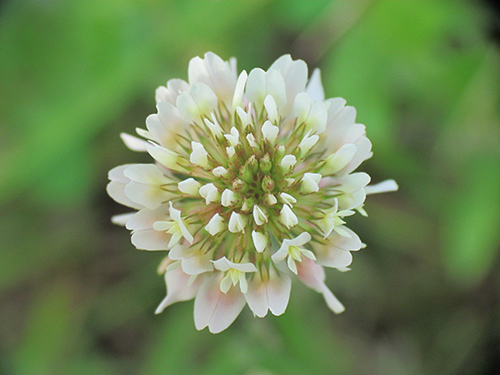 White Clover
White clover (Trifolium repens L. = Trifolium nigrescens Schur.) is a species similar to wild or red clover, which, unlike this, has white flowers. It has an intense hay smell.
Besides having the same medicinal applications as wild clover, its decoction is added to the bathwater to obtain a strong antirheumatic effect.
How to use Wild Clover
Decoction with 20-30 g of leaves and/or flowers per liter of water, boiling for 10 minutes. Drink up to five cups daily.
Compresses and baths with the decoction mentioned above, however slightly concentrated.
Carlyle Red Clover Capsules 1200mg | 200 Count | Non-GMO, Gluten Free | Red Clover Blossom Extract Supplement
PERENNIAL HERB: Red clover is a well-known source of naturally occuring antioxidant compounds
HERBAL SUPPLEMENT: Provides the equivalent of 1,200mg of Red Clover Blossom per serving in capsules
ROOTED IN WELLNESS: Carlyle provides premium, honest supplements in your pursuit to healthy living
CARLYLE MANUFACTURERS: Laboratory Tested, Trusted Ingredients, Superior Quality, 100% Guaranteed!
NATURALLY FREE OF: Gluten, Wheat, Yeast, Milk, Lactose, Soy, Artificial Flavor and Non-GMO
REFERENCES
George D. Pamplona-Roger, M.D. "Encyclopedia of Medicinal Plants." George D. Pamplona-Roger, M.D. Encyclopedia of Medicinal Plants. Ed. Francesc X. Gelabert. Vols. 1 San Fernando de Henares: Editorial Safeliz, 2000. 340. Print.
Last update on 2023-09-30 / Affiliate links / Images from Amazon Product Advertising API