When the pasque flower is dry, the plant's fruit forms a kind of feathery bouquet, which the wind blows away. Its scientific name of Anemone is derived from this fact since the Greek word refers to a flower that opens with the gentlest breeze.
25 VIOLET ANEMONE Pulsatilla Vulgaris / PURPLE PASQUE FLOWER SeedsComb S/H
BLOOM TIME: Spring – Summer
HARDINESS ZONE: 4 – 9
PLANT HEIGHT: 6 – 12″ . . . PLANT SPACING: 9 – 12″
LIGHT REQUIREMENTS: Sun – Part Shade . . . SOIL / WATER: Average – Dry
In addition to gorgeous blooms, the Anemone has fuzzy, attractive foliage. They bloom early in the spring and continue to bloom throughout the summer. They tolerate heat and dryness well, and attract bees and butterflies. After the blooms are spent in the fall, the Anemone has interesting spiky seed heads that last for several weeks.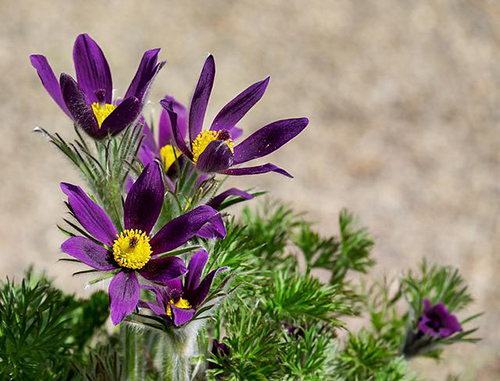 Pasque Flower Scientific Facts
Scientific name – Pulsatilla vulgaris Miller.
Other names – European pasque flower, Easter flower, meadow anemone, wild crocus, windflower.
French – Pulsatille.
Spanish – Pulsatilla.
Environment – Seldom found; it grows in forests or dry meadows on calcareous soils of Central and southern Europe.
Description – Herbaceous, hairy plant of the Ranunculaceae family, growing from 20 to 40 cm high, with fine, very divided leaves and large, purple or violet flowers with six sepals.
Parts of the plant used medicinally – The flowers, leaves, and roots.
Healing Properties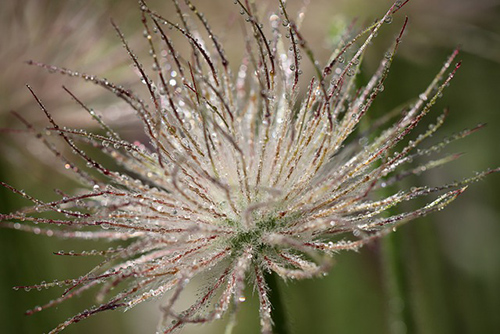 When fresh, pasque flower contains anemonin, an irritant substance on the skin and the mucosa. The plant has antispasmodic, emmenagogue, antibiotic, and antimitotic (inhibiting cells' reproduction) properties. It also contains small amounts of saponins and tannin.
Sedative – Pasque flower extract was used in ancient times as a sedative for spasmodic cough (whooping cough) and digestive colic and to fight insomnia.
Dysmenorrhea (painful menstruation) – This is its most crucial current application, and also for scanty menstruation. It makes the pain disappear and balances the menstrual cycle.
Ovarian insufficiency – It has been proven that the pasque flower stimulates ovarian function, especially regarding folliculin (a hormone) secretion, though now this plant produces this action is not known. It is recommended for ovary functional insufficiency and sterility.
Warning
When fresh, this plant is very poisonous, but when dried or in the form of extract, it lacks any toxicity.
How to use Pasque Flower
Pasque flower must only be taken in one of the following ways:
Extract – The dose is 0.05 – 0.3 grams per day.
Root powder – The dose is 1-3 grams per day.
REFERENCES
George D. Pamplona-Roger, M.D. "Encyclopedia of Medicinal Plants." George D. Pamplona-Roger, M.D. Encyclopedia of Medicinal Plants. Ed. Francesc X. Gelabert. vols. 2 San Fernando de Henares: Editorial Safeliz, 2000. 623. Print.
Last update on 2023-10-01 / Affiliate links / Images from Amazon Product Advertising API