The Aztecs of Mexico knew about the many benefits of guava and called it the "sand fruit" because of the unusual texture of its pulp filled with seeds. Nevertheless, despite this minor nuisance to eating it fresh, its subtle aroma and exceptional health properties have made the guava widespread on the five continents.
Guava Nutritional Facts
The guava is low in proteins and fats (less than one percent) and carbohydrates (six percent) but is significant because of its supply of:
Vitamin C – With 183 mg/100 grams, guava is among the wealthiest fruits in this vitamin. Only the acerola cherry and the brier hip are higher. There are varieties of guava reaching 979 mg/100 grams. The highest application of vitamin C is in the pulp surrounding the seeds beneath the peel. The guava also includes small amounts of organic acids such as citric acid and malic acid, which facilitate the absorption of vitamin C and give the fruit its typical acidic taste.
Carotenoids – These substances transform into vitamin A and have a powerful antioxidant effect within the cells. The guava's richness in carotenoids is 79 ug RE, which means that 100 grams of pulp supply 8 percent of the daily need for vitamin A. Those varieties with reddish pulp are the richest in carotenoids and contain lycopene, the same carotenoid found in tomatoes.
Vegetable fiber – Most of the 5.4 percent of the fiber in guava is soluble, composed of pectin and mucilage.
Health Benefits of Guava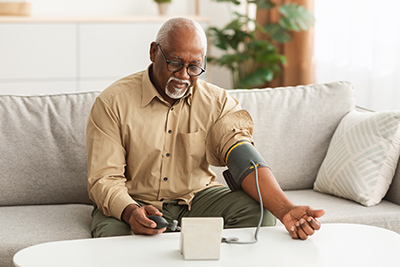 The guava also contains significant B group vitamins (except B2), vitamin E, calcium, phosphorus, magnesium, and iron. Its most abundant mineral is potassium. It is also relatively rich in trace elements such as zinc, copper, and manganese. The health benefits of guava are the following:
High Blood Pressure – A study conducted in India and published in the American Journal of Cardiology found that adding guava to the daily diets of 61 hypertensive volunteers lowered their systolic blood pressure by 9 mm/Hg and the diastolic by 8 mm/Hg (the equivalent of moving from 150/90 mm Hg to 141/82 mm/Hg). These results were obtained over three months of regular guava consumption.
Although the results are not spectacular, they provide another tool for treating high blood pressure. Which component of the guava is responsible for this gentle hypertensive effect is not known. Still, it is undoubtedly affected by the fact that this fruit is meager in sodium and high in potassium and vegetable fiber.
Excess cholesterol – This same experiment produced a 9.9 percent overall cholesterol reduction and a 7.7 percent reduction in triglycerides in the blood. This hypolipidemic (lipid-reducing) effect is due to guava's rich content of soluble fiber (pectin), which "sweeps" the intestine and facilitates the elimination through the feces of cholesterol and the biliary salts from which it is synthesized.
Arteriosclerosis – The guava is an excellent fruit for maintaining good arterial health. Its consumption inhibits the risk factors for arteriosclerosis: hypertension and high cholesterol.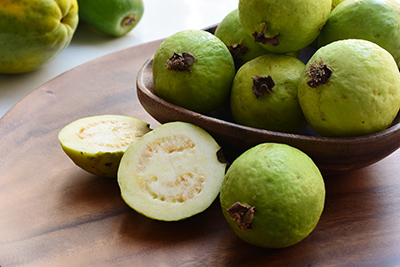 Nicotine addiction – This is another essential factor in the hardening of the arteries. A large amount of vitamin C found in guavas is an excellent help to those in treatment for nicotine addiction since this vitamin neutralizes nicotine. Two or three guavas a day make a perfect dessert for those wishing to stop smoking.
Physical fatigue – The guava has a stimulating effect on the body. They are beneficial, in addition to specific circumstances, for those recovering from infectious illnesses and in cases of fatigue and weakness provoked by chronic disease.
Guava Scientific Facts
Scientific Name – Psidium guajaba L.
Other Name – Common guava, Goyave, Guayaba, Guyaba, Mountain guava.
French – Goyave.
Spanish – Guayaba, guava.
German – Guave.
Description – Fruit of the guava tree, a tree of the botanical family Myrtaceae that reaches 6 meters in height.
Environment – The guava is grown in tropical regions throughout the world. They are found from Mexico to Brazil. Since it is a relatively hardy plant, it is now being produced in nontropical areas where there is no danger of freezing.
Other Guavas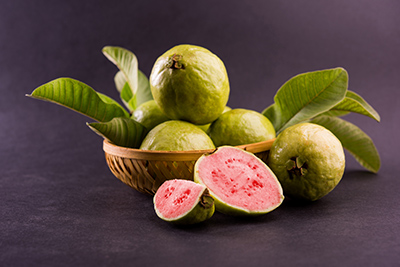 Other guavas with compositions and properties similar to the common guava are grown in Central America:
Feijoa (feijoa sellowiana Berg. = Acca sellowiana [Berg.] Burret).
Brazilian guava (Psidium guineense Sv.): Although they are also cultivated, this guava grows wild in tropical regions of America. The fruit is used for jellies and jams.
Costa Rican guava (Psidium friedrichsthalianum [Berg.] Nied.): This guava is the size of a tangerine and is eaten with the peel as if it were an apple. They are grown particularly in Costa Rica.
Para guava (Psidium acutangulum L): These are grown in Colombia. Their pulp is more acid and flavorful than the common guava.
How to use and Prepare Guava
FRESH – The seed-containing interior of the guava must be well chewed or strained. The external portion of the fruit lacks seeds and is softer. Overripe fruit loses vitamin C and fiber.
MANUFACTURED PRODUCTS – The guava produces delicious syrups, jellies, and jams.
GUAVA PASTE – A typical Brazilian product prepared by adding sugar to guava pulp and concentrating the mixture to quince jelly.
REFERENCES
George D. Pamplona-Roger, M.D. "Encyclopedia of Foods and Their Healing Power." George D. Pamplona-Roger, M.D. Encyclopedia of Foods and Their Healing Power. Trans. Annette Melgosa. Vol. 2. Chai Wan: Editorial Safeliz, 2005. 114, 115. Print.
Last update on 2023-09-27 / Affiliate links / Images from Amazon Product Advertising API