The althea plant is all sweetness and softness, like its relation, the high mallow plant. Even its leaves are delicately covered with velvet-like hairs. Dioscorides already recommended this plant in the 1st century, and since then, it has been used throughout the ages.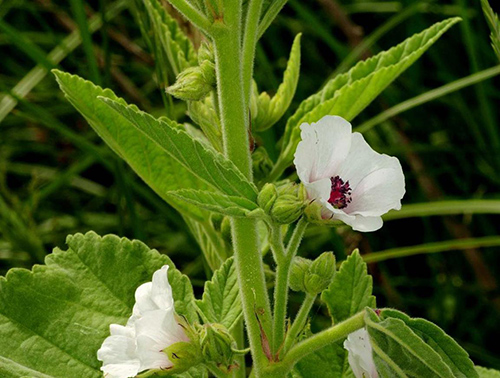 Althea Plant Scientific Facts
Other names: Marshmallow, mortification root, sweet weed, wymote.
French: Guimauve.
Spanish: Malvavisco.
Environment: Humid soils, marshes, and riverbanks of Central and South Europe. It is grown as a medicinal herb both in Europe and America.
Description: Vivacious plant of the Malvaceae family, it is hairy and grows up to two meters high, with large, velvet-like leaves and white flowers with five petals.
Parts of the plant used medicinally: Flowers, the roots, and the leaves.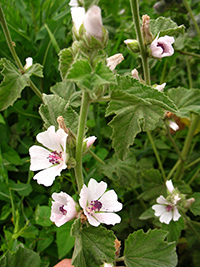 Healing Properties and Uses
All parts of the althea plant, especially its root, contain mucilage, pectin, mineral salts, and vitamin C. Its properties are the same as those of the high mallow plant; however, they are more intense due to its higher content of mucilage. It is, thus, one of the most emollient plants known. Mucilage covers the skin and the mucous membranes, forming a protective and anti-inflammatory layer.
Its uses are similar to those of high mallow: laxative, in the case of constipation, and anti-inflammatory, in the case of gastritis, gastroenteritis, or colitis; it also fights against respiratory afflictions, as well as against oral and other digestive mucous membrane irritations.
Its clean root may be given to children to be chewed when teeth are erupting because it soothes gums and eases tooth eruption.
How to use Althea
Infusion with 30 grams of young leaves or flowers, or decoction with 20-30 grams of root per liter of water. Drink 3 or 4 cups daily and sweeten with honey.
REFERENCES
George D. Pamplona-Roger, M.D. "Encyclopedia of Medicinal Plants." George D. Pamplona-Roger, M.D. Encyclopedia of Medicinal Plants. Ed. Francesc X. Gelabert. Vols. 1 San Fernando de Henares: Editorial Safeliz, 2000. 190. Print. [Althea plant]