Chronic fatigue syndrome: Feeling tired after a strenuous day of physical activity is entirely normal. After a short rest period, you should feel a lot better and ready to go for another round. However, suppose you are still experiencing tiredness along with muscle pain, fatigue, sore throat, headaches, enlarged lymph nodes in your neck or armpits, and dizziness that worsens. In that case, you should consider a visit to your doctor. Your physician will want to run tests to rule out (CFS).
No products found.
To this day, no one knows the cause of chronic fatigue syndrome. Some experts believe that it results from a viral infection because some viral infections exhibit similar symptoms. For instance, a sore throat, muscle aches, joint pain, and headaches are common symptoms.
Other symptoms that may be present are irritable bowel syndrome, brain fog, lack of concentration, memory issues, and feeling tired even after sufficient rest.
Currently, there is no known cure for CFS and many similar viral infections. Experts recommend boosting the immune system as a preventative measure against chronic fatigue syndrome. You can strengthen your immune system by taking vitamins, supplements, proper nutrition, and getting plenty of rest.
The following tips and home remedies can help boost the immune system and increase energy.
Natural Dietary Sources
Consume raw fruits and vegetables. The immune system benefits immensely from the vitamins and minerals found in these foods.
Make sure to drink eight glasses of water daily, which helps flush out problematic toxins.
Eat raw yogurt rich in Acidophilus to keep the good bacteria in your digestive system operating at optimal efficiency.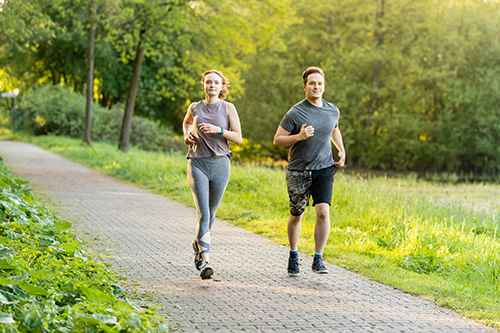 Get Plenty of Exercises
Try to aim for at least 30 minutes of moderate exercise daily. Exercise is essential for keeping your muscles and joints healthy, which also helps to stave off chronic fatigue syndrome. If exercising every day is not ideal for your situation, then try for 30 minutes at least three times weekly.
Most people assume that going to the gym is the only way to hit their exercise quota. However, this is not so. There are plenty of other ways to get your recommended daily activities, such as:
Integrating a brisk walk into your daily routine
Using the stairs instead of the elevator whenever possible
Instead of walking your dog, jog with your dog instead
Do abdominal crunches and triceps dips while watching television
Be creative. Pump up the music and dance while cleaning your home
Chronic Fatigue Syndrome Herbal Remedies and Supplements
Some natural herbal remedies and supplements help boost the immune system, such as Ginseng Root, Goldenseal, and Echinacea. Continuous use of these supplements is an excellent way to help support proper immune function and potentially protect against CFS.
Although these herbal therapies work well, they take time. Follow directions and be patient. For example, experts recommend that Echinacea not be utilized for more than six to eight weeks, so check with a natural health practitioner before taking this herb.
In addition, joint pain sufferers are known to find relief when taking Glucosamine, Devil's Claw, and Chondroitin. Vitamin C and zinc supplementation are also beneficial for a healthy immune system.
It is widely known that taking essential fatty acids like Omega 3, 6, and 9 is excellent for your brain and cognitive function, but they are also crucial in the lubrication of the joints inside and out. These supplements are great for people suffering from muscle pain and soreness associated with chronic fatigue syndrome.
Last update on 2023-12-04 / Affiliate links / Images from Amazon Product Advertising API