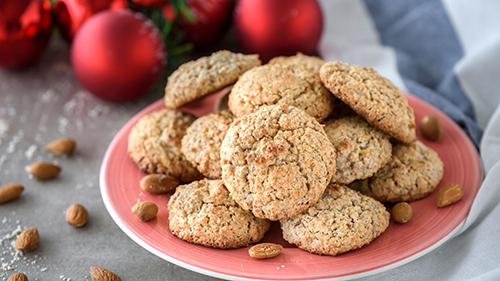 The ingredients in these almond cookies supply the essential nutrients for the functions of the nervous system. Almonds are high in vitamin B and E and essential fatty acids; sesame and molasses are an excellent source of minerals and trace minerals; and the seeds oil also supply essential fatty acids, such as linoleic acid.
Therefore, these cookies are recommended when it is necessary to supply both the nervous system and the entire organism with an additional dose of energy and nutrients that are easy to assimilate:
Intellectual strain, such as that carried out by students during times of exams.
Physical strain, due to intense work or sports competition.
Pregnancy and lactation.
Thinness and malnutrition.
Almond Cookies Ingredients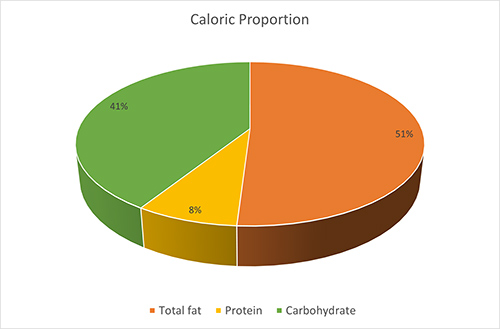 10.6 oz or wheat grains
2⅓ cups of whole flour
¾ cup of white flour
¾ cup of raw shredded almonds
1 cup of shredded coconut
½ cup of molasses
1 tablespoon of sesame seeds
1 tablespoon of green anise seeds
14 tablespoons of seeds oil
⅘ cup of water
Preparation
Grind the wheat grains.
Boil the water and anise for 5 minutes and turn the stove off. When the water is lukewarm, add the remaining ingredients and knead until the mixture is smooth.
Roll the dough to a 5-mm thickness using a rolling pin on a floured surface.
Cut the dough with cookie cutters or a cup. Lay on a greased baking sheet. Bake in a medium oven until brown on both sides.
Store in an airtight container until is time to use.
Cooking time: 45 minutes
Preparation time: 20 minutes
Nutritional Value per 100 g
| | |
| --- | --- |
| Energy | 444 kcal = 1,857 kj |
| Protein |      8.29 g |
| Carbohydrates |    45.0 g |
| Fiber |      7.57 g |
| Total fat |    24.4 g |
| Saturated fat |      4.86 g |
| Cholesterol | ——– |
| Sodium |      8.62 mg |
| % Daily Value (based on a 2000 calorie diet) | provided by each serving of this dessert |
REFERENCES
George D. Pamplona-Roger, M.D. "Encyclopedia of Foods and Their Healing Power." George D. Pamplona-Roger, M.D. Encyclopedia of Foods and Their Healing Power. Trans. Annette Melgosa. Vol. 3. Chai Wan: Editorial Safeliz, 2005. 155. Print. [Almond cookies]