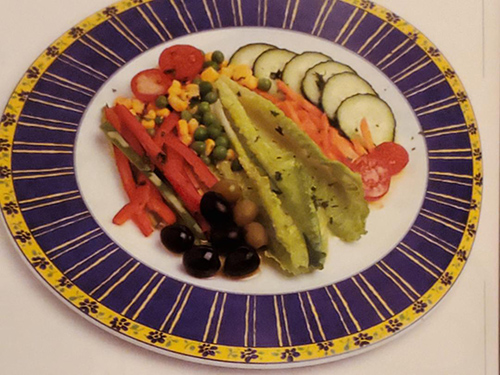 In addition to raw vegetables, this Mexican salad includes corn (a grain) and peas (a legume). Like any other salad, it is very healthy. It is rich in vitamins and other antioxidants substances that protect against high cholesterol levels and cancer. This salad is especially recommended for:
The intestine, due to this vegetable combination's high fiber content, it helps stimulate bowel movements.
Obesity, as this dish, being low in fat and calories (significantly if the added oil is reduced), produces a sense of satiation.
The arteries and the heart because it contains antioxidants that control arteriosclerosis. Also, all the below vegetables contribute to reducing cholesterol levels.
Cancer prevention, due to its high content in vitamins and phytochemicals and antioxidant elements.
Mexican Salad Ingredients
7 oz of tender sweet corn (maize)
1 red pepper
1 green pepper
2 carrots
2 tomatoes
1 cucumber
1 head of lettuce
3.5 oz of peas
3.5 oz of green and black olives
1 tablespoon of brewer's yeast
Additional ingredients
Parsley
The juice of ½ lemon
4 tablespoons of olive oil (each tablespoon of oil adds around 120 kcal to the recipe, 30 kcal per serving).
Sea salt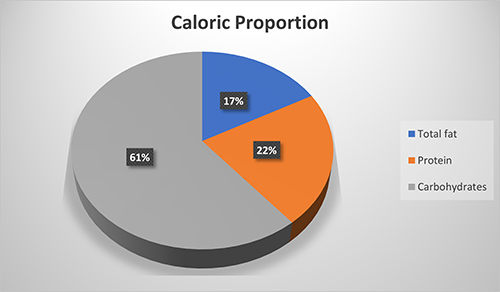 Preparation
Wash, peel, and chop the carrots and the cucumbers.
Wash, remove the seeds, and chop the peppers into strips.
Wash and chop the tomato.
Wash the lettuce and set aside as whole leaves.
Wash and chop the parsley.
Boil peas in water and let them cool.
Arrange all ingredients on each dish and sprinkle with salt.
To prepare the dressing, add the chopped parsley and the lemon juice to the oil and beat with a fork.
Dress just before serving.
Preparation time: 20 minutes
Cooking time: 20 minutes
Servings: 4
Nutritional Value per serving
| | |
| --- | --- |
| Energy | 165 kcal = 688 kj |
| Protein |     8.12 g |
| Carbohydrates |   22.4 g |
| Fiber |     9.02 g |
| Total fat |     2.78 g |
| Saturated fat |     0.396 g |
| Cholesterol | ——– |
| Sodium | 160 mg |
| %Daily Value (based on a 2000 calorie diet) | provided by each serving of this dish |
REFERENCES
George D. Pamplona-Roger, M.D. "Encyclopedia of Foods and Their Healing Power." George D. Pamplona-Roger, M.D. Encyclopedia of Foods and Their Healing Power. Trans. Annette Melgosa. Vol. 3. Chai Wan: Editorial Safeliz, 2005. 260. Print. [Mexican salad]