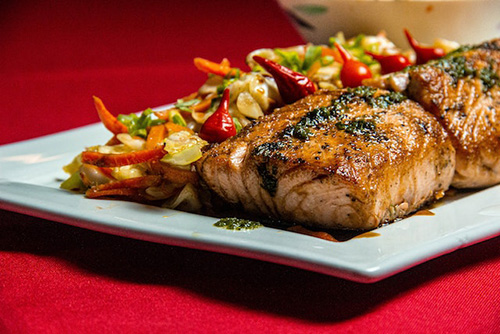 Roasted vegetables and salmon on the grill
Ingredients:
2 fillets of salmon
1 Sliced zucchini
1 sliced bell pepper
Cherry tomatoes, 1 cup
Olive oil, 1 tbsp
pepper and salt as desired
Instructions:
Heat your grill to a moderately hot setting.
Salt, pepper, and half of the dry herbs should be used to season the salmon fillets.
Sliced zucchini, bell pepper, and cherry tomatoes should be combined with olive oil, dry herbs, salt, and pepper in a dish.
Place the vegetable mixture and salmon fillets on the hot grill.
Salmon should be cooked on the grill for 4 to 5 minutes on each side or until it flakes easily.
The veggies should be grilled for 8 to 10 minutes or until soft and gently browned.
Serve hot after taking the fish and veggies from the grill. Enjoy!
The grilled salmon has around 250–300 calories per serving.
The roasted vegetables provide between 100 and 150 calories per serving.
Stir-fry with quinoa and vegetables
Ingredients: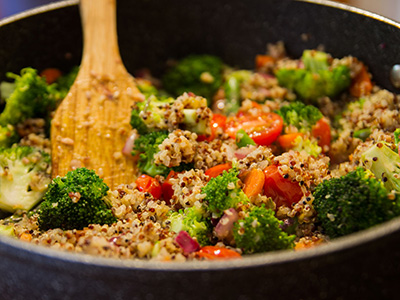 1 cup washed quinoa
Olive oil, 1 tbsp
1 chopped small onion
2 minced garlic cloves
Sliced mushrooms in a cup
broccoli florets in a cup
Sliced carrots, one
1 sliced red bell pepper
Low-sodium soy sauce, two teaspoons (or tamari for a gluten-free option)
a teaspoon of rice vinegar
Sesame oil, 1 teaspoon
pepper and salt as desired
Optional garnishes: green onions and sesame seeds
Instructions:
Quinoa should be prepared as directed on the box and then left aside.
Over intermediate heat, warm the olive oil in a large skillet or wok.
Add the minced garlic and onion to the skillet, and cook for a few minutes until aromatic.
The skillet should now include the bell pepper, broccoli, and mushrooms. Stir-fry the veggies for 5 to 7 minutes or until they are crisp-tender.
Mix the soy sauce, rice vinegar, sesame oil, salt, and pepper in a small bowl.
After adding the sauce, mix the cooked veggies together.
Then, combine the cooked quinoa in the pan and stir everything well.
Remove from heat and, if you like, sprinkle with sesame seeds and thinly chopped green onions. Serve warm.
1 cup cooked quinoa has around 220-250 calories.
Vegetable Stir-fry has between 150 and 200 calories per serving.
Grilled chicken with a Greek salad
Ingredients: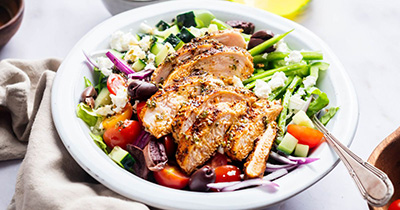 2 skinless, boneless breasts of chicken
4 cups greens for a mixed salad
One diced cucumber
1 cup halved cherry tomatoes
thinly sliced red onion
Kalamata olives, 1/2 cup
1/4 cup feta cheese crumbles
Olive oil, extra virgin, two teaspoons
one teaspoon of lemon juice
Oregano, dry, 1 teaspoon
pepper and salt as desired
Instructions:
Heat the grill to medium-high.
Salt, pepper, and dried oregano should be used to season the chicken breasts.
The chicken must be cooked through and no longer pink in the middle after grilling for approximately 6-7 minutes on each side. Before slicing, let it rest for a few minutes.
Mix the mixed greens, cucumber, cherry tomatoes, red onion, Kalamata olives, and crumbled feta cheese in a large salad dish.
To create the dressing, combine the extra virgin olive oil, lemon juice, pepper, and salt in a small bowl.
Toss the salad with the dressing after drizzling it over it.
Add grilled chicken breast slices to the salad as a garnish.
Serve right away and enjoy!
The grilled chicken breast has between 150 and 200 calories per serving.
The Greek salad has between 200 and 250 calories per dish.
Not only are these dishes tasty, but they also include plenty of anti-inflammatory components that may assist with IBS symptoms. You can alter them to suit your dietary requirements and taste preferences. Always seek individualized guidance and suggestions from a licensed dietician or healthcare expert.
Please be aware that these calorie counts are approximations and subject to change depending on the number of servings and the ingredients used. Additionally, if you add extra ingredients or make substitutes, the calorie content could alter. Calculating the precise calories depending on the authentic brands and component amounts you use in your recipes is always intelligent.