The Cats tail plant is highly sought-after in eastern and southern Spain. Its use has quickly spread during the last decades. It was first used in veterinary medicine to heal wounded animals. After its good results, its use became usual among Mediterranean peasants and cattle breeders.
Cats Tail Plant Scientific Facts
Spanish: Rabo de gato.
Environment: This plant grows on unfarmed slopes along the Spanish Mediterranean coast, from Tarragona to Malaga.
Description: Woody-based plant of the Labiatae family, growing from 20 to 50 cm high. Lemon-yellow flowers grow in the tip of their straight stems.
Parts of the plant used medicinally: The flower clusters.
Healing Properties and Indications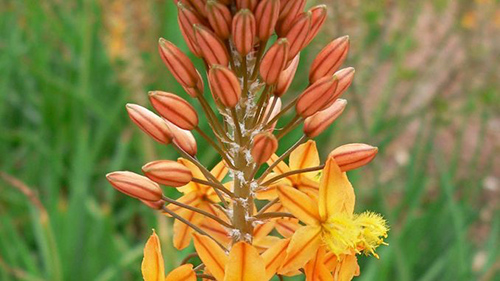 This plant contains an essence with antibiotic properties, as well as flavonoids with anti-inflammatory properties. It is internally used, with good results, for dyspepsia, gastritis, and gastro-duodenal ulcer. It produces an intense anti-inflammatory effect on the digestive system.
Its most common application is vulnerary: it heals wounds and bruises with astonishing quickness. Cats tail is helpful in any kind of bruises, wounds (infected or not), skin sores, and skin infections.
How to use Cats Tail
Infusion with 30-40g of flower clusters per liter of water. Drink free or four cups daily.
Compresses, soaked in the infusion above. Apply on the skin with a soft dressing, and change every three or four hours.
Cleansings of the affected areas with the same infusion.
REFERENCES
George D. Pamplona-Roger, M.D. "Encyclopedia of Medicinal Plants." George D. Pamplona-Roger, M.D. Encyclopedia of Medicinal Plants. Ed. Francesc X. Gelabert. vols. 2 San Fernando de Henares: Editorial Safeliz, 2000. 471. Print. [cats tail plant]