Although the Bible mentions the hyssop plant as a symbol of purity, it is likely to speak about another species since the one we currently known as hyssop does not grow in Palestine. The great Greek physician, pharmacologist, botanist, and author Pedanius Dioscorides talks about it, and the plant has always been appreciated for its many virtues.
Nature's Way Herbal Hyssop Herb, Traditional Respiratory Support*, 900mg Per Serving, 100 Capsules
Traditional respiratory support.*
Botanicals are sourced where they grow best.
This product is Non-GMO Project Verified.
Gluten-free and vegan. No salt, yeast-derived ingredients, wheat, corn, soy, dairy, or artificial colors, flavors, or preservatives.
Bottle made with 97% post-consumer recycled materials. Please recycle.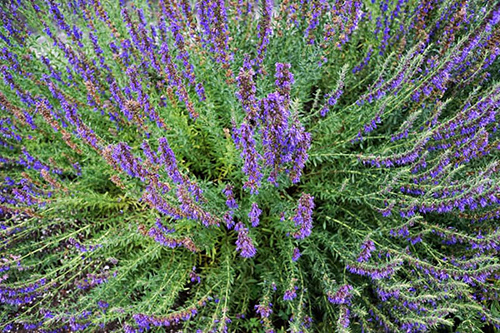 Healing Properties and Warning
The hyssop leaves and flower clusters contain a bitter component called marrubiin, which has mucolytic (makes the bronchi secretions more fluid) and expectorant properties, an aromatic essence that stimulates digestive secretions and has antiseptic properties; as well as several flavonic substances and tannin.
The hyssop plant is recommended for bronchial catarrh, chronic bronchitis, and asthma. It makes the mucous more liquid, preventing its infection and promoting its expulsion. It is also used as a carminative (eliminates the gas from the digestive system), a digestive, and a vermifuge (expels intestinal parasites).
In external applications, it is used as a vulnerary (heals wounds and bruises). Gargling with hyssop water renders satisfactory results with tonsilitis.
WARNING! The recommended dose for its essence intake must not be exceeded since it can produce convulsions in high doses.
The hyssop plant is an herb used in treating lung conditions like chronic phlegm discharge. It is an excellent expectorant and promotes the expulsion of phlegm and mucus from the respiratory system, thus easing congestion. The plant is also helpful for colds and coughs due to congestion. Hyssop can be used similarly to sage and, at times, combined to create a gargle for sore throat.
The plant is also used for weak digestion, sluggish circulation, and asthma. It helps treat jaundice, dropsy, scrofula, mucus constipation in the intestines, throat and nose congestion, and lung and breast problems; it dispels gas and regulates blood pressure. An infusion taken when warm and combined with equal parts of horehound is an excellent remedy for excess mucus conditions.
An infusion with hyssop alone is an excellent remedy for increasing sweating, especially for breaking a fever. A decoction will aid in relieving inflammation. The herb is also suitable for weight problems, epilepsy, and gout. Externally, it is used to heal wounds. Fresh green hyssop poultices will help heal cuts.
Fomentations made from the leaves can relieve bruises and muscular rheumatism. A wash made from a decoction can be used for skin irritations, bruises, burns, and gargle for chronic catarrh and sore throat. In some areas, the herb's decoctions are used as a prescribed gargle for sore throats.
Hyssop plant tea is used to loosen phlegm, treat stomachaches, to relieve gas. Combined with horehound, the tea can treat asthma, coughs, and bronchitis. The plant has been used in external applications to treat sprains, wounds, muscle aches, and rheumatism. Experiments are being conducted using the extract as an anti-inflammatory and to treat herpes simplex.
The plant contains at least eight antiviral compounds. In 1990, researchers discovered that a hyssop extract inhibited the replication of (HIV) human immunodeficiency virus.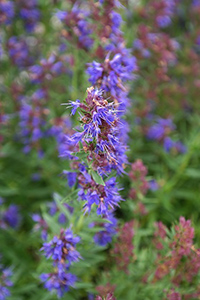 Hyssop Plant Scientific Facts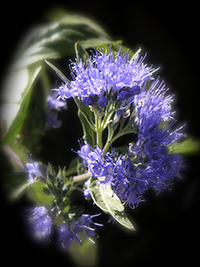 French: Hysope.
Spanish: Hisopo.
Environment: Native to Mediterranean countries, it is grown as an ornamental plant in gardens of Europe and America. It can be found growing wild, although it is rare. It grows on sunny, dry slopes.
Description: Shrub of the Labiatae family, growing from 30 to 60 cm high, with blue or violet flowers growing in a terminal spike.
Parts of the plant used medicinally: The leaves and the flower clusters.
How to use Hyssop
Infusion
Essence: The recommended dose is from one to three drops daily, three times a day.
Baths with the same infusion employed for internal use.
Gargles with this infusion.
Infusion: Steep for five to fifteen minutes and take one to two cups daily. Tincture: Take ½ to one teaspoon frequently. Fluid Extract: Take one to two teaspoons regularly. Powder: Take ten #0 capsules regularly.
REFERENCES
George D. Pamplona-Roger, M.D. "Encyclopedia of Medicinal Plants." George D. Pamplona-Roger, M.D. Encyclopedia of Medicinal Plants. Ed. Francesc X. Gelabert. Vols. 1 San Fernando de Henares: Editorial Safeliz, 2000. 312. Print. [hyssop plant]
Vance Ferrell Harold M. Cherne, M.D. The Natural Remedies Encyclopedia [Book]. – Altamont, TN: Harvestime Books, 2010. – Vol. Seventh Edition: 7: pp. 164.
Last update on 2023-09-30 / Affiliate links / Images from Amazon Product Advertising API