Confucius wrote about the many ginger health benefits about 2500 years ago. Traders carried ginger from Eastern Asia to the Mediterranean coast. It became the most sought-after spice in Rome, only second to pepper. Dioscorides (1st century A.D.) knew it and recommended it for those with weak stomachs.
Sale
Nature's Way Ginger Root, Traditional Digestive Support*, 1,100 mg, 240 Vegan…
Nature's Way Ginger Root is a ginger supplement that contains 1,100 mg per serving. Nature's Way brings you the best herbals available and sources ginger from where it grows best, like India and West Africa.
Ginger has a deeply rooted history in Asian, Indian, and Arabic cultures as a traditional herbal for digestive support.*
Adults take 2 capsules daily with at least 8 ounces of water or other fluid.
It was exported to Europe during the Middle Ages, where it was highly appreciated, but it could never be cultivated there. In the early 16th century, the Spaniard Francisco de Mendoza was the first to carry its seeds to the "New World," Its cultivation quickly spread along with the West Indies, Mexico, and Peru.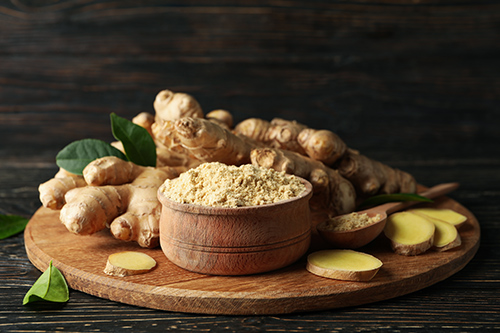 Ginger Scientific Facts
Scientific Name: Zingiber officinale Roscoe.
Other Names: African ginger, black ginger, race ginger.
French: Gingembre.
Spanish: Jengibre.
Environment: Native to India and tropical countries of the Far East. Very common in Mexico and West Indies, especially in Jamaica.
Description: Vivacious plant of the Zingiberaceae family, growing up to 1 to 1.3 m high, with exuberant flowers resembling orchids. It reproduces through its aromatic rhizome.
Parts of the plant used medicinally: The rhizome (underground stem).
Ginger Health Benefits
Ginger contains essential oil with several terpene derivatives, which give the plant its digestive and carminative (prevents gas formation in the digestive system) properties. It is also sudorific, and in India, there is a belief that it has aphrodisiac properties. Ginger is recommended to treat exhaustion, lack of appetite, bloated stomach, and flatulence.
Ginger helps cleanse the system through sweat. When taken hot, the tea is fantastic for scanty urine and suppressed menstruation. It stimulates digestion and brings heat to the system. It will raise body temperature taken in frequent doses. It is without competition regarding herbs that deal with motion, air, and sea sickness.
Ginger aids in reducing flatulent colic, and its effect is milder when combined with laxative herbs. It cleanses the colon, stimulates circulation, relieves cramps and spasms, cleanses the colon, and fights inflammation. Treat annoying cold symptoms by taking ginger at the onset.
It can also be utilized for stomach spasms, sinus congestion, nausea, morning sickness, colon spasms, headache, gas, indigestion, cramps, coughs, and contagious diseases. It is a potent antioxidant and germ killer for wounds and sores. You can chew the rootstock as is to stimulate saliva flow and soothe a sore throat. Ginger also helps to protect the stomach and liver and is helpful for vomiting, muscle pain, indigestion, hot flashes, fever, arthritis, and bowel disorders. Externally, ginger can be used in a fomentation to help treat mumps.
Warning
Like almost all spices, in high doses, ginger provokes gastritis. It is not recommended for people suffering from ulcers. We do not advise using alcoholic ginger tincture since it irritates the stomach.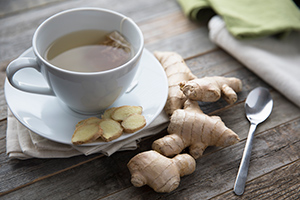 How to use Ginger
Seasoning – In small amounts for raw and cooked foods.
Infusion
Infusion: Steep for five to fifteen minutes and take one fluid ounce at a time. Decoction: Simmer for five to fifteen minutes and take two ounces three times daily. Tincture: Take fifteen to sixty drops three times daily. Fluid Extract: Take five to twenty drops three times daily. Syrup: Take ½ to one teaspoon three times daily. Powder: Take two to four #0 capsules (10 to 20 grains) three times a day. Take every two hours for nausea and vomiting.
REFERENCES
George D. Pamplona-Roger, M.D. "Encyclopedia of Medicinal Plants." George D. Pamplona-Roger, M.D. Encyclopedia of Medicinal Plants. Ed. Francesc X. Gelabert. Vols. 1 San Fernando de Henares: Editorial Safeliz, 2000. 377. Print. [ginger health benefits]
Vance Ferrell Harold M. Cherne, M.D. The Natural Remedies Encyclopedia [Book]. – Altamont, TN: Harvestime Books, 2010. – Vol. Seventh Edition: 7: pp. 160.
Last update on 2023-09-30 / Affiliate links / Images from Amazon Product Advertising API