Medicinal herbs help treat stomach disorders and significantly help improve digestion. Raw cabbage juice has notable antiulcer and wound healing properties on the stomach. It has been proven that some peptic ulcers were healed after drinking from half to one glass of cabbage juice before meals for three weeks.
List of Stomach Disorders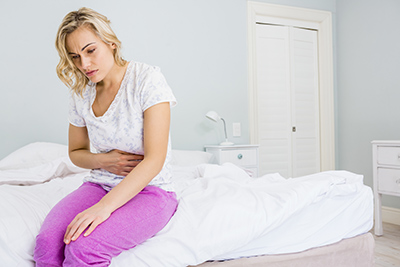 Stomach acidity – This symptom is also known as pyrosis. It appears through a burning sensation, which is usually located in the "stomach mouth," Which automatically is the part of the digestive tract that joins the esophagus and the stomach. The stomach always has a required acidity level for digestion. However, it is not perceived as acid. The acid sensation is perceived in the esophagus when stomach acid flows up, leaving the stomach and reaching the lower area of the esophagus.
Phytotherapy provides us with plants able to protect the digestive mucous membrane and absorb or neutralize acid excess. Unlike antacid medicines, medicinal herbs do not present backlash effects (an increase of acidity after the medicine effects have passed).
Lack of Gastric Juice – Gastric juice is necessary for digestion, although most of its components are later reabsorbed in the intestine. A lack of gastric juice affects all digestive processes, causing a bloated stomach, intestinal fermentation, and even anemia.
Some medicinal herbs can increase the production of gastric juice by stimulating the secreting glands. As a rule, all bitter plants, spices, and seasoning or flavoring plants raise the production of gastric juice. Before administering any herb to increase gastric juice production, an accurate diagnosis of the cause of the lack of gastric juice is required so that any malignant ailment may be adequately treated.
Dyspepsia – This disorder shows itself through difficult digestion, a bloating or painful sensation in the stomach, flatulence, and burning, usually after meals. Dyspepsia also describes any mild epigastric discomfort in the stomach, the biliary channels, or the intestine.
Bad digestion or gastric dyspepsia may be caused by alimentary, nervous, or functional reasons. There is no organic damage to the digestive system in this case. However, it may also be caused by organic reasons, such as gastric or duodenal ulcer, stomach cancer, pyloric valve stenosis (narrowing this valve at the base of the stomach), and other severe ailments.
Once the cause of dyspepsia is ascertained, medicinal herb-based treatment can be remarkably effective in helping the body to re-establish the balance of digestive processes. Of course, unhealthy diet habits which frequently cause dyspepsia, such as incorrect chewing; excess food, especially fatty food; toxic substances such as tobacco, alcoholic beverages, or coffee, must be corrected in all cases.
Bloated Stomach – This disorder is also known as hypotonia or gastric ptosis. It is caused by dilatation of the stomach due to an excess of food or obstacles when emptying. However, in most cases, this ailment has physical constitutional causes. It usually happens to tall, thin people of the leptosomatic constitution and shows itself through gastric dyspepsia's symptoms. The medicinal herbs recommended here invigorate the stomach and stimulate its emptying, thus contributing to the alleviation of the discomforts of gastric ptosis.
Vomiting – Besides the herbs mentioned here, all those with antispasmodic properties are useful since they prevent stomach spasms which are usually associated with vomiting. Of course, the causative agent of vomiting must always be identified.
Stomach Aches – The most common causes of stomach aches are dyspepsia, gastroduodenal ulcer, and gastric nervous (neuritis stomach). These herbs contribute an effective, physiological way to alleviate stomach aches. However, they must only be administered after the causative agent of the aching has been identified.
Stomach Nervousness – Emotional states have a decisive influence on stomach functions through the autonomic nervous system. Pavlov experimentally proved this fact with his famous dogs. Almost half of the total visits to digestive specialists have nervous causes. These herbs combat stomach spasms and balance the autonomic nervous system, thus avoiding gastric discomfort caused by an excited, emotional state.
Stomach Gas – Gas in the stomach is frequently produced by nervous causes or diet transgressions. These herbs have carminative properties; that is to say, they eliminate any excess gastric gasses or flatulence. As in any other case, the causative agent must always be identified.
Gastric Hemorrhage – This severe symptom always demands specialized medical care. It can manifest itself through hematemesis (vomiting blood). Once the diagnosis is made, the following herbs can be beneficial.
Gastritis – Gastritis is an inflammation of the stomach lining that can be caused by many factors, including irritation by agents such as drugs, alcohol, and chemical products and medicines (especially aspirin and other anti-inflammatory substances); food that is too hot or too cold, inadequate chewing caused by tooth problems or fast swallowing; and bacterial and viral infections, such as hepatitis and influenza.
Besides correcting the causes, treating gastritis requires a mild diet (which may include raw, well-chewed meals) and administering one or several of these plants with soothing and protective properties.
Chronic Gastritis – Diagnosis of chronic gastritis must be based on a stomach biopsy. This disease is more commonly the sign of some underlying disorder such as gastric or duodenal ulcers, iron deficiency anemia, or other conditions that involve the stomach. It can also be related to a decrease in gastric juice production. These herbs invigorate digestive functions and promote the regeneration of the atrophied gastric mucosa, which is the most important symptom of chronic gastritis.
Stomach Ulcer – Also known as gastroduodenal and gastric ulcer, since it commonly occurs in the stomach wall and the duodenum near the junction with the stomach. It is a pitting of the stomach mucous membrane, often from 0.5 to 2 cm in diameter, which may heal and open several times again during the year.
It may be caused by exogenous (listed in the gastritis epigraph) or endogenous reasons related to the organic constitution. Hydrochloric acid in gastric juice is one of the causative agents of ulcers. Certain micro-organisms also play a role in ulcer formation.
The herbs mentioned here can decisively contribute to healing gastroduodenal, though recovery will never be complete as long as the causative agents are not eliminated.
Phytotherapy provides effective remedies for treating stomach afflictions, such as gastritis or peptic ulcer. However, an unhealthy diet or inadequate food can prevent medicinal herbs from acting at their best intensity rate.
No products found.
REFERENCES
George D. Pamplona-Roger, M.D. "Encyclopedia of Medicinal Plants." George D. Pamplona-Roger, M.D. Encyclopedia of Medicinal Plants. Ed. Francesc X. Gelabert. vols. 2 San Fernando de Henares: Editorial Safeliz, 2000. 416, 417, 418, 419, 420, 421, 422, 423. Print. [stomach disorders]
Last update on 2023-12-03 / Affiliate links / Images from Amazon Product Advertising API