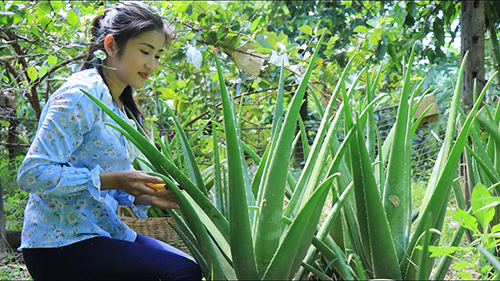 Presently, it is widely known that the aloe vera plant belongs to the xeroid group of plants that can close the stomas of their leaves after any cut or wound in them. Thus, they can avoid loss of moisture.
Indeed aloe vera plants have been used to heal the wounds of many people throughout history. Greek soldiers, Roman emperors, and warriors from many countries have been treated with this plant.
We have observed that, when any of the fleshy leaves of aloe is cut, there is quick healing on its surface, intending to keep the precious juice it contains from getting lost. Natural logic tells us that if the plant can regenerate the surface of its leaves successfully, it will also heal the wounds of humans who will be treated with the plant.

Aristotle
Aloe Vera Plant Scientific Facts
Other names: Aloe barbadensis Miller, Barbados aloe, Curacao aloe
French: Aloes
Spanish: Aloe
Environment:  Native to southern Africa; however, it spread to hot and desert regions of America (Central America and the West Indies) and Asia.
Description: Plant of the Liliaceae family, growing up to three or four meters high, through the growth of its central axis or stem. According to its variety, it has fleshy, lanceolate, spiked leaves and red or yellow flowers, which hang from a large stem.
Healing Properties and Warning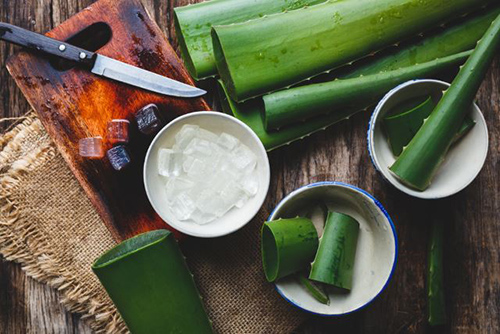 From the fleshy leaves of aloe, two main products are obtained: bitter aloes, and aloe gel.
Bitter aloes: When cutting the surface of the aloe leaves, no matter which aloe species, a dense, yellow juice with bitter flavor flows out. It is concentrated under the sunlight or by evaporation and becomes a shapeless mass of dark brown color and very bitter taste, called bitter aloes.
Bitter aloes contain from 40 to 80% resin and up to 20% aloin, an anthraquinonic glycoside, its active component. Based on the daily dose, bitter aloes have diverse applications.
Up to 0.1g, it has appetizer, stomachic, and cholagogue properties, promoting digestion.
From 0.1g, it has laxative and emmenagogue properties (increases menstrual flowing).
Aloe gel or juice: It is obtained from the flesh of its leaves, which give an almost transparent sticky liquid with no flavor. This juice is responsible for the fame aloe gel has been acquiring for the last few years, mainly because of its healing properties on the skin. This juice is formed by a complex mixture of more than 20 substances, including polysaccharides, glycosides, enzymes, and minerals. It contains acemannan, an immunostimulating substance that increases defenses. Unlike bitter aloes, aloe gel does not have laxative properties.
In local applications, the aloe vera plant can exert beneficial effects in many cases. The most important are the following: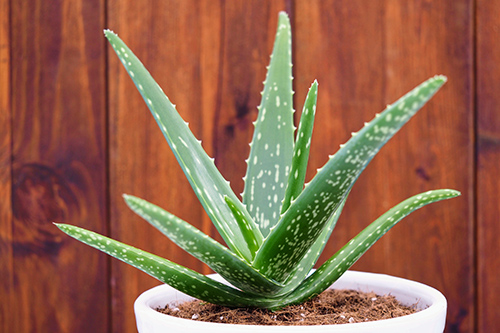 Whether clean or infected, aloe juice can be applied to wounds as compresses, though the aloe flesh can also be put directly on the affected area.
Burns: Aloe gel or juice is applied as compresses for two days after the burn has taken place. For first-degree burns, two or three days of treatment will suffice. In more severe cases, we recommend you consult your physician. Aloe manages to accelerate skin regeneration in the burned area and reduce scarring to a minimum.
Skin afflictions: Aloe juice, applied from lotion, has a favorable effect on psoriasis and skin eczema, as well as on acne, athlete's foot, and herpes. We recommend you take aloe orally also to enhance its effects. In children, a lotion with aloe juice is used to treat eczema caused by diapers, and alleviate itching and promote skin healing for diseases like measles, rubella, and chickenpox.
Skin beauty: Aloe revitalizes skin, giving it better endurance, smoothness, and beauty. When applied, it improves the appearance of scars and cracks. It is also used for nail and hair care.
When taken orally, aloe juice has depurative and stimulating properties. It is used as a digestive and in the treatment of gastro-duodenal ulcers.
The gelatinous ooze from the leaves of the aloe vera plant is precious. It is best utilized freshly picked from the plant. Most people usually have several aloe vera plants growing around the yard because you cannot have enough. Thanks to its awful taste, it is generally taken in pill or powder form whenever it is used as a purgative. It can also gripe, resulting in a constipation-like reaction. Therefore, it should be combined with a carminative herb like peppermint to achieve the best results.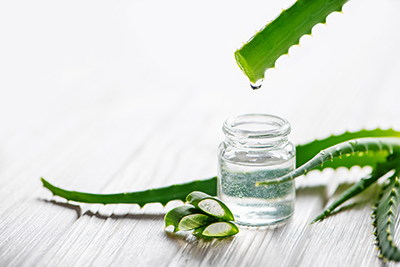 When used externally, the aloe vera plant's fresh leaves can be split, exposing a gelatinous juice that can be rubbed onto the skin. Even the most severe burns (including sunburn) don't stand a chance against the healing properties of the gel that resides inside the leaves. Irritated skin and rashes are also no match for the plant's healing prowess.
Aloe vera plant is also used to treat itchy skin, poison oak and ivy, insect bites, and bee stings. It can treat infections in wounds, skin irritations, ulcers, and abscesses. It is believed to heal wounds by preventing or drawing out the infection. To use as a first-aid remedy for burns and surface irritations, cut or break off a leaf and apply the gel onto the impacted skin area.
The gel can be left on for about two days without changing the application for severe burns and skin rashes. The dried juice can be made into tea, which can be used as an eye and wound wash.
When used internally, the aloe vera plant is an excellent remedy for stomach ulcers, hyperacidity, gastritis, and chronic constipation. It is a laxative and bowel regulator. However, when used alone, it can cause griping (bowel cramping), which is why it is best combined with ginger root. Combine four parts aloe powder and one part ginger root powder and fill "00" gelatin capsules. Take two capsules three times daily. When taken internally, it hastens blood vessel generation in the lower extremities of individuals with poor circulation.
It was discovered to be vital in reducing radioactivity in the 1950s. It is also beneficial for treating AIDS. Another method of treating gastro-intestinal ulcers is to take the bitter aloe gel in tiny amounts at frequent intervals (totaling a pint a day for ulcers), along with a tea of licorice or ginger root, to aid in the prevention of any adverse reactions to the bitter taste.
The aloe vera plant is readily obtained and does well inside the home. The plant only needs water once weekly. Please keep them in a south window. Although there are other aloe plants, aloe vera is the best for medicinal uses.
WARNING: Aloe gel or juice can produce allergic reactions when applied to the skin. One out of every 200 people is allergic to aloe. If, after some minutes of using drops of aloe juice on the affected area, there is a slight reddening and itching, you are allergic to aloe and will have to look for another remedy. Avoid use during pregnancy. Please do not use it in large quantities in the case of hemorrhoids.
Preparation and Use
Bitter aloes: It is used as pills and pharmaceutically made. As a laxative or purgative substance, bitter aloes act slowly, thus have to be administered at night to achieve effects the next day.
Aloe gel or juice
Compresses with aloe juice. Please keep the compress for the entire day, soaking them with juice every time they get dry. At night, olive oil or hydrating cream can be applied since aloe juice dries the skin.
Lotion with aloe juice.Apply two or three times a day on the affected skin area. It is recommended that you combine its use with some emollient (soothing) such as olive oil.
Cream and ointments, and other pharmaceutical preparations based in aloe. These items usually include an emollient or hydrating substance.
Gel: Take two ounces each time, up to one pint daily. Tincture: Take ten to forty drops three times daily. Fluid extract: Take ½ to 1 teaspoon three times daily.
Acemannan contained in aloe juice has been scientifically proven to stimulate the defenses of the body. Internally used, it activates the lymphocytes, a kind of cell whose primary function is destroying cancer cells and those which the AIDS virus has infected. Research is being conducted on using acemannan to treat both modern plagues; however, there are no definitive results.
REFERENCES
George D. Pamplona-Roger, M.D. "Encyclopedia of Medicinal Plants." George D. Pamplona-Roger, M.D. Encyclopedia of Medicinal Plants. Ed. Francesc X. Gelabert. vols. 2 San Fernando de Henares: Editorial Safeliz, 2000. 694, 695. Print. [aloe vera plant]
Vance Ferrell Harold M. Cherne, M.D. The Natural Remedies Encyclopedia [Book]. – Altamont, TN: Harvestime Books, 2010. – Vol. Seventh Edition: 7: pp. 142, 143.
Last update on 2023-12-09 / Affiliate links / Images from Amazon Product Advertising API