Two thousand years ago, the great Greek physician, pharmacologist, botanist, and author Pedanius Dioscorides recommended the garden raspberry in his De Materia Medica to remedy stomach weaknesses. Today, they are still as refreshing and invigorating as during that age and are a good source of vitamins.
Sale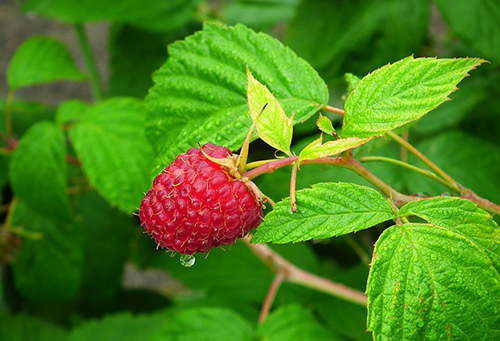 Healing Properties and Indications
The fruit of the garden raspberry contains pectin, sugar, organic acids, mineral salts, and vitamins A, B, and mainly C. The flowers and the leaves also contain tannin.
The fruit has appetizer, antiscorbutic, refreshing, and invigorating properties. They are recommended for febrile diseases. Treatments with raspberries are helpful for constipation, rheumatism, renal, and hepatic insufficiency. They stimulate the metabolism, especially the processes of elimination of organic waste and depuration.
The flowers and the leaves have astringent properties due to their content in tannin. They are used in infusion as antidiarrheic and mouth rinses and gargles for gums and throat inflammation.
Raspberry leaf tea is an excellent remedy for treating diarrhea, and you can drink it as a refreshing beverage. The herb is so safe that it is one of the best herbal teas pregnant individuals can consume to ease childbirth, reduce pain, prevent bleeding, and relieve nausea. It can also be used liberally to reduce menstrual cramping. Combined with other herbs, such as squaw vine and uva ursi, it can help treat hot flashes, vaginal discharge, and other female problems.
Combine raspberry with peppermint and use it to treat morning sickness or uterine bleeding. It is an astringent tonic that stimulates the mucous membranes. Raspberry leaf tea combined with myrrh or goldenseal in equal parts creates a douche or enema that can treat dysentery. In addition, it can be used for measles.
Raspberry can soothe the kidney and urinary tract and relieve urinary irritation. For instance, mix one-part raspberry, slightly over one part goldenseal, and 2 ½ parts witch hazel to relieve bleeding, chronic dysentery, and kidney infections.
Raspberry leaf is a dependable remedy for colds, cases of flu, fevers, and acute stomach ailments. Mix the fresh juice with a bit of honey to prepare a refreshing refrigerant beverage that can be taken to reduce a fever. Steep an ounce of the herb in a pint of boiled water for twenty minutes. It helps stimulate the skin, teeth, bones, and healthy fingernails.
Thanks to the plant's astringent properties, it can be used for sores, skin rashes, burns, wounds, canker sores, gargle, eyewash, and mouthwash. For throat diseases, the above formula, using witch hazel and goldenseal, is helpful.
Note: Wild raspberry has similar properties but is not utilized much since the garden variety is so easy to obtain.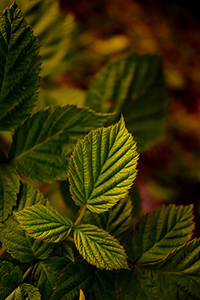 Garden Raspberry Scientific Facts
Scientific name: Rubus idaeus L.
Other names: Raspberry, European red raspberry.
French: Framboisier.
Spanish: Frambueso.
Environment: It grows among granite rocks in mountain regions of Europe, and it is naturalized to the American continent.
Description: Shrub of the Rosaceae family, growing from one to two meters high, with prickly stems and whitish leaves on their underside. It has small, white-greenish flowers.
Parts of the plant used medicinally: The fruit, the flowers, and the leaves.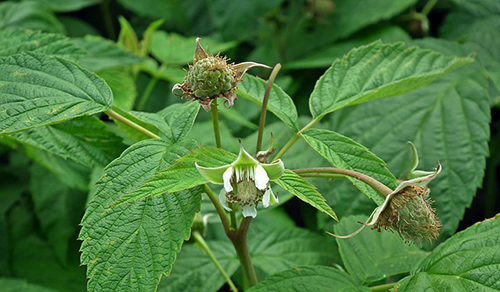 How to use Garden Raspberry
The fruit is eaten as a dessert, fresh whenever possible, or in jam or jelly.
Infusion with the leaves and flowers.
Mouth rinses and gargles with the same infusion used internally.
Infusion: Steep for five to fifteen minutes and take six ounces frequently. Tincture: Thirty drops (1/2 to one teaspoon) often. Fluid Extract: Take one to two teaspoons frequently. Powder: Take five to ten #0 capsules (30 to 60 grains) frequently.
No products found.
REFERENCES
George D. Pamplona-Roger, M.D. "Encyclopedia of Medicinal Plants." George D. Pamplona-Roger, M.D. Encyclopedia of Medicinal Plants. Ed. Francesc X. Gelabert. vols. 2 San Fernando de Henares: Editorial Safeliz, 2000. 765. Print.
Vance Ferrell Harold M. Cherne, M.D. The Natural Remedies Encyclopedia [Book]. – Altamont, TN: Harvestime Books, 2010. – Vol. Seventh Edition: 7: pp. 142, 143.
Last update on 2023-12-03 / Affiliate links / Images from Amazon Product Advertising API