What is dysmenorrhea? Dysmenorrhea is classified as primary or essential when it appears without any apparent cause, and a known process causes secondary dysmenorrhea. The latter usually appear in a woman who has had regular periods for a more or less long time.
What is Dysmenorrhea: Primary
Primary or essential dysmenorrhea is characterized by pelvic pain during the menstrual period. This pain radiates to the lumbar and perineal region or the abdomen in general. It may be associated with headaches, nausea, vomiting, and general weakness; the woman may even be compelled to interrupt her usual activities. The pain, more intense on the day before and the first day of the period, starts decreasing as the period advances.
In general, an ultrasound and a vaginal or rectal examination may find a normal uterus, or an underdeveloped uterus strongly bent either backward or frontward.
What is Dysmenorrhea: Secondary
Secondary dysmenorrhea may be triggered by specific lesions of the uterus (synechias, fibroids, polyps, etc.), the adnexa (surrounding organs; salpingitis, oophoritis, or ovaritis, etc.), or peritoneal lesions (endometriosis). A triggering psychological cause may be possible (professional or family problems).
Dysmenorrhea Treatment
According to the necessary contraception requirements, the previously used antispasmodic medication has been advantageously replaced by antiprostaglandins, progesterone, and possibly estroprogestative. Although acetylsalicylic acid (aspirin) has some degree of anticoagulant effect, it does not seem to present any risks when used to calm menstrual pain. However, it is much better to see the doctor before using any painkiller.
There is a natural product that is practically devoid of any complications: evening primrose oil or cowslip (Oenothera biennis L.). It has been widely researched, and it is an effective tool against any female pelvic pain.
Natural Treatment For Primary Dysmenorrhea
Naturally, before resorting to pharmaceutical drugs, it is better to try correcting dysmenorrhea by natural means, whose effectiveness has been thoroughly proven in most cases. A simple hot water bottle on the abdomen or the sacral area is sufficient to alleviate many women's pain.
Hydrotherapy offers efficient resources against dysmenorrhea:
Full lukewarm baths: They are excellent for muscular relaxation. Bath salts or medicinal plants may be added to the bathwater.
Cold sitz baths: On non-period days, take a cold sitz bath, massaging the lower abdomen in clockwise circles with a sponge or towel every day for five to ten minutes. Avoid getting cold, particularly on the feet, which must be duly protected with socks. After the bath, rub the lower abdomen with a soft cotton towel to make it warm. Five days before the period, replace this cold bath with a lukewarm one.
Thalassotherapy and geotherapy: Good results may be obtained with saltwater compresses or clay poultices applied on the lower abdomen outside the days of the period.
Heliotherapy: Whenever possible, expose the lower abdomen to the sun, but never for more than half an hour twice a day, and only for a few minutes to begin with.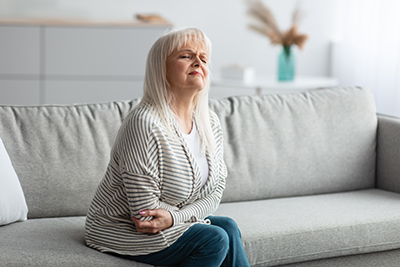 Phytotherapy: Several medicinal plants provide relief from menstrual pain. Several proven preparations are also sold commercially. One of these contains equal amounts of mugwort (Artemisia Vulgaris L.), shepherd's purse (Capsella bursapastoris Moench.), chamomile (Matricaria chamomilla L.), rosemary (Rosmarinus officinalis L.). Pour boiling water over three of four tablespoons of the mixture. Cool and take one cup every hour when the pain is the strongest.
Dietotherapy: Women who suffer from dysmenorrhea must eat wholemeal cereals (wheat, oats, and maize in particular), oily nuts (walnuts, almonds, hazelnuts), and especially a lot of fruit and vegetables – fresh ones whenever possible. Dates and pollen are essential supplements.
And in general, a healthy lifestyle is recommended: adequate amounts of physical exercise, moderate work, a balanced diet, no toxic substances (smoking, alcohol, coffee, tea, etc.).
Natural Treatment for Secondary Dysmenorrhea
In the case of secondary dysmenorrhea, its causes must be determined by a reliable medical diagnosis. According to the triggering factor and the lesion, the specialist will prescribe medical, surgical treatment, or psychotherapy.
Dysmenorrhea Exercises
Repeat all of the following exercises 20 times, at least four times a week. In the beginning, they can be started with 5-10 repetitions and then increased progressively.
Flapping: Flapping movements, as wide as possible, with the knees, keep your feet as close to the body as you can; breathing should be natural without being forced at any time. This exercise stimulates pelvic blood circulation.
Pelvic bending: With back parallel to the floor, breathe in. Lower the hip and push the body forward while bending the arms when you breathe in. This exercise tones the abdominal muscles, develop pelvic mobility, strengthens the spine, and alleviates backache.
Knee grips: Hold and let go of each knee, flexing the leg. It strengthens the dorsal muscles and alleviates the pain they produce. It helps to eliminate intestinal gasses and fight constipation.
Laterals: Put your legs together and bend them, all the while keeping your back pressed to the floor; try touching the adjacent side with the other knee, remembering to pass through the central position. This maneuver improves the circulation of the pelvic area and the muscle tone of the abdomen and the back.
Pelvic thrusts: While breathing in, lift the hips and then the body, without lifting the shoulders from the floor and using the feet for support. Breathe out, returning slowly to the initial position. This exercise alleviates pelvic congestion and backache, thanks to its toning and relaxing effect.
Pelvic pressure: Thrust the hips forward and keep them like that for a few seconds. The pelvis, muscles, abdomen, and thorax should be noted to be in tension. This exercise helps to alleviate pelvic congestion.
Submission: Well relaxed, with deep, slow breathing. This exercise may be carried out between the previous ones, allowing time to recover in the case of tiredness. It relaxes the dorsal muscles and fights constipation.
Leg bends: Leg bends and straightening up may be carried out leaning against a piece of furniture. They must be carried out with rhythm and energetically. This exercise helps to activate circulation and also aids in the strengthening of the perineum.
REFERENCES
Isidro Aguilar, Doctor in Medicine and Surgery. "Encyclopedia of Health and Education for the Family." Herminia Galbes, Doctor in Medicine and Surgery. Vols. 1: 129, 130, 131, 132 Print. [what is dysmenorrhea]
Last update on 2023-09-30 / Affiliate links / Images from Amazon Product Advertising API