Humanity has been eating broad beans for a millennium. It is possibly the oldest domesticated legume.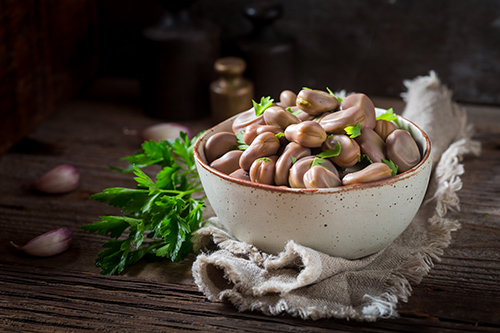 Broad Beans Scientific Facts
Scientific name: Vicia faba L.
Other names: Faba bean, Horse-bean, Field-bean, Tick-bean, Fava bean, Windsor bean.
French: Féve.
Spanish: Haba.
German: Dicke Bohne.
Description: Seeds of the fruit of the broad bean plant, a herbaceous plant of the botanical family Leguminosae whose stalks reach about a meter in height. From a botanical perspective, the fruit is a legume formed of a fleshy green pod fifteen to twenty-five cm long containing six or seven seeds (the beans themselves).
Environment: Originally from the Middle East, they have been grown in Mediterranean countries for millennia. Its cultivation has spread throughout the hot climate areas of the world.
Broad Beans Health Benefits
Fresh broad beans contain a considerable amount of protein of high biological quality (5.6 percent), carbohydrates primarily in the form of starch (7.5 percent), and virtually no fat (0.6 percent). Among its vitamins, vitamin B1 (0.17 mg/100 grams), folates (96.3 mg/100 grams), and vitamin C (33 mg/100 grams), which they contain about half that of the lemon predominate.
Iron is the most abundant mineral in broad beans (1.9 mg/100 grams), almost as much as meat. This is nonheme iron, whose absorption is enhanced by the simultaneous presence of vitamin C.
Broad beans are recommended in cases of iron deficiency anemia, and during pregnancy, for adolescents, athletes, and those recovering from infectious diseases or surgery.
Favism
A small percentage of the population of Mediterranean countries suffers an intolerance to broad beans for genetic reasons. When these individuals eat these fava beans, they suffer hemolysis (destruction of the blood cells), and various other disturbances are known as favism.
How to Prepare and Use Broad Beans
RAW – They may be eaten this way when fresh and tender, although they are not always well tolerated. Removing the skin can help prevent flatulence and digestive disturbances.
COOKED – This is the recommended way to eat fava beans. The heat and water deactivate the small amounts of lectin (a toxic protein) that they may contain, the same as all other legumes. Brief boiling or steaming is sufficient to destroy toxins and make them perfectly digestible.
DRIED – Drying is the traditional means of storing fava beans, although they lose a significant portion of their vitamin content (not minerals). Dried fava beans require a relatively long cooking time.
No products found.
REFERENCES
George D. Pamplona-Roger, M.D. "Encyclopedia of Foods and Their Healing Power." George D. Pamplona-Roger, M.D. Encyclopedia of Foods and Their Healing Power. Trans. Annette Melgosa. Vol. 2. Chai Wan: Editorial Safeliz, 2005. 137. Print.
Last update on 2023-12-03 / Affiliate links / Images from Amazon Product Advertising API