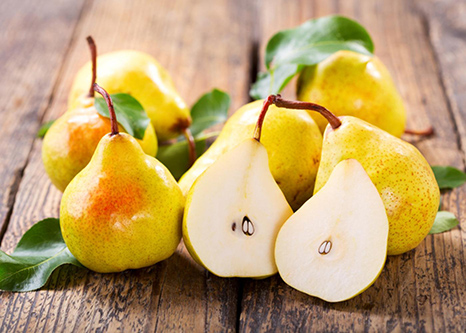 The pear is a fruit with profound roots in European civilization. There is archeological evidence of pear health benefits three thousand years before the birth of Christ. Ancient Greco Roman medical and botanical writers already knew about the health benefits of pears.
When a pear is eaten at their ripeness peak, they are amongst the sweetest and most juicy of fruits. However, they're not easy to find in supermarkets like this. When it comes to pears vs apples, pears do not last long: If the pear is green and hard today, tomorrow it will be overripe and unfit to eat. Storing pears in the refrigerator allows you to keep them a few days more than at room temperature, but you cannot keep them long even then. However, the pear health benefits are numerous.
Pear Health Benefits: Preparation and Dosage
RAW: You must chew pears thoroughly, mainly the ones that are tough with a gritty texture. Make sure to peel your pear before eating it (because of potential external contamination). However, in the pear's case, there is a dietary value to the peel, which include diuretic benefits. Therefore, it is best to buy organic or wash them thoroughly.
COOKED: Cooked pears are more comfortable on the digestive process; unfortunately, cooking them destroys the vitamins while leaving the minerals and sugars intact.
COMPOTES and JAMS.
FRENCH: Poire;
SPANISH: Pera;
GERMAN: Birne.
DESCRIPTION: A fruit of the pear tree ('Pyrus communis' L.), a tree comparable to the botanical family Rosaceae's apple.
HABITAT: Pears are cultivated in all temperate regions of the world.
Pear Health Benefits: Medicinal Properties and Indication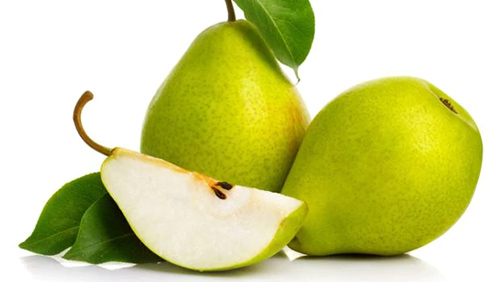 Pears are famous for their content of sugars (12.7%), while they lack in proteins (o.39%) and fats (0.4%). The most plentiful sugars are fructose and levulose; therefore, people with diabetes tolerate them well.
Pears contain minute sums of vitamins E, B, and C. Iron, magnesium, and potassium are among the essential minerals that this fruit contains. Pears are also a great source of trace elements such as manganese and copper, and, in a lesser amount, zinc. The pear's vitamin and mineral content are slightly more significant than apples.
Pears are also a great source of fiber (2.4%), which is a little less than the apple (2.7%). In comparison to the apple, the pear contains a more significant amount of insoluble fiber-rich in lignin, which is a material that's responsible for making wheat bran and wood hard.
The soluble fiber in this fruit is more effective in lowering cholesterol; hence, the insoluble is more effective as a laxative. When it comes to non-nutritive components, the pear possesses a lower quantity of organic acids compared to the apple and a more significant tannins balance. These are responsible for the absorbent and anti-inflammatory effects of pears.
The pear is also diuretic, remineralizing, a mild astringent, and refreshing. Other pear health benefits include:
Renal failure
Excess uric acid
Weight loss
Digestive disorders
Pear Nutrition Facts and Composition
| | |
| --- | --- |
| ENERGY | 59.0 kcal = 247 kj |
| PROTEIN | 0.390 g |
| CARBOHYDRATES | 12.7 g |
| FIBER | 2.40 g |
| VITAMIN A | 2.00 ug RE |
| VITAMIN B1 | 0.020 mg |
| VITAMIN B2 | 0.040 mg |
| NIACIN | 0.100 mg NE |
| VITAMIN B6 | 0.018 mg |
| FOLATE | 7.30 ug |
| VITAMIN B12 | ———- |
| VITAMIN C | 4.00 mg |
| VITAMIN E | 0.500 mg (a-TE |
| CALCIUM | 11.0 mg |
| PHOSPHORUS | 11.0 mg |
| MAGNESIUM | 6.00 mg |
| IRON | 0.250 mg |
| POTASSIUM | 125 mg |
| ZINC | 0.120 mg |
| TOTAL FAT | 0.400 g |
| SATURATED FAT | 0.022 g |
| CHOLESTEROL | ——— |
| SODIUM | ——— |
Although a diuretic and preventer of high blood pressure, the pear is a very luscious fruit that is more thirst-quenching than ice cream.
REFERENCES
George D. Pamplona-Roger, M.D. "Encyclopedia of Foods and Their Healing Power." George D. Pamplona-Roger, M.D. Encyclopedia of Foods and Their Healing Power. Trans. Annette Melgosa. Vol. 2. Chai Wan: Editorial Safeliz, 2005. 112,113. Print. [pear health benefits]