The name of the fumitory plant could be derived from either of two facts. First, when the plant is cut or mashed, it makes anyone shed tears as if it was smoke. Second, its sterling-grey leaves resemble the smoke of a fire, while the flowers seem like the fire itself. It has been successfully used since the time of Dioscorides (1st century A.D.).
Naturalma Fumitory (Fumaria officinalis) herb with Flowers Alcohol-Free Tincture…
Fumitory (Fumaria officinalis) herb with flowers liquid extract or tincture concentrated 1:5. 100% natural, alcohol and sugar free. MADE IN ITALY.
A NATURAL AID: Fumitory liquid herbal supplement in drops. 40 drops (2 ml) contain 2.3 g of Fumitory extract (1:5). Glyceric macerate or pure fluid extract of Fumitory (Fumaria officinalis) herb with flowers in drops.
NATURALMA – A Natural Way of Life: We respect and love Nature, that's why all our supplements are Vegan and contain no artificial ingredients. We believe in the importance of guaranteeing quality and safety, so we carefully select the raw materials and manufacture the products in Italy.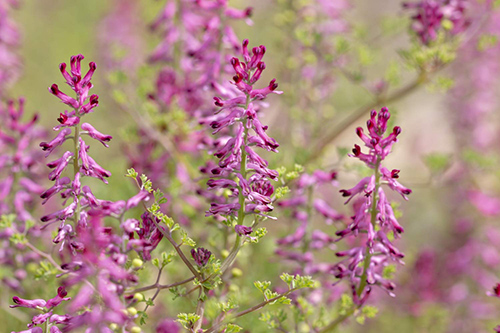 Fumitory Plant Scientific Facts
Scientific Name: Fumaria officinalis L.
Other Names: Hedge fumitory, earth smoke.
French: Fumeterre.
Spanish: Fumaria.
Environment: Common along roadsides, on unfarmed lands, and near farmed fields. Native to Europe, nowadays spread all over the world.
Description: Annual plant of the Fumariaceae family, growing from 20 to 70 cm high, with greyish-green leaves and pink or red flowers. It has an acrid smell and a sour taste.
Parts of the plant used medicinally: The whole plant, except its root.
Fumitory Benefits
The whole fumitory plant contains flavonic substances with antispasmodic and choleretic properties; potassium salts, to which it owes its diuretic and depurative properties, and several alkaloids which are derived from the isoquinoline (fumarine), which give the plant antihistaminic (histamines play an essential role in allergic reactions) and anti-inflammatory properties.
Moreover, the fumitory contains bitter principles and mucilage. It has the following indications:
Skin eczemas and rashes caused by autointoxication (internal toxicity) with intestinal putrefaction, kidney and liver insufficiency, or allergies.
Hepatic affections: Congestion and dysfunctions of the liver or chronic hepatitis because of its choleretic effect (stimulates the bile secretion).
Arterial hypertension, given its diuretic, antispasmodic, depurative, and blood-thinning properties.
How to use Fumitory
Infusion with fifty grams of plant per liter of water. Drink a cup before every meal.
Juice of the fresh plant, sweetened with honey. Half a glass before every meal.
Dry extract: One gram before every meal.
REFERENCES
George D. Pamplona-Roger, M.D. "Encyclopedia of Medicinal Plants." George D. Pamplona-Roger, M.D. Encyclopedia of Medicinal Plants. Ed. Francesc X. Gelabert. Vols. 1 San Fernando de Henares: Editorial Safeliz, 2000. 389. Print. [fumitory plant]
Last update on 2023-09-30 / Affiliate links / Images from Amazon Product Advertising API