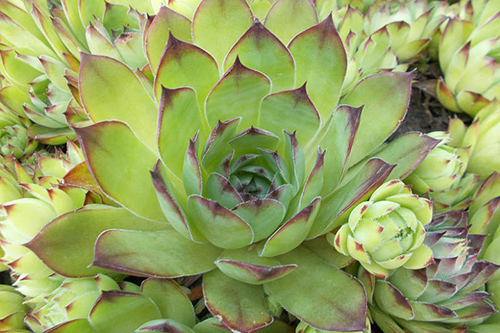 Houseleek forms a thick lawn around it. Therefore it has been used to cover and strengthen earth roofs and to protect houses from thunderstorms, thanks to the thick layer it forms. According to the Greek physician Pedanius Dioscorides, this plant is highly beneficial for skin irritations and burns.
Houseleek Scientific Facts
Other names: Jupiter's beard, liveforever, thunder plant, Jupiter's eye, hens and chickens, bullocks' eye, Aaron's rod.
French: Grande joubarbe
Spanish: Simpreviva mayor
Environment: Rocky areas, old walls, and ruins all over central and southern Europe. It is also nurtured as a decorative plant in yards and gardens.
Description: Vivacious plant of the Crassulaceae family, growing up to 50 cm high. Its base is formed by a rose of evergreen, fleshy leaves. Its upright stem ends with two or three reddish flowers.
Parts of the plant used: The fresh leaves
Preparation and Use
Poultices with mashed leaves. Apply from two to four times per day, keeping them on the affected area for 20 – 30 minutes.
Compresses soaked in the fresh juice of the plant. Apply with the same frequency and during the same time as poultices.
Baths with the fresh juice of leaves, dissolved into water, in a proportion of 50 ml of juice per liter of water.
Properties and Indications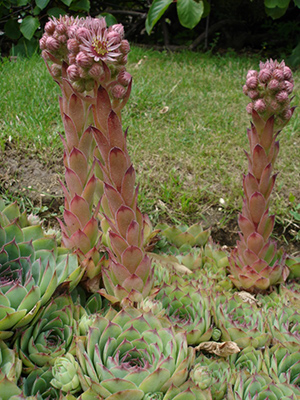 Houseleek contains several tannins, to which it owes its astringent and antiseptic properties, enhanced by the presence of malic and formic acids. It also contains mucilage, which gives it emollient and healing properties.
Though it was used formerly to treat diarrhea and dysentery, its present use is exclusively external in the cases of:
Skin and mucosa afflictions: Skin irritations, as well as callus, chilblains, burns, infected wounds, and hemorrhoids, are healed when houseleek is applied, whether as poultices, compresses, baths, or washings. This is due to its anti-inflammatory and wound and bruise healing properties.
Minor burns: Compresses with houseleek alleviate itching and irritation if burned skin. They are applied by alternating their use with that of sour almond oil.