In the Caribbean and Central American countries, soft drinks based on the flesh of the tamarind tree are very common and have a sweet and sour flavor at the same time. Besides its pleasant flavor, this plant has several medicinal properties.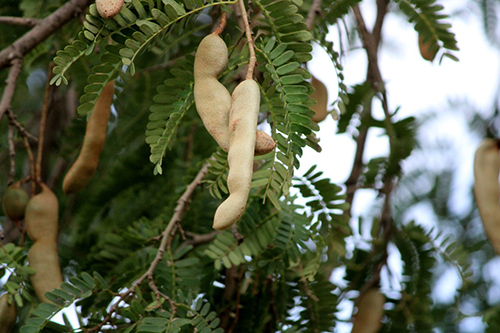 Healing Properties
The flesh covering the seeds of tamarind is rich in sugar (60 to 65 percent) and organic acids (citric, malic, and tartaric). It also contains pectin. The medicinal uses of the tamarind tree FLESH are as follows:
Mild laxative, because of the sugars and pectin it contains. It is usually associated with tinnevelly senna to enhance its actions. It produces soft defecation with no colic.
Mild choleretic and cholagogue – It is recommended for the gall bladder and liver disorders since it can relieve liver congestion and promote the emptying of the gall bladder.
Refreshing and invigorating – Its use is recommended for febrile afflictions and during sports training.
Its LEAVES have anthelmintic and vermifuge properties (destroying intestinal parasites), and astringent.
Tamarind Tree Scientific Facts
Scientific Name – Tamarindus indica L.
French – Tamarin.
Spanish – Tamarindo.
Environment – Native to tropical Africa, at present extensively, cultivated and spread all over India and Central America.
Description – Evergreen tree of the Leguminosae family, growing up to 25 m high. Its fruit are hanging pods, 15 to 20 cm long, whose interior has a yellow flesh covering the seeds.
Parts of the plant used medicinally – The flesh of the fruit and the leaves.
How to Use Tamarind
Flesh – Take from 20 to 40 grams, dissolved in water, up to three times a day.
Infusion with 30 grams of leaves per liter of water. Drink three cups daily.
Rani Tamarind Powder (Imli) 3.5oz (100g) ~ All Natural| No Added Sugar/Salt | Vegan | Gluten Friendly | Kosher | NON-GMO | Indian Origin
🌴Special Note: Its CLUMPY & HARD! Our spices do not have anti-caking or anti clumping agents or other harmful additives, hence with a sticky product like our tamarind powder, natural clumping will occur. This does not indicate that the product is old or bad, just all natural!
🌴You'll LOVE our Tamarind Powder (Imli) by Rani Brand–Here's Why:
🌴Now KOSHER! 100% Natural, Non-GMO, No Preservatives, Vegan, Gluten Friendly, Made from pure tamarind, thats it!
🌴Rani is a USA based company selling quality foods for over 40 years, buy with confidence!
🌴Net Wt. 3.5oz (100g), Commonly used to make Tamarind Chutney, Product of India, Alternative Name: (Indian) Imli Paste
REFERENCES
George D. Pamplona-Roger, M.D. "Encyclopedia of Medicinal Plants." George D. Pamplona-Roger, M.D. Encyclopedia of Medicinal Plants. Ed. Francesc X. Gelabert. vols. 2 San Fernando de Henares: Editorial Safeliz, 2000. 536. Print. [tamarind tree]
Last update on 2023-10-01 / Affiliate links / Images from Amazon Product Advertising API