Native Americans took advantage of partridge berry benefits throughout pregnancy, primarily during the last few weeks, to make childbirth easier and faster. Partridge berry, also known as squaw vine, was also used to improve lactation and is used for the same purpose today. It relieves congestion of the ovaries and is suitable for painful or absent menstruation because it is a uterine tonic.
HawaiiPharm Partridge Berry Alcohol-Free Liquid Extract, Partridge Berry…
Squaw Vine NON-Alcohol liquid extract contains ONLY natural ingredients!
High Quality Partridge berry NON-Alcohol liquid extract – we use classic conventional methods of extraction! We meticulously produce our extracts according to precise standards where each herb is extracted according to the distinct characteristic of each plant!
Super concentrated Squaw Vine NON-Alcohol extract: dried material / solvents ratio is 1:3!
We strictly use Only Certified Organic or ethically sourced wild harvested raw material, vegetable palm glycerin and crystal clear artesian purified water! Really the BEST Partridge berry Squaw Vine herbal glycerite on market! Made with love for plants and respect for Nature!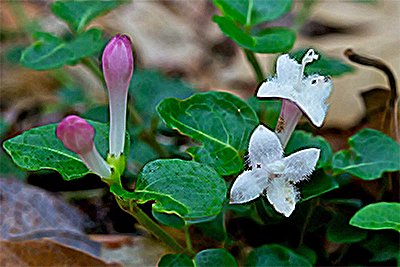 Partridge berry makes an excellent fomentation for sore nipples. Crush the berries, combine them with myrrh, boil, and let steep for three days and strain. Combine it with raspberry leaves during pregnancy. In addition, you can mix squaw vine with a tiny portion of lobelia, cramp bark, and raspberry leaves to prevent miscarriages and the same formula is beneficial for vaginal discharge.
Partridge berry is an excellent remedy for leukorrhea, especially when combined with witch hazel. The same combination can also be used to treat bleeding piles and dysentery. Thanks to the herb's diuretic properties, it can treat urinary problems such as stones. It is also used to treat insomnia.
Make a decoction using an ounce of herb in a pint of water and take ½ cup three times daily for general use. Take partridge berry tea as an external wash for skin problems and sore eyes.
NOTE: This herb shares similar effects and properties to pipsissewa.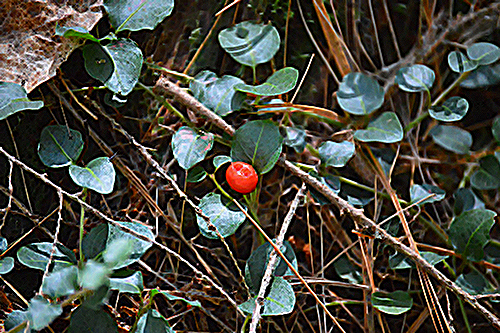 Partridge Berry Scientific Facts
1. Scientific name: Mitchella repens.
2. Part of plant used medicinally: The whole plant.
3. Healing Properties: Diuretic, astringent, emmenagogue.
4. What it affects: Colon, bladder, uterus.
How to use Squaw Vine
1. Infusion: Steep for five to fifteen minutes and take three ounces three to four times a day.
2. Tincture: Take fifteen to sixty drops three to four times daily.
3. Powder: Take five to ten #0 capsules (30 to 60 grains) three to four times daily.
REFERENCES
Last update on 2023-10-01 / Affiliate links / Images from Amazon Product Advertising API