During ancient times, the sea buckthorn plant was regarded as poisonous for horses, so its scientific name answers to this idea: Hippophae (Horse killer). Today, we know that sea buckthorn is harmless for horses and that it is one of the plants with the highest concentration of vitamin C known.
Sea Buckthorn Oil Capsules 4400mg | 200 Softgels | Non-GMO, Gluten Free | Sea Buckthorn Berry Oil Supplement | by Carlyle
SEA BUCKTHORN: Grown in high altitudes of the Himalayas, this fruit contains beneficial compounds
OMEGA RICH: Each softgel provides the equivalent of 4,400 mg of fruit from a concentrated extract**
ROOTED IN WELLNESS: Carlyle provides premium, honest supplements in your pursuit to healthy living
CARLYLE MANUFACTURERS: Laboratory Tested, Trusted Ingredients, Superior Quality, 100% Guaranteed!
NATURALLY FREE OF: Gluten, Wheat, Yeast, Milk, Lactose, Artificial Flavor & Sweetener, and Non-GMO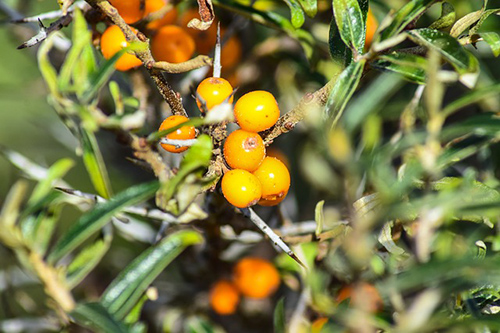 Sea Buckthorn Plant Scientific Facts
Scientific synonyms: Echinacea pallida Nutt.
French: Argoussier.
Spanish: Espino amarillo.
Environment: Spread along river banks and sandy soils all over Europe and naturalized to America.
Description: Thorny shrub of the Elaeagnaceae family, growing from one to three meters high, deciduous, with narrow, lanceolate leaves. It has unisexual flowers (it is a dioicous plant), small, and green in color. The plant's fruits are yellow or orange berries.
Parts of the plant used medicinally: The berries.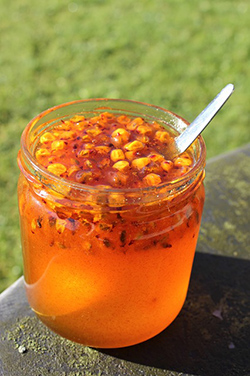 Healing Properties and Indications
The berries of the sea buckthorn plant contain organic acids, flavonic glycosides, carotene (provitamin A), B vitamins, and mainly vitamin C (600 mg per 100 g, ten times more than lemon). Its properties are as follows:
Antiscorbutic, invigorator, and immunostimulant, due to its content in vitamins (especially vitamin C). It is recommended for repeating infections (decrease of defenses), influenza, physical exhaustion, imbalanced diet, and as a rule, whenever the vital tone of the body needs to be increased.
Mildly cardiotonic and activator of the circulatory system due to its content in flavonic glycosides. It is typically used as a complement for the foxglove plant treatments.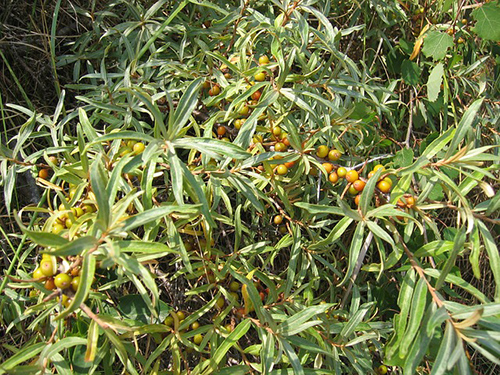 How to use Sea Buckthorn
Berries. The fruit of sea buckthorn can be eaten when well-ripened (three handfuls per day), though they have a slightly sour flavor.
Syrup. Boil the juice of the berries for 15 minutes, then add half of its weight of sugar. Preserve it into a glass bottle, well sealed. Take three spoonfuls daily.
No products found.
REFERENCES
George D. Pamplona-Roger, M.D. "Encyclopedia of Medicinal Plants." George D. Pamplona-Roger, M.D. Encyclopedia of Medicinal Plants. Ed. Francesc X. Gelabert. vols. 2 San Fernando de Henares: Editorial Safeliz, 2000. 758. Print.
Last update on 2023-12-07 / Affiliate links / Images from Amazon Product Advertising API