We often associate dietary modifications, medication, and blood sugar monitoring with "diabetes." However, foot health needs just as much attention, particularly in the context of diabetes treatment. Introducing diabetic socks for men. These unique varieties of socks have been designed to cater to the particular requirements of people with diabetes. This is why they are so important.
Improved Blood Circulation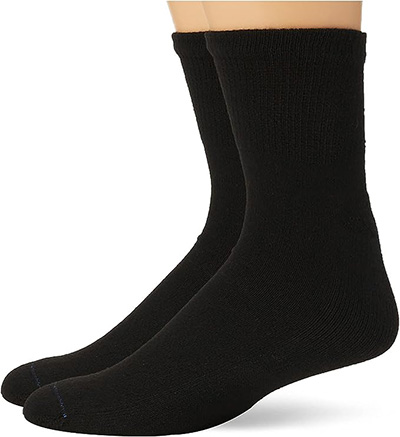 Poor blood circulation, particularly in the extremities, may be caused by diabetes. The tight elastic bands on typical socks might limit blood flow. Conversely, diabetic socks are often non-binding and designed to prevent the foot or leg from being restricted. This encourages improved blood flow, lowering the risk of foot ulcers or peripheral neuropathy.
Moisture Control
Due to diabetics' weakened immune systems, excessive moisture might raise the risk of fungal infections, which can cause significant problems. To keep the feet dry and lower the risk of diseases, diabetic socks are often composed of materials that wick moisture away.
Seamless Design
When someone has diabetes, even the slightest discomfort might cause serious worry. Many diabetic socks include a seamless construction to lower the risk of foot injuries. This reduces friction and helps avoid blisters or ulcers, which may become extremely dangerous in a person with diabetes.
Padding and Support
Extra padding is often included in diabetic socks in strategic locations, including the heels, toes, and soles. This cushioning may cushion unpleasant pressure points while preventing injury to delicate regions.
Warmth
People with diabetes who have circulation problems may have chilly feet. These socks may provide additional warmth while enhancing comfort and promoting healthy circulation.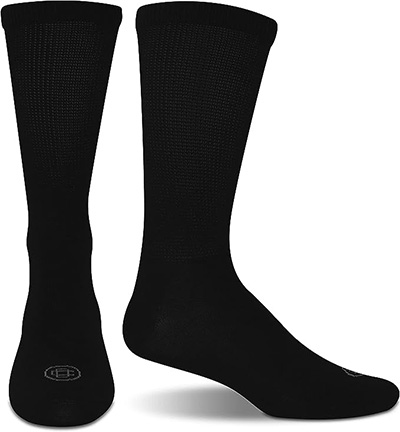 Antimicrobial Features
Some diabetic socks are designed to be microbial growth-resistant, thus lowering the possibility of bacterial and fungal infections.
Preventing Complications
Amputation is one of the most severe side effects of diabetes. It often results from poor circulation, nerve damage, wounds, or infections. Diabetic socks help avoid these adverse effects by preserving the foot and fostering improved health with the above attributes.
Sensory Feedback
A person with diabetes who has neuropathy may not feel a little wound on their foot. Diabetic socks' form and tight fit may provide superior tactile input, enabling users to identify problems earlier.
Less Compression
Edema or swelling may also be a sign of diabetes. Less compression provided by diabetic socks may help relieve pressure on swelling feet and legs and provide comfort.
Color Options for Monitoring
Some diabetic socks are white or light in color, which makes it simpler to see any discharge or bleeding that might be an early symptom of a disease requiring medical treatment.
Although diabetic socks may seem a small aspect of the large field of diabetes treatment, their significance cannot be understated. They are essential for improving foot health and avoiding issues since they provide protection, comfort, and early detection capabilities. Adding diabetic socks to one's daily routine may be a simple but essential step toward improved general health for anyone diagnosed with diabetes.
Top Diabetic Socks for Men
Finding the ideal diabetic sock might be crucial for men, given the daily work demands, exercise, and other activities. Here, we examine a few leading manufacturers of diabetic socks for men and discuss some of their distinctive qualities.
Dr. Scholl's Men's Diabetic & Circulatory Socks
Dr. Scholl's, a company with a long history in the foot care industry, provides diabetic socks that put comfort and safety first. These socks have a moisture management system to keep feet dry and a non-binding top to guarantee healthy blood flow.
Features:
        Ultra-soft premium cotton
        Odor-resistant properties
        Smooth toe seam to minimize irritation
Sigvaris Diabetic Compression Socks
Description: These are ideal for males who want modest compression and the characteristics of a regular diabetic sock to treat edema or swelling.
Features:
        Graduated compression (15-20 mmHg)
        Flat toe seam and cushioned sole
        DriRelease yarn for moisture wicking
Orthofeet BioSoft Padded Sole Socks
Description: The orthopedic footwear brand Orthofeet is well known, and their socks exhibit the same commitment to good foot health. The loose fit of BioSoft socks reduces the possibility of circulation obstruction.
Features:
        Seamless design to prevent friction
        Padded soles for additional comfort
        Moisture-wicking fabric
Creswell Diabetic Socks
Description: Creswell is a well-liked option for many diabetic guys since it stresses economy without sacrificing quality. Their socks are made to be as comfortable as possible and are soft and breathable.
Features:
        Loose-fit top for optimal circulation
        Made of a blend of cotton, polyester, and elastane
        Smooth and non-irritating toe seam
JOBST SensiFoot Diabetic Crew Socks
Description: Jobst has long been a pioneer in the compression clothing market. For people with diabetes looking for a sock with some compression and protective characteristics, they offer SensiFoot.
Features:
        Mild compression (8-15 mmHg)
        Non-irritating, flat-toe seam
        Moisture-wicking properties
The main objective of diabetic socks for men is to guarantee that the feet are safeguarded, comfy, and dry. While the top brands on this list are briefly discussed, it's essential to check out many brands and designs to choose which suits your demands the best.
A podiatrist or other healthcare professional might provide advice about a patient's medical circumstances. Always keep in mind that the correct sock may have a significant impact on a diabetic person's foot health.
Last update on 2023-10-01 / Affiliate links / Images from Amazon Product Advertising API