Latin writers of ancient times define the coltsfoot plant as filium ante patrem (son before the father) since its flowers grow in the early Spring, two or three months before its leaves. The latter do not mature until the flowers start withering. The plant has been used as an antitussive for time immemorial.
The great Greek physician, pharmacologist, botanist, and author Pedanius Dioscorides called coltsfoot the Greek name of bekion, from which the word bechic, referring to the properties of easing coughs and sore throat, comes. Coltsfoot is still the bechic plant par excellence, after two thousand years.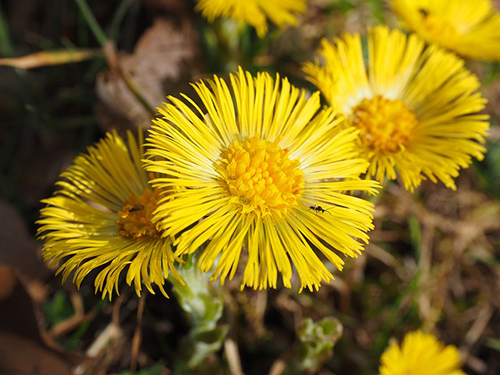 Coltsfoot Plant Scientific Facts
Other names: British tobacco, bullsfoot, butterbur, coughwort, flower velure, hoal's foot, horsefoot, horsehoof.
French: Tussilage.
Spanish: Tusilago.
Environment: Cold, wet soils all over Europe. It prefers argillaceous soils, though it may also be found in calcareous soils. Not very common in America.
Description: Vivacious plant of the Compositae family, growing up to 30 cm high, with underground stems from which flowering, fleshy stems grow annually. Their leaves are reduced to scales, and in their tip grows a yellow flower head. After the flowers, large petioled leaves with a whitish underside grow.
Parts of the plant used medicinally: Dried leaves and flower heads.
Healing Properties and Warning
The flower heads, especially the coltsfoot leaves, contain abundant mucilage with expectorant, bechic, antitussive, and emollient (soothing) properties on the respiratory airways. They also contain triterpenic and flavonoid alcohols (rhutine and hesperidin), whose mild antispasmodic properties improve coltsfoot's antitussive and bronchi dilating action.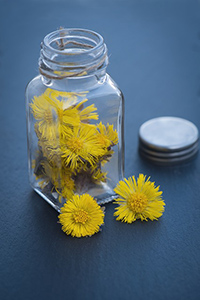 The coltsfoot plant has sudorific and depurative properties since it produces the elimination of toxins, both through urine and sweat. This action is beneficial to combat the infectious component of most respiratory ailments.
Coltsfoot is thus, recommended for all respiratory ailments: it thins bronchial secretions and helps by eliminating them, eases cough, dilates the bronchi, and reduces the inflammation of the respiratory mucous membrane.
It is highly recommended for acute and chronic bronchitis, bronchial catarrh, asthma, pulmonary emphysema, bronchial pneumonia, influenza, tracheitis, laryngitis, pharyngitis, and tonsilitis (sore throat). Coltsfoot renders good results in treating aphonia; both applied internally and externally.
For acute bronchitis and bronchial pneumonia, it is better to wait for two or three days so that the acute phase and the congestion begin to disappear.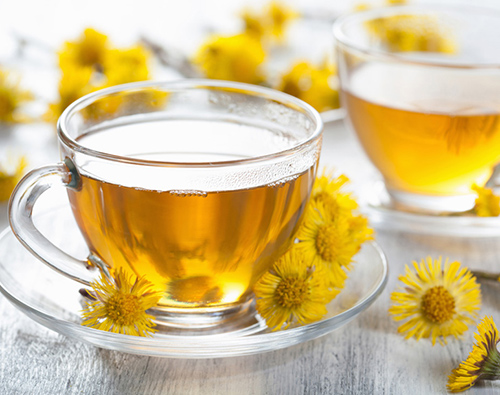 The coltsfoot plant is an invaluable help for former smokers since it contributes to the regeneration of the respiratory mucous membrane. Its infusion is beneficial in detoxification from tobacco and cleansing the accumulated secretions in the bronchi. Hence, coltsfoot has been a primary ingredient of the so-called herbal tobaccos. However, people suffering from bronchial afflictions should abstain from any smoke, including coltsfoot smoke.
It is used to heal several skin disorders, wounds and sores, inflammations ( dermatitis), and rashes in external applications. It is recommended for people with greasy skin and to clean and strengthen the scalp.
WARNING! The leaves of the coltsfoot plant were used in salads because of their content of vitamin C to prevent scurvy. However, it is better to abstain from eating raw fresh leaves since they also contain small amounts of a toxic alkaloid that acts on the liver. This substance disappears when the plant is dried.
The coltsfoot plant is an excellent herbal remedy for respiratory problems. It is highly beneficial in treating throat catarrh, pleurisy, bronchial asthma, bronchitis, hoarseness, colds, and coughs. Also, the herb can treat diarrhea. The name, tussilago, means "cough dispeller" and is considered one of the best cough remedies. For the best results against difficulty breathing, bronchitis, and asthma, it should be taken as a tea, primarily combined with marshmallow and horehound.
Combine the coltsfoot plant with licorice root, ginger, and horehound to make an effective cough syrup. Do not hesitate to add to all spasmodic lung condition remedies. Additionally, it is soothing to the intestines and stomach when bleeding and inflammation occur.
The plant also can heal wounds and many skin ailments. It can treat dry skin, dermatitis, burns, inflamed bunions, bruises, stings, bedsores, and bites. A decoction or crushed leaves can be externally applied to remedy phlebitis, leg ulcers, erysipelas, burns, general swellings, inflammations, and insect bites. Coltsfoot has also successfully treated skin rashes, sunburn, scabies, psoriasis, nosebleeds, leg ulcers, and bleeding hemorrhoids.
In Germany, this plant's leaves are approved for treating mild inflammation of the mouth or throat, respiratory tract inflammation, cough, and hoarseness.
Warning: Coltsfoot contains traces of pyrrolizidine alkaloids that can be toxic to the liver in high doses. Germany limits its use to four to six weeks per year, except under your doctor's advice.
How to use Coltsfoot
Infusion with 30-50 g of dry plant per liter of water. Drink from three to five hot cups daily. Honey, anise, or peppermint may be added to coltsfoot tea to improve its slightly unpleasant flavor. Children should take it by spoonfuls: half to one every hour. This infusion must be strained before being used to eliminate the tiny hairs the flower heads have, which may irritate the throat.
Gargles, with the same infusion, used internally, though slightly more concentrated.
Compresses and lotions on the affected skin area with the concentrated infusion.
Tincture: Take ½ to one teaspoon as needed.
Powder: Take ten to twenty #0 capsules (60 to 120 grains) as required.
Fluid Extract: Take ½ to one teaspoon as needed.
REFERENCES
George D. Pamplona-Roger, M.D. "Encyclopedia of Medicinal Plants." George D. Pamplona-Roger, M.D. Encyclopedia of Medicinal Plants. Ed. Francesc X. Gelabert. Vols. 1 San Fernando de Henares: Editorial Safeliz, 2000. 341, 342. Print. [coltsfoot plant]
Vance Ferrell Harold M. Cherne, M.D. The Natural Remedies Encyclopedia [Book]. – Altamont, TN: Harvestime Books, 2010. – Vol. Seventh Edition: 7: pp. 153.
Last update on 2023-12-02 / Affiliate links / Images from Amazon Product Advertising API