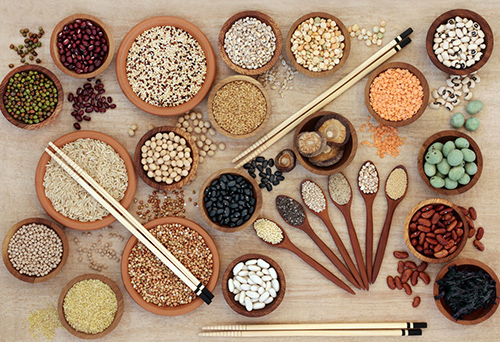 All fiber-rich foods are exclusively plant-based. Plant-based foods all contain some fiber in their natural state, particularly whole grains (unrefined) and legumes.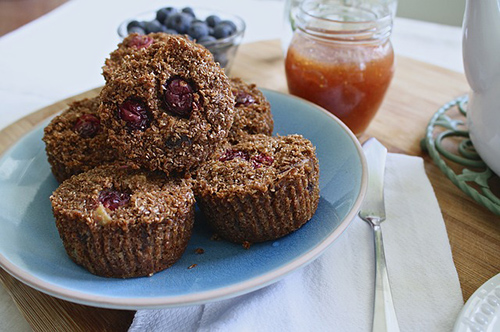 The daily average value of fiber-rich foods for an adult is 25 grams (between 20 and 35 g, according to the American Dietetic Association). To achieve this amount is not a problem with a plant-based diet. However, this is not the case in diets primarily based on animal products.
You can determine the minimum amount of daily fiber via fiber-rich foods for children older than three years old by adding five to their age in years (years +5). For example, for a ten-year-old child, the amount would be 15 grams.
Psyllium Husk Fiber, 300 Capsules | 1500mg Per Serving, Complexed with Inulin &…
Special Features – Authentic Indian sourced psyllium husk with inulin and acacia complex. 3-in-1 daily formula that retains a high soluble fiber content plus prebiotics and probiotics. Made from raw herbal ingredients.
Benefits & Use – Take Deal Supplement's psyllium daily fiber capsules on a regular basis to get naturally occurring properties for combating stomach discomfort and constipation, as well as supporting gut health and digestion.
Dosage & Servings – Enjoy 300 capsules per bottle which is a 3 per day formula and offers a 100-day supply. That's 1,500mg per serving from 1,395mg of Psyllium Husk Hulls, 75mg of Chicory Root Inulin, and 30mg of Acacia Senegal.
Chemical Composition and Description of Fiber
Dietetic fiber is formed by various substances such as cellulose, hemicellulose, pectin, gums, mucilage, and other polysaccharides sharing the following characteristics:
They are of plant origin.
They are generally found in the plant's cell walls, although some types of fiber, such as gums and mucilage, are found in the cellular cytoplasm.
They are indigestible in the small intestine. Some are partially digested by bacteria in the colon, causing flatulence.
Function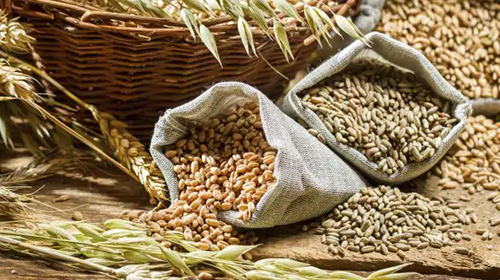 Fiber deficiency symptoms include constipation, diverticulosis, arteriosclerosis, and greater cancer risk.
Too much fiber can reduce the absorption of iron, zinc, and other minerals. Excessive insoluble fiber can irritate the intestine producing colitis.
Loss during the processing of foods: refined grains lose as much as 95% of their fiber.
Fiber-Rich Foods List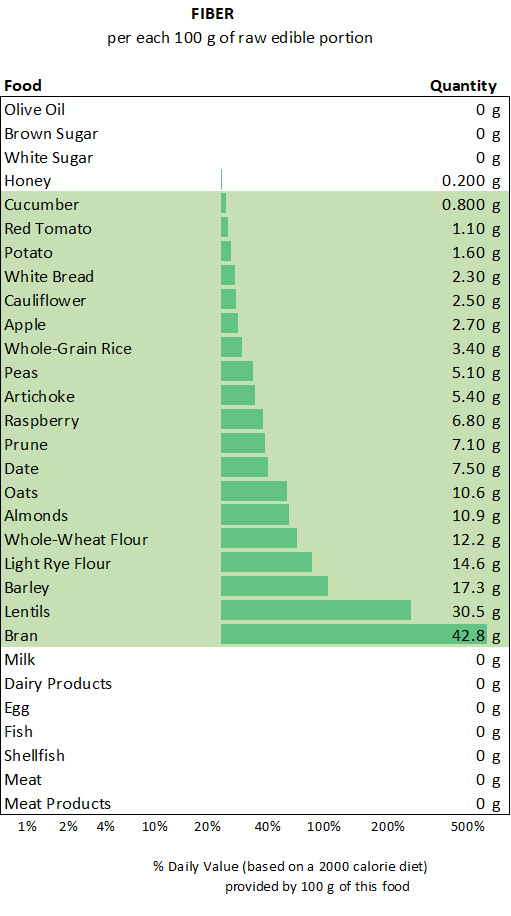 Dietary fiber is found exclusively in plant-based foods. These foods contain some fiber, particularly whole grains (unrefined) and legumes in their natural state.
REFERENCES
George D. Pamplona-Roger, M.D. "Encyclopedia of Foods and Their Healing Power." George D. Pamplona-Roger, M.D. Encyclopedia of Foods and Their Healing Power. Trans. Annette Melgosa. Vol. 1. Chai Wan: Editorial Safeliz, 2005. 388. Print. [fiber-rich foods]
Last update on 2023-12-02 / Affiliate links / Images from Amazon Product Advertising API