The benefits of fish oil are many when used as a dietary supplement to treat various diseases. However, in some cases, people who take it receive no real benefit. In these instances, the effects of fish oil conflict with scientific criteria and only serve the producers' commercial interests.
Sale
Nordic Naturals Ultimate Omega, Lemon Flavor – 60 Soft Gels – 1280 mg Omega-3 -…
WHY OMEGA-3S – Research shows that the essential fatty acids EPA & DHA in fish oil support heart, brain, eye & immune health. Omega-3s may also help support a healthy mood.
DOCTOR-RECOMMENDED FORMULA – Nordic Naturals Ultimate Omega features high concentration omega-3 fish oil in soft gels. This formula meets the daily recommended dose suggested by the American Heart Association to support a healthy heart.
BETTER ABSORPTION, BETTER TASTE, NO FISHY BURPS – All of our omega-3 fish oil concentrates are in the triglyceride molecular form (the form naturally found in fish) for optimal absorption. Ultimate Omega has a great lemon taste.
The daily fish oil dosage is 4-10 g, which contains approximately 1-5 g of omega-3 fatty acids. The benefits of fish oil are evident in the following cases:
Benefits of Fish Oil: What Is Fish Oil Good For?
Alterations in blood plasma lipids: Even though at one time, many believed that fish oil reduced cholesterol levels; however, it is well known for years that this is not the case.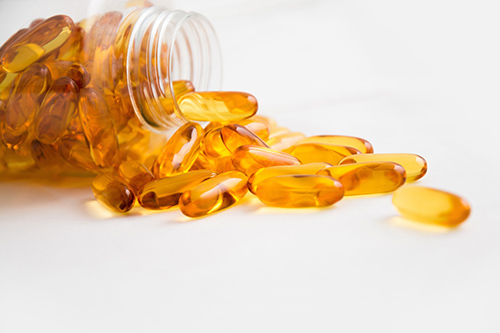 The prestigious journal The American Journal of Clinical Nutrition published a supplement in 1997 exclusively dedicated to fish oil benefits. One of these articles concludes, after reliable studies up to that time, that the consumption of 3 to 7 g of fish oil a day for at least two weeks produces:
A 25 percent to 30 percent reduction in triglyceride levels. This action is the most consistent effect, although it diminishes over time. Triglycerides are a kind of fat circulating in the blood. Their increased levels promote arteriosclerosis and coronary disease, particularly in women.
Maintenance or increase in cholesterol levels: Most studies have detected an increase in harmful LDL cholesterol.
Arteriosclerosis: The recommended dose of fish oil slows down its progression.
High Blood Pressure: Some studies show that fish oil is effective in reducing arterial hypertension. Others state that it is not.
A tendency to thrombosis: Fish oil lowers the fibrinogen level; this is the blood protein responsible for clotting. Olive oil has the same effect.
Ulcerative colitis: Four months of high doses (6 g daily) of omega-3 fatty acids produces clinical improvement.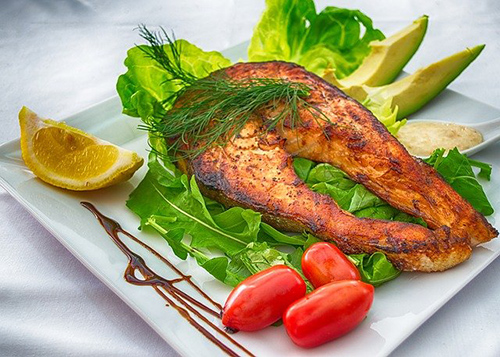 Dysmenorrhea: Two daily grams of omega-3 fatty acids for two months, reduce dysmenorrhea symptoms in adolescents, which are amongst the many benefits of fish oil.
Rheumatoid arthritis: Certain benefits of fish oil are also recognized by taking 10 g of fish oil a day for six months, which produces a slight anti-inflammatory effect, allowing a reduction in other medications.
The benefits of fish oil are also observable in cases of migraine, asthma, and psoriasis.
Some of the fatty acid molecules of fish are of omega-3 configuration. No other animal-based food contains this special type of fatty acid, except some shellfish and eggs from hens fed seaweed. In vegetables, the unsaturated omega-3 fatty acid is linolenic acid, found particularly in walnuts, wheat germ, and evening primrose and canola oils.
Side Effects of Fish Oil
Harmful substances: Fish oil contains cholesterol and traces of mercury, which impair arterial health.
Insufficient vitamin E: When you take fish oil as a supplement or eat a great deal of fatty fish, we recommend you take supplementary vitamin E to compensate for the tendency of EPA and DHA omega-3 fatty acids becoming oxidized.
Hypervitaminosis A: There are reports of hypervitaminosis A after prolonged use (more than six months) of fish oil.
Cerebral hemorrhages: Are more likely to happen among those who consume large amounts of fatty fish or fish oil, as is the case with Eskimos.
Poor healing of wounds: After a month of taking fish oil supplements, wounds' healing capability diminishes since the body's collagen tissue gets weaker. Because of this, you should avoid fish oil after surgical interventions.
Fish Oil Omega-3 Fatty Acids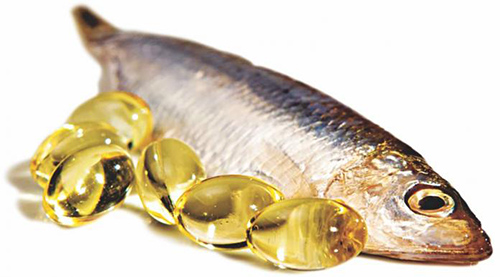 A fatty acid is called omega-3 (or n-3) when the first double bond in the hydrocarbon chain is on the third carbon atom, counted from the terminal methyl group; it is called omega-6 it is on the sixth, and so on.
The omega-3 fatty acids found in fish represent between 30% and 40% of their total fatty acids. The most important are these two:
The particular molecular disposition of omega-3 fatty acids found in fish are responsible for the many benefits of fish oil, which are not found in other fatty acids.
They reduce blood triglycerides levels.
They reduce the risk of a severe heart attack and cardiac arrest.
They act as an anti-inflammatory, for example, in cases of rheumatoid arthritis, ulcerous colitis, and other autoimmune diseases.
Fish or Olive Oil?
A study done at the University of Leipzig (Germany) demonstrated that, while the benefits of fish oil play a constructive role in preventing heart disease, they increase cholesterol levels and are not antioxidants. Salmon oil capsules were less effective than olive oil in preventing the lipid degradation that causes arteriosclerosis.
| | | |
| --- | --- | --- |
|   | Fish Oil | Olive Oil |
| Effect on cholesterol | Raises LDL (harmful cholesterol) | Raises HDL (beneficial cholesterol) |
| Effect on Triglycerides | Reduces their level | May increase their level |
| Propensity to oxidation | Yes, contains little vitamin E | No |
| Propensity toward thrombosis | Reduces | Reduces |
Even though both fish oil and olive oil protect the heart, the latter has fewer undesirable effects and is more effective in arteriosclerosis prevention.
REFERENCES
George D. Pamplona-Roger, M.D. "Encyclopedia of Foods and Their Healing Power." George D. Pamplona-Roger, M.D. Encyclopedia of Foods and Their Healing Power. Trans. Annette Melgosa. Vol. 1. Chai Wan: Editorial Safeliz, 2005. 240, 241. Print.
Last update on 2023-12-09 / Affiliate links / Images from Amazon Product Advertising API