Ground cherry is a small plant that grows on roadsides in Mexico and most areas in America. Its fruits are a pleasant gift for walkers.
Ground Cherry Scientific Facts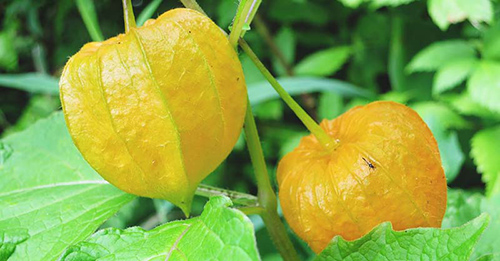 French: Physalis visquex.
Spanish: Camambu.
Environment: Native to the American continent, especially Mexico, where it is pretty standard, and South America. This plant does not grow in Europe.
Description: Plant of the Solanaceae family, growing from 30 to 50 cm high, with fruits of a cherry in size, yellow or red in color, edible, with a pleasant sweet-and-sour flavor.
Part of plant used medicinally: The fruits, the stems, and the leaves.
Healing Properties and Indications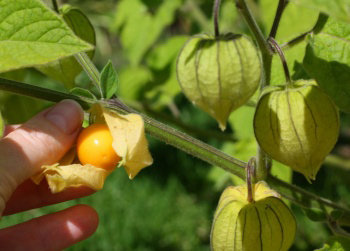 The fruits have diuretic and mildly laxative properties. The stems and the leaves of the plant contain saponins and enzymes (peroxidase). Ground cherry is externally used for skin rashes as a decoction because of its ability to heal wounds and its anti-inflammatory properties. This plant has been successfully used for psoriasis, applying lotions with its decoction. The decoction mentioned above of leaves and stems, when taken orally, can treat and prevent coughs.
Pinky's Seed Company – 100+ Aunt Molly's Ground Cherry Seeds
How to use Ground Cherry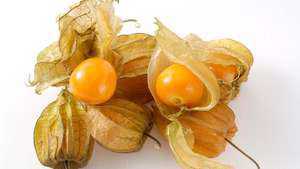 Decoction with 30g of stems and leaves per liter of water. Boil for 15 minutes. Drink two or three cups daily, which can be sweetened with honey.
Compresses soaked in the liquid of the decoction internally used.
Lotions on the affected skin area with the decoction above.
Green Tomato: There is another Physalis species, Physalis angulata L., which is known in Central America as the green tomato. Its properties are similar to those of the ground cherry, also being used to relieve liver congestion.
REFERENCES George D. Pamplona-Roger, M.D. "Encyclopedia of Medicinal Plants." George D. Pamplona-Roger, M.D. Encyclopedia of Medicinal Plants. Ed. Francesc X. Gelabert. vols. 2 San Fernando de Henares: Editorial Safeliz, 2000. 721. Print.