The hazelnut benefits are many. In mountainous and wet regions, there are still wild hazelnut forests where squirrels enjoy a true paradise. In September and October, these trees offer walkers their tasteful fruits equal to farmed hazelnuts.
In the 1st century A.D., Dioscorides already recommended hazelnuts for respiratory diseases, although he knew that they could be heavy for the stomach when eating too many. Saint Hildegard recommended them for the treatment of male impotence. Mattioli, an outstanding Italian physician of the 16th century, applied them in lotions, ground and mixed with bear fat, as a hair-growth product.
Primal Kitchen No Dairy Hazelnut Collagen Creamer Powder – 13 servings
KETO AND PALEO FRIENDLY: Keep Keto and keep your coffee! This collagen coffee creamer supplement is Keto and Paleo Friendly.
NO DAIRY: Our keto friendly coffee creamer is made without dairy and is full of decadent, nutty flavor.
11G OF COLLAGEN PEPTIDES: With 11g of collagen peptides per serving, this collagen creamer supplement offers hair, skin, and nail support* along with great taste.
1 GRAM OF SUGAR: Our Hazelnut Coffee Creamer is nutty, sweet, and perfect for adding to your favorite coffee drink––with 1g of sugar per serving.
DELICIOUS FLAVOR: Make a collagen coffee that's brimming with cozy. comforting flavor. Primal Kitchen No Dairy Hazelnut Collagen Creamer is a delicious supplement powder that adds nutty taste to every sip.
Since then, many other applications have been given hazelnuts. The most outstanding is calming nerves and preventing the formation of kidney stones. Notwithstanding, none of these hazelnut benefits has been proven. However, one thing is true: hazelnuts are excellent food, rich in lipids (62%), proteins (14%), mineral salts, and vitamins. Therefore, those people wishing to gain weight and whose digestive system works well should take from 12 to 15 hazelnuts every day as a dessert.
We have not forgotten, of course, that several parts of the hazelnut tree have interesting medicinal effects.
Hazelnut Benefits, Healing Properties, and Uses
All parts of the tree contain flavonoids and tannins. The BARK of young branches and the leaves have the following applications: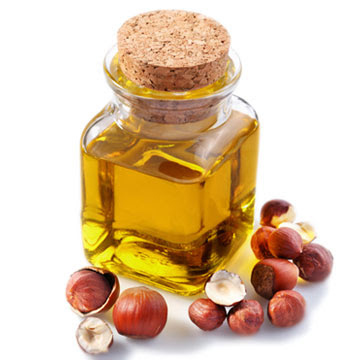 Hazelnut benefits (1) Venotonic: Its most notable effect is the improvement of the venous blood flow, thus boosting the return of blood to the heart. A decoction of bark and leaves, both taken and applied in compresses on the legs, is recommended for varicose veins, phlebitis, and hemorrhoids. It also has a mild vasoconstrictive and hemostatic effect; thus, it can be equally employed for epistaxis (nose bleeding) and hypermenorrhea (excessive menstruation).
Hazelnut benefits (2) Cicatrizant: It can be used as a wound healer when used externally. It is also helpful for torpid wounds and varicose ulcerations. The hazelnut tree has a notable sedative and anti-inflammatory effect on hemorrhoids, applying its decoction both in compresses and in sitz baths, as well as drinking it.
    
Its AMENTS (flower spikes) and its pollen, gathered in Spring, have the following:
Hazelnut benefits (3) Depurative, sudorific, and febrifuge and is thus used for influenza or colds to accelerate the healing. They are also employed for obesity, cleanse the body and provoke a loss of weight through sweat.
Hazelnut FRUITS are used as food. They are rich in calories and nutritious substances (fats and proteins). They must be well-chewed, or ground forming a puree if necessary, to achieve optimum assimilation. They have a mild hypertensive effect (increasing blood pressure), so people suffering from high blood pressure must not abuse them.
Hazelnut OIL is astringent and closes skin pores. It is recommended for greasy skin and acne.
Hazelnut Scientific Facts
Other names: Cob nut tree.
French: Noiseter.
Spanish: Avellano.
Environment: It grows wild in mountainous regions of Europe and North America. It is farmed in Mediterranean countries.
Description: Shrub or tree of the Betulaceae family, growing from two to five meters high. It is usually formed by multiple stems which grow from a common base. The leaves are toothed, and their end is pointed.
Parts of the plant used medicinally: The aments (spiked flower clusters), the bark of young branches, the leaves, and the fruits (hazelnuts).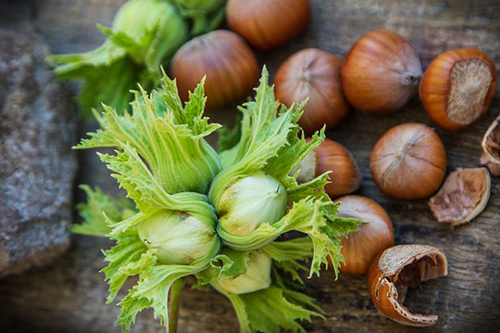 How to use Hazelnuts
Decoction of the leaves and the bark of young branches (mixed): 30-40 g per liter of water. Boil for three minutes and steep for 15. Drink one or two cups daily.
Decoction of aments (sudorific, slimming). Fifty grams of Spring aments per liter of water. Boil for five minutes and steep for 15 minutes before straining. Drink one cup after each meal.
Hazelnut fruits. A handful at breakfast or after lunch.
Compresses, with the same decoction of bark and leaves employed for internal use, soak compresses applied on the afflicted areas.
Sitz baths, also with this decoction.
Massage on the skin with hazelnut oil.
REFERENCES
George D. Pamplona-Roger, M.D. "Encyclopedia of Medicinal Plants." George D. Pamplona-Roger, M.D. Encyclopedia of Medicinal Plants. Ed. Francesc X. Gelabert. Vols. 1 San Fernando de Henares: Editorial Safeliz, 2000. 253, 254. Print. [hazelnut benefits]
Last update on 2023-10-01 / Affiliate links / Images from Amazon Product Advertising API