The carambola star fruit health benefits are many. The fruit got its name because of its five-pointed cross-section and is also a "star" because of its popularity in international markets. Its pulp has a delicate texture, and its flavor is pleasantly bittersweet. It is used in restaurants to adorn a variety of unique dishes. However, the carambola star fruit has other properties than its mere "good looks."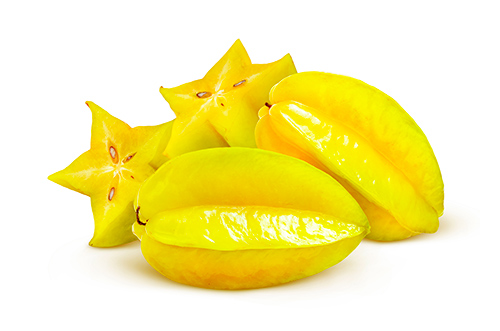 Carambola Star fruit Scientific Facts
Scientific name – Averrhoa carambola L.
Other names – Belimbing, bilimbi, star apple, five-angled fruit.
French – Carambole.
Spanish – Carambola, árbol del pepino.
German – Karambole.
Description – The fruit of carambola or Chinese tamarind tree, a tree or bush of the botanical family Oxalidaceae, grows to 2 m. The aggregate fruit is thin-skinned and golden-yellow, measuring 6 to 12 cm in length.
Environment – Originally from Indonesia and Malaysia, they are now cultivated in other Asian and American tropical countries. The primary producing countries are Thailand, Brazil, and Colombia.
Carambola Star Fruit Health Benefits
The carambola contains 5.13 percent carbohydrates in the form of sugars, and small proportions of proteins (0.54 percent) and fats (0.34 percent), which supply 33 calories per 100 grams (33 kcal/100 grams). They contain a moderate amount of provitamin A (40 ug RE/100 grams), B complex vitamins, and vitamins E and C, the latter being the most abundant (21.2 mg/100 grams).
It provides all of the minerals necessary for the diet, but in small amounts, except for potassium (163 mg/100 grams). The carambola star fruit's delicate pulp is rich in soluble vegetable fiber (2.7 percent), which explains its soothing laxative action. These are its dietary and therapeutic applications:
CONSTIPATION because of intestinal atony, which is the most frequent type. Two or three carambola star fruits at breakfast facilitate evacuation.
HIGH CHOLESTEROL – Carambola star-fruits help reduce the intestinal absorption of cholesterol because of their high soluble fiber.
How to use and Prepare Carambola Star Fruit
FRESH – Large carambolas are the sweetest and most flavorful. The smaller specimens can be sour.
PRESERVES – Carambola pulp lends itself very well to jellies and jams.
BEVERAGES – Carambolas are used to make "tropical" flavored beverages.
REFERENCES
George D. Pamplona-Roger, M.D. "Encyclopedia of Foods and Their Healing Power." George D. Pamplona-Roger, M.D. Encyclopedia of Foods and Their Healing Power. Trans. Annette Melgosa. Vol. 2. Chai Wan: Editorial Safeliz, 2005. 219. Print. [carambola star fruit health benefits]
Last update on 2023-09-30 / Affiliate links / Images from Amazon Product Advertising API