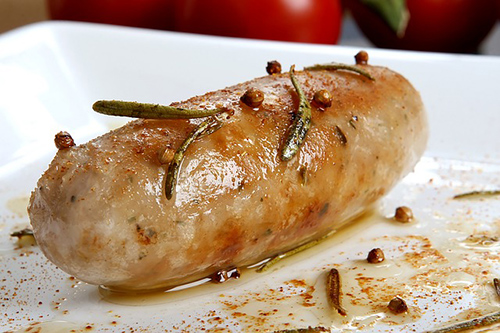 The problem with dietary fats is not their lack, but rather their excess, which is harmful even where vegetable fats are concerned. The following chart will list a variety of foods high in fat content.
Chemical composition of fat: the fats present in all foods are composed primarily of triglycerides, a type of simple lipid composed of glycerin and fatty acids. The quality and properties of fats depend on the type of fatty acids they contain.
Fat sources:
Plant-based foods in their natural state generally contain little fat, except for oil-bearing nuts. Vegetable fats have several advantages over animal fats:
Animal-based foods and products are all high in fats, except nonfat milk and dairy products, lean fish, and very lean meat. There are various drawbacks: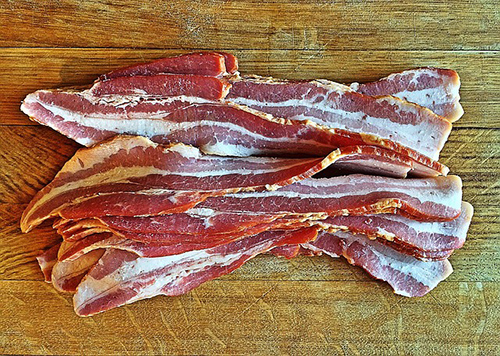 The function of fat: Fats act as a reserve energy source. They transport and facilitate the absorption of liposoluble vitamins, such as A, D, E, and K, in the intestine.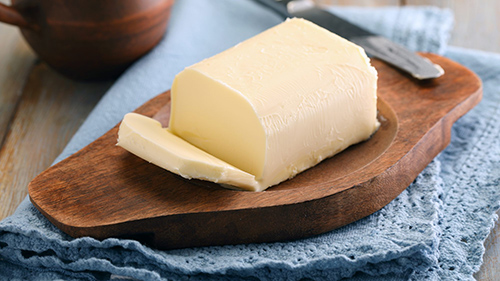 Fat deficiency symptoms: The body can produce its fats from carbohydrates and proteins; therefore, lack of dietary fats is of little concern. The only fatty acids that cannot be synthesized within the body and must be supplied through the diet are linoleic, linolenic, and arachidonic acids, all of them abundant in nuts.
Consequences of excess fat: obesity, raised cholesterol levels. Excess fat in the diet is harmful, mainly when it is of animal origin.
The loss of fats during the processing of foods: degraded during frying.
Daily Value of Total Fat
For an adult: an amount of fat that supplies less than 30% of total calorie intake. Excess fats of any kind, including vegetable fats, is harmful to health. For a 2000 calorie diet, this represents about 65 g of fats daily.
A typical omnivorous diet usually provides about 40% of calories from fats (from 85 g to 100 g daily), representing a serious health risk.
Foods High in Fat
| Food (per each 100 g of raw edible portion) | Quantity |
| --- | --- |
| WHITE RICE | 0.580 g |
| WHITE BEAN | 0.850 g |
| CHERRY | 0.960 g |
| DRY MACARONI | 1.58 g |
| SOY MILK OR BEVERAGE | 1.91 g |
| WHITE BREAD | 3.60 g |
| TOFU | 4.78 g |
| OATS | 6.90 g |
| AVOCADO | 15.3 g |
| POTATOES FRIED IN VEGETABLE OIL | 16.1 g |
| COCONUT | 33.5 g |
| ENGLISH WALNUT | 61.9 g |
| OLIVE OIL | 100 g |
| NONFAT MILK | 0.180 g |
| FLATFISH | 1.19 g |
| LEAN BEEF | 2.87 g |
| SKINLESS CHICKEN | 3.08 g |
| WHOLE COW'S MILK | 3.34 g |
| TUNA CANNED IN OIL | 8.21 g |
| FRESH EGG | 10.0 g |
| HAM | 10.6 g |
| SARDINE | 12.0 g |
| BAKED CHICKEN | 13.6 g |
| PORK (VARIOUS CUTS) | 16.5 g |
| LAMB | 21.6 g |
| CAMEMBERT CHEESE | 24.3 g |
| GRUYERE CHEESE | 32.3 g |
| PORK SAUSAGE | 40.3 g |
| BACON | 57.5 g |
| BUTTER | 81.1 g |
| % Daily Value (based on a 2000 calorie diet) | provided by 100 g of this food |
REFERENCES
George D. Pamplona-Roger, M.D. "Encyclopedia of Foods and Their Healing Power." George D. Pamplona-Roger, M.D. Encyclopedia of Foods and Their Healing Power. Trans. Annette Melgosa. Vol. 1. Chai Wan: Editorial Safeliz, 2005. 404. Print. [foods high in fat]