Johan Kunzle wrote about the hedge bindweed plant: "We have to give Thanks to God since He literally put at our feet such a precious remedy as this."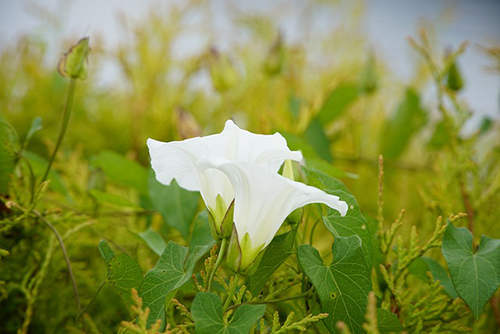 Healing Properties and Indications
All parts of this plant, especially the root, contain tannin and a resinous glycoside (convolvuline), similar in chemical composition and properties to that obtained from the jalap root. It has purgative, cholagogue, and choleretic properties.
As a purgative, it acts energetically, however not producing irritation or vomiting. It is recommended for acute constipation. This plant can be administered to children.
As a cholagogue, it eases the evacuation of the bile and is recommended for liver inflammation or congestion and in disorders relative to gall bladder emptying.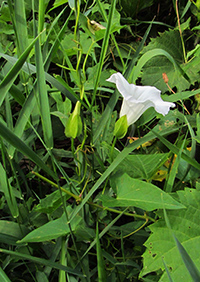 Field Bindweed
Field bindweed (Convolvulus arvensis L.) is smaller (as its name says) than greater bindweed; however, it has practically the same properties.
Palo de Rosa
In the Canary Islands, there are two endemic species of the convolvulus genus, which are locally called Palo de rosa (Convolvulus floridus L.). The essence obtained from their roots has practically the same medicinal properties as those of the hedge bindweed plant.
Hedge Bindweed Plant Scientific Facts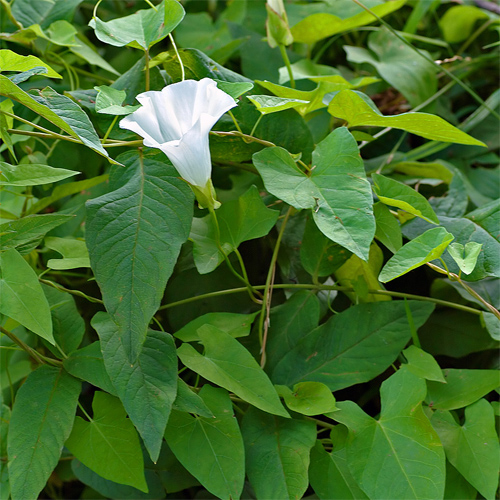 Scientific synonyms: Convolvulus sepium L.
Other names: Devil's vine, great bindweed, hedge lily, Lady's night-cap, rutland beauty, trailing bindweed, lesser bindweed.
French: Liseron.
Spanish: Correhuela mayor.
Environment: Very common in bushes and boundaries all over Europe and America.
Description: Vivacious climbing plant of the Convolvulusaceae family, whose stems grow up to 2.5 m large. It has heart-shaped leaves, and its flowers are large and pure white.
Parts of the plant used medicinally: The root and the leaves.
How to use Hedge Bindweed
Infusion with a spoonful of ground root or leaves per cup of water. Drink up to three cups daily, sweetened with honey.
Powder. The usual dose is 1-3 g, distributed into three intakes a day.
REFERENCES
George D. Pamplona-Roger, M.D. "Encyclopedia of Medicinal Plants." George D. Pamplona-Roger, M.D. Encyclopedia of Medicinal Plants. Ed. Francesc X. Gelabert. vols. 2 San Fernando de Henares: Editorial Safeliz, 2000. 491. Print.[hedge bindweed plant]
Last update on 2023-09-30 / Affiliate links / Images from Amazon Product Advertising API