There are many ailments and diseases that can be alleviated with the use of medicinal herbal remedies. Their number increases as research are conducted on the properties of already-known herbs and as others are being discovered.
Because of didactic criteria, we have followed a specific anatomical ordination when classifying herbs on this site. However, some ailments do not affect any particular organ or part of the body but act on the whole organism. Such is the case, for instance, with drug addiction, allergy, or cancer listed below.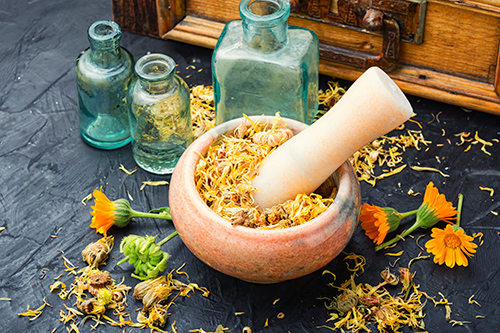 Drug addiction is one of the present times' more dangerous ailments—or so we consider it—. Interestingly, most addiction is caused by substances extracted from herbs and chemically processed in laboratories and factories. Thus, addiction to those toxic substances derived from herbs, such as cocaine or heroin, can be healed with other herbs.
All herbs recommended for nervousness and anxiety are very beneficial in treating drug addiction when combined with other physical and psychological remedies. Socially accepted drug addiction, such as tobacco addiction and alcoholism, will also benefit from phytotherapeutic treatment; however, these treatments are effective only when giving up Smoking or drinking and adopting a healthy lifestyle.
Plants, including medicinal herbs—and food—can produce an allergic reaction. However, as mentioned below, they can also contribute to the treatment, especially in preventing allergic diseases.
The care of cancer is one of the significant challenges to medical science. Here again, we find herbs. The National Cancer Institute of the United States has been systematically analyzing for several decades, with a strict scientific rigor, all plants on the planet in search of anticancerous substances.
Several anticancerous active components have already been identified. On the other hand, the chronic use of certain medicinal and/or nutritious plants has been proven valuable in preventing cancer.
To all reading this article, we can honestly state that there are herbal remedies for all ailments, either to heal them, prevent them, or alleviate them.
Herbal Remedies for Various Conditions
Burns – These are lesions caused by heat action on the tissues. Those of first-degree redden the skin; those of second-degree cause blisters; those of third-degree cause scars due to necrosis and tissue destruction. Herbal remedies are first applied on burns of the first or second degree to protect the skin and promote its healing. Aloe and tepezcohuite extracts are excellent wound healers, with which very satisfactory esthetic results are achieved. Its use is being slowly introduced to in-hospital surgery services for severe burns.
Sale
Seven Minerals Organic Aloe Vera Gel from freshly cut 100% Pure Aloe – Big 12oz…
Highest Quality – to ensure freshness our Aloe is proudly grown here in Southern Texas. NSF Organic & IASC Certified.
Harvested For Us – from real freshly cut aloe leaves, not powder – making it one of the purest and strongest on the market. For that reason please test on less sensitive areas first to make sure no reactions occur (before you apply to your face)
The Difference in Skin Treated with Seven Minerals Aloe Gel is Striking. Thanks to 100% natural thickener Agar (instead of Xanthan or Carbomer), it absorbs rapidly with no sticky residue – leaving your skin smooth and silky
Intoxication – Intoxication or poisoning due to chemical substances, medicines, plants, or meals in terrible condition, usually requires hospital treatment. The following herbal remedies are helpful since they induce vomiting (emetic properties), retain toxic substances on their particles (absorbent properties), or neutralize poisons (antidotes, antitoxic properties).
No products found.
Alcoholism – The treatment of alcoholism is long and complex. These herbs and those recommended for nervousness and anxiety can be a valuable help to those who have given up drinking.
Tobacco Addiction – This is a compound of diseases and disorders habitual smokers suffer. These herbs are only helpful when the smoking habit is wholly gone. To do that, one must follow a complete psychological and medical treatment, such as the one described in the Breath Free Plan to Stop Smoking. Once the habit of Smoking has been given up, these herbs promote and strengthen the regeneration of those tissues damaged by tobacco.
No products found.
Reptile Bites – In the case of poisonous snakes, this plant is used to complement emergency treatment, which consists of cutting the wound and/or applying a tourniquet plus antivenom, if available.
Insect Bites – These bites produce an inflammatory reaction of the histaminic type, which can be alleviated with local applications of these plants. Insect bites can become infected as a side effect. Thus, herbs with antiseptic properties are also highly recommended.
Pediculosis – This ailment is caused by the parasite Pediculus capitis, a tiny insect usually known as lice. It manifests itself as skin itching and rashes. These herbs are very effective in fighting parasites and are helpful as an alternative to chemical parasite killers.
Allergy – The allergy treatment demands that one discover the causative agent and stop the body's allergic reaction. Using these plants, adopting a healthy lifestyle, and following a diet with the highest possible amount of raw vegetables (milk and dairy products promote allergic reactions) can be an excellent complement to the allergy desensitizing treatment.
Cancer – Some plants containing antimitotic substances can stop the growth of malignant tumors. For instance, the herbs are externally used against warts—mistletoe or yew. However, many of these properties are still being tested. Habitual use of these herbs exerts a proven preventative action against cancer. They are recommended for those who have already suffered from it or are prone to suffer from cancer because of constitutional or genetic factors.
Burns, insect bites, and those by certain reptiles can also be treated with herbal remedies.
REFERENCES
George D. Pamplona-Roger, M.D. "Encyclopedia of Medicinal Plants." George D. Pamplona-Roger, M.D. Encyclopedia of Medicinal Plants. Ed. Francesc X. Gelabert. vols. 2 San Fernando de Henares: Editorial Safeliz, 2000. 774, 775, 776, 777. Print. [herbal remedies]
Last update on 2023-12-06 / Affiliate links / Images from Amazon Product Advertising API