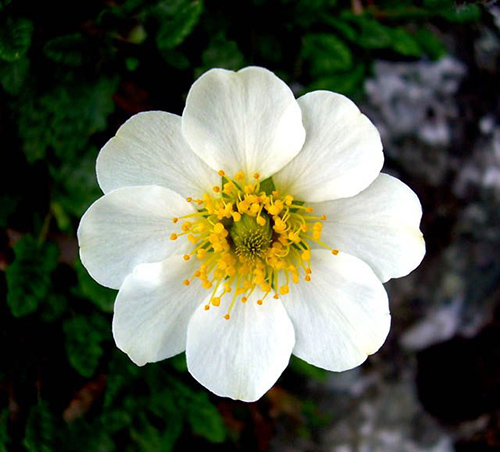 The white dryas plant covers the Central European mountains, especially in the Alps during the summer. No matter how intensely cold the Winter has been, when Spring comes, white dryas vigorously grows, and some months later, in summer, the plant is gently sprinkled over meadows and slopes.
Swiss peasants have been using white dryas for centuries as a digestive and to alleviate intestinal colic. White dryas endures the cold so well that it even grows in Arctic regions of northern Europe.
White Dryas Scientific Facts
French: Dryade a huit petales.
Spanish: Driada.
Environment: Native to the Arctic regions of Europe, though spread through mountainous areas of Central Europe. It does not grow in America.
Description: Vivacious plant of the Rosaceae family, which grows from 5 to 15cm high. It has a woody, creeping stem and flowers resembling those of the oak tree, though smaller. Its flowers are large, solitary, with eight petals and yellow stamens.
Parts of the plant used medicinally: Leaves.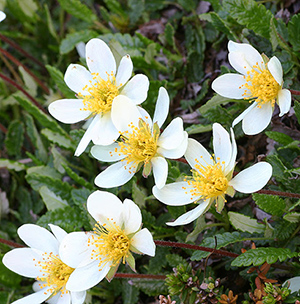 Healing Properties and Indications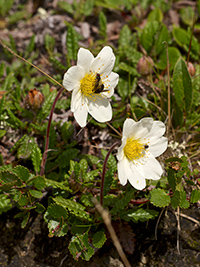 The leaves of the white dryas plant contain tannin and mineral salts, among which the most outstanding are soluble silicon salts. They have an appetizer, digestive, and astringent properties. The infusion of these leaves (Swiss tea) is highly appreciated for the following:
Digestive disorders: Dyspepsia, upset stomach, intestinal colic, and impaired digestion.
Oral and pharyngeal afflictions: Tonsillitis (sore throat), pharyngitis, oral aphtha, and diverse inflammation of the oral mucosa (stomatitis). In these cases, white dryas is applied in the form of a gargle.
How to use White Dryas
Infusion with 30g of leaves per liter of water. Drink three cups daily before meals.
Gargles: Use a more concentrated infusion (40-50g per liter).
REFERENCES
George D. Pamplona-Roger, M.D. "Encyclopedia of Medicinal Plants." George D. Pamplona-Roger, M.D. Encyclopedia of Medicinal Plants. Ed. Francesc X. Gelabert. vols. 2 San Fernando de Henares: Editorial Safeliz, 2000. 451. Print. [white dryas plant]