During the Renaissance, a great botanist Andrea Mattioli published in 1554 a commentary edition of Dioscorides De Materia Medica, in which he said, according to Font Quer's quote, that the "alder buckthorn bark is a mild purgative, which cleanses the liver. But it must be only used when dry. When fresh, it causes vomiting."
No products found.
The scholar botanist noticed a curious process in the alder buckthorn bark: it is toxic and has an intensive vomiting effect when fresh. However, as time goes by, it loses toxicity spontaneously and acquires unique medicinal properties. After one year of drying, the alder buckthorn bark becomes a highly appreciated remedy against constipation.
At present, we know one of the enzymes contained in the alder buckthorn bark, ramnodiase, slowly oxidizes its anthraquinonic glycosides with vomitive properties, thus becoming franguloemodine and rhamnose, two active medicinal components. This process takes about one year when spontaneous, but dry artificial heat can make it quicker.
Who was the first one to observe this exciting transformation taking place in the alder buckthorn bark? Thanks to their persistence and that of many other anonymous researchers, we can currently enjoy the healing properties of medicinal herbs.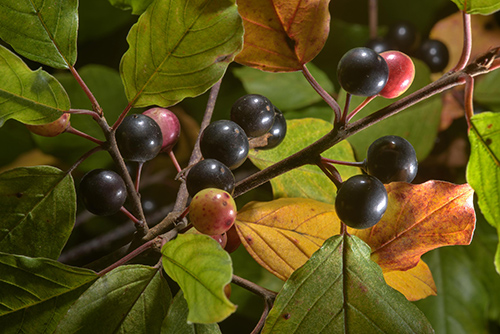 Alder Buckthorn Scientific Facts
Other names: Alder dogwood, arrowwood, black alder dogwood, black alder tree, black dogwood, European black alder, European buckthorn, Persian berries.
French: Bourdaine.
Spanish: Frangula.
Environment: Common in forests and humid areas of Europe, It is known and used in America, where the Rhamnus purshiana species also grows (cascara sagrada, next plant), whose medicinal properties are similar to those of Rhamnus frangula.
Description: Shrub of the Rhamnaceae family, growing 2 to 3 m high, without thorns, with small five-petals flowers. Its berries are red-colored in Summer and bright black colored in Fall when ripe.
Parts of the plant used medicinally: Dry trunk and branches bark.
Healing Properties and Medicinal Uses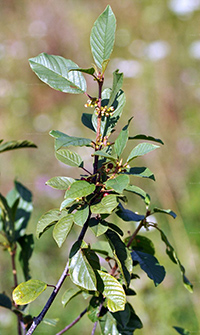 As we mentioned, the active components of the alder buckthorn bark are anthrquinonic glycosides, which give the plant the following properties:
Mild laxative, however effective. It does not produce cramps, liquid defecation, or any other side effects relative to irritant laxatives. It does not cause loss of potassium or any mineral salts, nor right lower side colitis; facts often observed in chemical laxatives. And the intestine does not become accustomed to its use, so its effects are constant even when taken for long periods. The alder buckthorn is thus ideal for those suffering from intestinal laziness that lasts for years, and have tried diverse laxative substances with no success, sometimes with undesirable side effects. These patients, usually women, should have a diet rich in bran to overcome this uncomfortable ailment.
Choleretic. According to Mattioli, the alder buckthorn bark also promotes the excellent function of the liver due to its choleretic properties. People suffering from acute and chronic hepatitis, diverse liver dysfunction, and even cirrhosis should take advantage of its use.
Alder buckthorn is an excellent laxative that works without irritating the system. It is beneficial for all disorders associated with or caused by liver or gallbladder problems, including constipation. It does not cause harsh cramping or discomfort while going through the purgative process like other remedies. Also, it does not become less potent after continuous use. When taken hot, the decoction will produce sweating. This herb will keep the bowels regulated.
Alder buckthorn is helpful for all skin diseases, gout, rheumatism, hemorrhoids, dropsy, obesity, and colic. External uses include fomentation for skin diseases and dry or itchy skin. It is also a good remedy for warts.
Note: Do not mistake this buckthorn (Rhamnus frangula) with its relative, cascara sagrada (Rhamnus purshiana), known as California buckthorn, which is a different herb.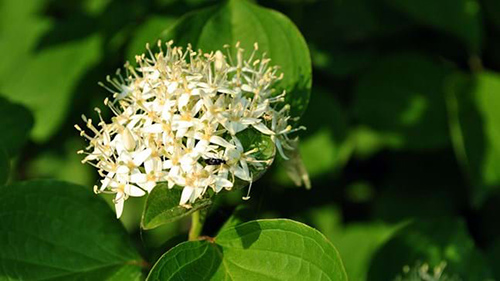 WARNING! Alder buckthorn bark must never be consumed with sodium bicarbonate, magnesium milk, or any other alkaline substance, as its effects would be decreased. We advise against its use in the case of pregnancy, breastfeeding, menstruation, and inflamed hemorrhoids. The unripe fruit and fresh bark can cause poisoning symptoms. Storing the bark for a year or heating it to 212 degrees Fahrenheit will render it safe to use.
How to use Alder Buckthorn
Decoction with 20-30 g of ground bark, aged (at least one year), in half a liter of water. Boil for 20 minutes. If steeped for some hours, its effectiveness increases. Strain and drink one or two cups, preferably at night, to results in the morning after.
Tincture: Take five to sixty drops three times daily. Fluid Extract: Take ½ to two teaspoons three times daily. Powder: Take four to ten #0 capsules (20 to 60 grains) three times daily.
REFERENCES
George D. Pamplona-Roger, M.D. "Encyclopedia of Medicinal Plants." George D. Pamplona-Roger, M.D. Encyclopedia of Medicinal Plants. Ed. Francesc X. Gelabert. vols. 2 San Fernando de Henares: Editorial Safeliz, 2000. 526, 527. Print.
Vance Ferrell Harold M. Cherne, M.D. The Natural Remedies Encyclopedia [Book]. – Altamont, TN: Harvestime Books, 2010. – Vol. Seventh Edition: 7: pp. 147, 148.
Last update on 2023-12-03 / Affiliate links / Images from Amazon Product Advertising API