Although Swiss chard is one of the oldest green leafy vegetables known, praised by the Greeks more than 2500 years ago, some view it as an ordinary vegetable of little value. However, with its showy thick white stalks and brilliant green leaves, the Swiss chard remains, waiting for humans to recognize its dietary benefits.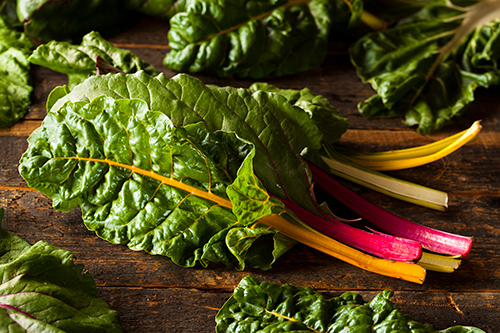 Swiss Chard Scientific Facts
Scientific name – Beta vulgaris L. cv. Vulgaris
Scientific synonyms – Chard, seakale-beet, leaf beet, sea kale chard.
French – Bette.
Spanish – Acelga.
German – Mangold.
Description – Brilliant green leaves and white stalks of 'Beta Vulgaris L. ssp. 'Vulgaris' cv. 'Vulgaris,' an herbaceous plant of the botanical family Chenopodiaceae.
Environment – Central and Southern Europe and North America are the primary producing area.
Health Benefits of Swiss Chard
Swiss chard is noteworthy because of its provitamin A and iron content. These are its most essential indications:
OBESITY – Swiss chard can satisfy the appetite with very few calories. Irrespective of how it is cooked, chard represents an ideal dish for those wishing to lose weight, especially for supper.
BLOOD DEPURANT (purifier) and alkalizer because of its richness in mineral salts.
DIGESTIVE and LAXATIVE – Recommended in gastritis, hemorrhoids, and constipation cases.
ANEMIA, because of its high iron content.
Swiss chard contains considerable oxalic acid, although not as much as spinach. Because of this, it should be used in moderation in case of kidney stones.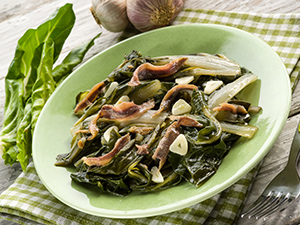 How to use and Prepare Swiss Chard
LEAVES – Boiled in water or steamed, cooked in oil, or served with oil and lemon, they constitute a healthful and light dish.
FRESH LEAVES – These may be eaten raw in a salad.
STALKS – According to some, this is the tastiest part of the plant and may be substituted for cardoon. They are prepared boiled, battered, roasted, or as part of a vegetable soup.
REFERENCES
George D. Pamplona-Roger, M.D. "Encyclopedia of Foods and Their Healing Power." George D. Pamplona-Roger, M.D. Encyclopedia of Foods and Their Healing Power. Trans. Annette Melgosa. Vol. 2. Chai Wan: Editorial Safeliz, 2005. 297. Print.
Last update on 2023-10-01 / Affiliate links / Images from Amazon Product Advertising API