Before getting into the many medicinal and health benefits of lentils, let us learn a little more about this iron and fiber-rich food. Lentils are among the oldest cultivated foods known. They were grown in Palestine and Egypt in the days of the Biblical patriarchs.
Today, lentils continue fulfilling a valuable nutritional role. Hundreds of millions of India's people depend on lentils for their daily nourishment. Hindus, primarily vegetarian, find them a healthful source of proteins and iron that is superior in many ways to animal-based foods.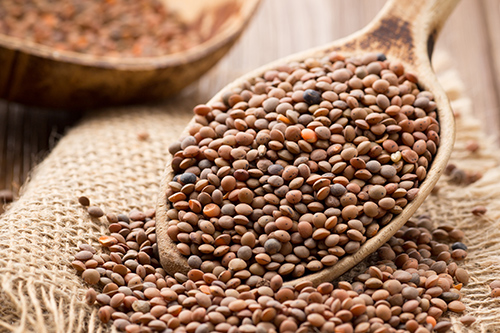 Lentils Nutritional Facts
Lentils are a highly concentrated food, only 11.2 percent water by weight. This makes them an excellent energy source, which supplies 338 Cal/100 grams. Most of this energy comes from proteins and carbohydrates since lentils contain no fat. One hundred grams of raw lentils (enough to prepare one large dish of this legume or two small ones) meet most or even all the nutritional needs of an adult male for various nutrients:
Proteins (28.1 gram): more than half (53 percent of RDA).
Fiber (30.5 gram): supplies almost 125 percent.
Vitamin B1 (0.475 mg): almost one-third (32 percent).
Vitamin B6 (0.535 mg): more than one-fourth (27 percent).
Folate (433 mg): more than double (216 percent).
Magnesium (107 mg): almost one-third (31 percent).
Iron (9 mg): 90 percent.
Potassium (905 mg): almost half (45 percent).
Zinc (3.61 mg): almost one-fourth (24 percent).
Copper (0.852 mg): more than half (57 percent).
All of this is supplied in a dish of lentils. It is no wonder that Esau sold his birthright to his brother Jacob, the Biblical patriarch, for a pot of these nutritious legumes. However, even though lentils represent such a high concentration of nutrients, they are deficient or completely lacking in others:
Polyunsaturated fatty acids, since they have no fat at all
Provitamin A and vitamins C and E
Calcium
Vitamin B12, as is the case with all plant-based foods
Lentils are a food that provides a great deal of energy and is rich in many nutrients. However, since they are lacking in others, they should not be eaten alone but correctly combined with other plant-based foods that compensate for their deficits, thus increasing their nutritional value.
Health Benefits of Lentils
Lentils are particularly recommended in the following conditions: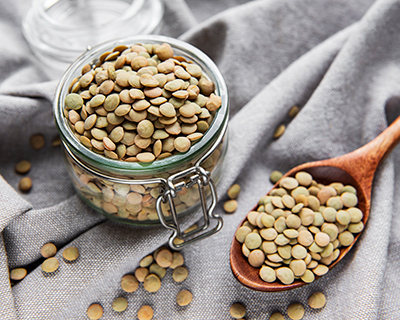 Anemia – Lentils are an excellent source of iron since they supply 9 mg/100 grams. This is much more than meat and eggs. The iron in lentils is indeed nonheme, as opposed to the heme iron in meat. This causes its absorption index to fluctuate between ten percent and fifteen percent, while the absorption rate for the iron in beef is 25 percent. Withstanding, the vitamin C in supplementary foods enhances the absorption rate from nonheme iron non-meat sources.
Poor intestinal absorption of iron or deficiency in the diet is a fundamental cause of anemia. As a result, lentils, supplemented by vitamin C-rich foods such as potatoes, lemons, or specific fruits, make a complete meal for those experiencing anemia caused by iron deficiency.
But in addition to iron, lentils deliver enormous amounts of other nutrients that promote red blood cell production: folates (a vitamin factor of the B group) and copper (a trace element).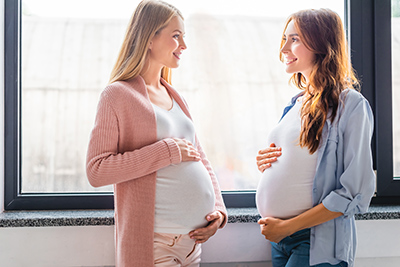 Constipation – The high fiber content of lentils is excessive in some cases of sensitive intestines and stimulates peristaltic in the intestine. An experiment conducted at the University of Saskatchewan showed that eating a plate of lentils daily increased fecal volume by 45 percent, making them softer and less dry. This increase facilitates fecal movement through the intestine and evacuation.
Diabetes – Although lentils are rich in carbohydrates, their glucose atoms are released slowly in the intestine and do not provoke sudden increases in blood glucose levels. Because of this, they are recommended for diabetic diets, as are all legumes, despite earlier beliefs and prohibitions.
High cholesterol – The fiber in lentils collects cholesterol from other foods, and bile acids, the prime materials for cholesterol synthesis in the body, eliminate through the feces. Therefore, lentil consumption is convenient for those wishing to reduce their cholesterol level.
Pregnancy – By eating lentils, pregnant women can get abundant iron to avoid pregnancy-related anemia, fiber to aid defecation, and copious quantities of folates that inhibit fetal nervous system defects. These legumes are recommended for the duration of pregnancy and should be eaten at least two times a week.
Foods That Blend Well with Lentils
The following foods compensate for lentils' nutritional deficiencies and blend well. Lentils, like all legumes, are slightly acidifying (they diminish pH), the opposite of fruits and leafy greens, which are alkalizing. That is why combining lentils with greens and fruit in the same meal is advantageous.
Lemon – Lemons provide vitamin C, which increases the absorption of lentil iron and improves the flavor.
Grains – These are rich in essential amino acid methionine, lacking in legumes in general. Rice is the grain that best blends with lentils.
Cabbage, Spinach, and Dairy products are rich in calcium, which is very scarce in lentils.
Lentil Scientific Facts
Scientific name: Lens culinaris Medik.
Scientific synonyms: Lens esculenta Moench., Ervum lens L.
French: Lentille.
Spanish: Lenteja.
German: Linse.
Description: The seed of the lentil plant, herbaceous plant of the botanical family Leguminosae. The fruit of this plant consists of two pods containing one or two seeds, lentils.
Environment: Lentils are from the Middle East and the Mediterranean region. They are sturdy and grow well in dry climates and poor soils. The primary producing countries are Turkey and India.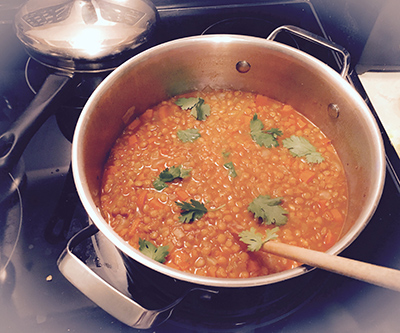 How to use and Prepare Lentils
Cooked – This is the usual way to eat lentils. The cooking heat breaks down and softens the cellulose fibers, improving digestibility. It also destroys the lectin (toxic protein) in all raw legumes. It is more effective to soak lentils for some hours before cooking.
Puree – Lentil puree is easier to digest than whole lentils, particularly if the skin is removed. This skin contains indigestible polysaccharides that cause intestinal flatulence.
Flour – This is used in North African and Middle and Near Eastern countries. It is mixed with grain flour to increase dietary protein.
REFERENCES
George D. Pamplona-Roger, M.D. "Encyclopedia of Foods and Their Healing Power." George D. Pamplona-Roger, M.D. Encyclopedia of Foods and Their Healing Power. Trans. Annette Melgosa. Vol. 2. Chai Wan: Editorial Safeliz, 2005. 127, 128, 129. Print.
Last update on 2023-09-30 / Affiliate links / Images from Amazon Product Advertising API