Before you knew of the many peas health benefits, you may have been one of those children that carefully separated peas from other foods on your plate to avoid eating them. If so, there is still plenty of time to try these little seeds, particularly if you suffer from coronary disease.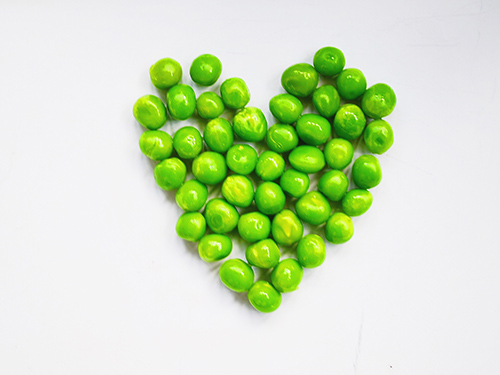 Peas Scientific Facts
Scientific name: Pisum sativum L.
Other names: Garden peas, chickling vetches, Green peas.
French: Pois, petit pois.
Spanish: Guisante, Arveja, Chícharo.
German: Erbse.
Description: These are the seeds of the garden pea plant, a herbaceous vine of the botanical family Leguminosae. The seeds are found enclosed in green pods approximately 10 cm in length. Each pod usually contains from 7 to 9 seeds.
Environment: Garden peas are initially from the Middle East and Central Asia, where they have been cultivated for millennia. Today, the principal producing nations are Russia, France, and China.
Peas Nutritional Facts
Raw peas contain 78.9 percent water. Dried peas have much less, while cooked and canned peas have more. As has been done throughout this work, natural, fresh food is the point of reference. There are various noteworthy nutrients in peas: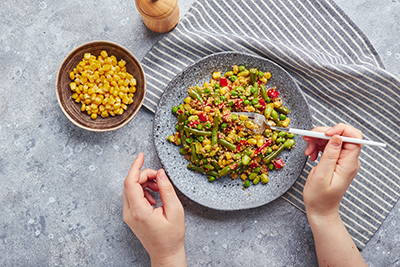 Carbohydrates – Peas contain a significant amount, although less than potatoes. These are primarily constituted of starch with a small amount of saccharose. STARCH cannot be absorbed directly into the bloodstream. It must first be converted to glucose through digestion, which begins in the mouth. For the starch in peas to be well digested, they must be well chewed.
Proteins – Their content (5.42 percent) is greater than that of potatoes (2.07 percent) and is close to that of grains such as rice (6.61 percent), although much less than other legumes such as beans (23.4 percent). The proteins in peas are pretty complete, although there is a relative lack of the essential amino acid methionine and excess lysine. On the other hand, grains are very rich in methionine and lack lysine. Therefore, the combination of peas grains is necessary to produce its proteins. It may be said that peas are a good source of proteins, particularly when combined with grains such as corn, for example.
B complex vitamins – One hundred grams of peas supply 0.266 mg of vitamin B1, representing 18 percent of RDA for an adult male. The deficiency of this vitamin causes beriberi disease, characterized by heart failure and nervous disorders. Peas are a good source of vitamin B2, B6, niacin, and folates, all of which are necessary for the proper heart and nervous system function.
Vitamin C – Peas supply 40 mg for every 100 grams, almost as much as lemon (53 mg). This vitamin is a powerful antioxidant that, among other functions, helps maintain coronary and other arteries healthy and free of cholesterol.
Potassium – Peas contain 244 mg per 100 grams of potassium, an essential mineral for cardiac health.
Peas Health Benefits
Additionally, peas are a good source of iron, zinc, folates, and fiber. They also provide significant amounts of provitamin A (beta carotene), vitamin E, and magnesium. Because of this, they are instrumental in the following cases:
Cardiac disease – As we have seen, peas have everything necessary to be heart-healthy food. Additionally, they contain practically no fat or sodium, two substances antagonistic to coronary health if consumed in excess. They are appropriate in the diet of those suffering from heart failure, heart valve lesions, myocardiopathy (degeneration of the heart muscle), and coronary heart disease.
Nervous system disorders – Peas are a nutritious food rich in B group vitamins and minerals necessary for the correct nervous system operation. They are appropriate in cases of a debilitated nervous system, neurasthenia, irritability, depression, insomnia, and other functional disorders.
Pregnancy and lactating – Because of their protein richness (particularly when combined with grains), vitamins, and minerals, peas are very appropriate food for pregnant or lactating women. They are also rich in folates, which prevent fetal nervous system malformations.
Diabetes – The starch in peas is slowly transformed into glucose during digestion, which makes them well tolerated by people with diabetes.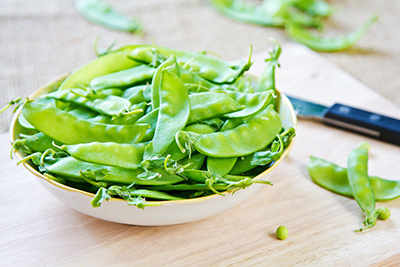 Snow Peas
The snow pea is a kind of pea characterized by a fleshy, tender pod, contrasted with the garden pea's, which is tough and leathery. Because of this, the entire snow pea, pod, and seeds are eaten. They contain more sugars than peas and less starch. As a result, they have a sweeter taste. The snow pea is also rich in proteins, B groups, vitamins, and minerals such as potassium and iron. Snow peas are usually cooked in vegetable soups or as a part of stews.
How to use Peas
Raw – When they are tender, peas may be eaten raw. They are very flavorful and healthful.
Frozen – These are eaten after they have been thawed and briefly heated.
Cooked – Peas should not be cooked for more than five to ten minutes (longer cooking times destroy their entire vitamin content). Very brief boiling or steaming is ideal.
Dried – While dried peas may be stored for a very long time, they contain very little provitamin A and vitamin C. Cooking them for a few minutes is sufficient.
Canning – Canned peas may be eaten as they are. Vitamin loss is between 15 and 30 percent.
REFERENCES
George D. Pamplona-Roger, M.D. "Encyclopedia of Foods and Their Healing Power." George D. Pamplona-Roger, M.D. Encyclopedia of Foods and Their Healing Power. Trans. Annette Melgosa. Vol. 2. Chai Wan: Editorial Safeliz, 2005. 73, 74. Print. [Peas Health Benefits]
Last update on 2023-12-03 / Affiliate links / Images from Amazon Product Advertising API