Wheat germ vs wheat bran, what's the Distinction? Before we can learn the difference, we have to look at the anatomy of a grain of wheat. The wheat grain is known as the "whole egg" because its three parts (endosperm, germ, and bran) form a balanced nutritional unit. By making flour from only the endosperm, separating the bran and germ, humankind has changed this wise natural balance.
This seemingly unimportant fact has contributed to the increase in cancer, intestinal diverticulosis, hemorrhoids, heart attacks, degenerative diseases, and arteriosclerosis in the last century. Because of this fact, someone once said, "what God has joined, let no man tear asunder."
Bran or Pericarp – This is the outer layer of the grain after removing the straw or shell. It is formed of six layers, all of which are rich in cellulose fiber.
Endosperm or Nucleus – The endosperm of a grain of wheat, the source of white flour, is formed of an internal cellulose membrane surrounding starch granules and gluten particles. The white flour from the endosperm contains a considerable amount of proteins (gluten), although they are incomplete. Their quality increases when they are combined with lysine-rich proteins such as those contained in:
Wheat germ, just as it occurs naturally in whole-grain products
Milk and dairy products
Legumes
Germ – This is the grain embryo from which a new wheat plant will sprout. It contains all the substances necessary to produce a complete plant, which explains its extraordinary nutritional richness. The germ contains three-fourths of all vitamins B and E in the grain.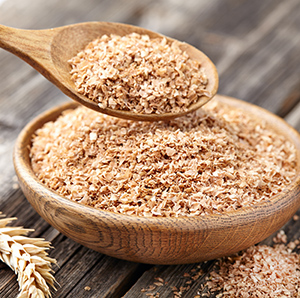 Wheat Germ vs Wheat Bran
Wheat bran's action can be compared to a sponge or broom acting on the intestine's interior.
Composition – Wheat bran contains abundant proteins, fats, vitamins, and minerals, although humans poorly utilize these since they are encapsulated in undigestible cellulose fiber. However, interest in bran has less to do with what it provides than with its fiber richness, which reaches forty-three percent. Bran fiber consists of hemicellulose, cellulose, and lignin (responsible for its rugged, woody consistency).
Physiological Activity – Bran produces three primary effects in the intestine:
It retains water, increasing the volume and weight of the feces. Each gram of bran increases fecal weight by 2-3 grams.
It increases the speed of fecal movement through the intestine.
It adsorbs—in other words, retains and eliminates through the feces—irritants, toxic substances, cholesterol, biliary salts, and carcinogens in the intestine.
Benefits of Bran
It compensates for the lack of fiber in the diets based on refined foods, although eating whole grains is preferable to eating refined grains and adding bran to compensate.
It prevents constipation – Taking from 20 to 30 grams a day for at least a week to achieve the desired effect is necessary.
It reduces cholesterol levels, although oat bran is much more effective.
It reduces the risk of diverticulitis, colon cancer, coronary disease, and breast cancer.
Drawbacks to Bran
Intestinal irritation – Bran can irritate the intestinal mucosa because of the toughness of the lignin it contains. Its use is discouraged in cases of colitis and irritable bowel.
Its phytate content – Phytates are the salts of phytic acid (inositol hexaphosphate) found in grain bran (200 to 800 mg/grams), nuts, and legumes. They are very active substances whose effects are both positive and negative:
Adverse effects of phytates – These form insoluble compounds of iron, zinc, and calcium, which impede the absorption of these minerals in the intestine. The diminution of bioavailability of minerals due to bran phytates is less significant than what was formerly believable due to the following reasons:
Soaking, heat, fermentation, and sprouting activate an enzyme called phytase, also found in bran from grains. This enzyme hydrolyzes phytates, destroying them so that phytates disappear almost entirely in whole grains.
Vitamin C fosters iron absorption from grains and compensates for the inhibiting effect that phytates may exert.
Positive effects of phytates – Recent research shows that phytates are not as harmful as some nutritionists think. What used to be considered an anti-nutritive factor is a health protector. For an unknown reason, phytates must be present in grains and seeds.
Antioxidant – When phytates combine with iron, which behaves like a free radical of intense oxidizing action, they prevent an excess of this mineral from harming the intestinal lining, becoming a factor of cancerous degeneration.
Anticarcinogenic – Several experiences show that phytates and phytic acid are anticarcinogens, both in vivo and in vitro. This partially explains the cancer-preventive action that whole grains possess.
Summing Up
When cooked, sprouted, or fermented whole grains are consumed (bread, pastries), phytates have no adverse effects on the absorption of iron, zinc, or calcium.
When bran is consumed on its own, without being part of the grain, phytates may persist that have not been rendered inactive by phytase. They may reduce mineral absorption. That is why surpassing 30 grams of bran a day is not advisable.
Pollution – Bran is in contact with the outside and can be contaminated by:
Pesticides.
Heavy metals: Bran contains 7 to 50 times more lead and 3 to 9 times more cadmium than flour.
Aflatoxin-producing molds. Washing or friction and vacuuming grains before they are ground eliminate most molds from the bran.
How to use Bran Correctly
It is preferable to consume bran in its natural state, with the rest of the kernel, as a part of the whole-grain wheat or its derivatives.
In case bran is eaten on its own, we insist that 30 grams (about one ounce) a day is not exceeded. If possible, it should come from biological plantations.
It is better to consume bread and whole grains in which bran is present than to eat bran on its own. In this case, 30 grams (two spoonfuls, about one ounce) a day should not be exceeded.
What is Wheat Germ?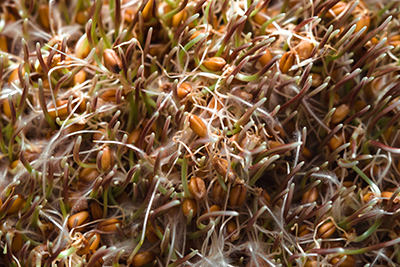 What is wheat germ? Wheat germ is the segment of the grain richest in nutrients and active substances, particularly:
Proteins (23.2 percent) more complete than those of the gluten from the endosperm since they are not lysine-deficient.
Essential fatty acids (9.72 percent), such as linoleic acid and alpha-linolenic acid (omega-3).
Vitamins B1, B2, B6, niacin, and folates.
Vitamin E a powerful antioxidant.
Minerals, particularly phosphorous, magnesium, iron, and trace elements.
Enzymes such as the antioxidant superoxide-dismutase.
Octacosanol – This substance is found in wheat germ and its oil and lower proportions in other seed oils. Its chemical formula is C28h58O. It has been shown to improve fatigue resistance and performance in athletes naturally.
Every hundred grams of wheat germ (approximately ten spoonfuls) covers the RDA (Recommended Daily Allowance) of vitamin B1, folates, vitamin E, phosphorous, and manganese. The standard dose is from two to four spoonfuls with breakfast. Its use is especially recommended in the following cases:
Nervous system disorders require extra B vitamins: asthenia (fatigue), depression, stress, nervousness, etc.
Male and female sterility from gonadal causes since vitamin E promotes sperm production and ovulation.
Hyperlipidemia (increased fats in the blood0, particularly types IIa and IIb. A study by INSERM (the French national institute for health and medical research in Marseille) shows that consumption of 20 to 30 mg of wheat germ a day for four months reduces LDL cholesterol (harmful) by fifteen percent and triglycerides by eleven percent.
Cancer, cardiac disease (heart attack and angina): Because of its antioxidant effect, it halts degenerative cellular processes, aging, and arteriosclerosis.
Diabetes: Doctor Schneider describes the studies of Professor Stepp in which consumption of four or five spoonfuls of wheat germ a day lowers the glucose level of diabetics, even to the point of reducing insulin need. This anti-diabetic effect is attributed to the combined action of vitamin B1 and E, which are abundant in wheat germ.
Whenever there is an increased need for nutrition: Athletes, students under particular intellectual stress, pregnant or lactating women.
REFERENCES
George D. Pamplona-Roger, M.D. "Encyclopedia of Foods and Their Healing Power." George D. Pamplona-Roger, M.D. Encyclopedia of Foods and Their Healing Power. Trans. Annette Melgosa. Vol. 2. Chai Wan: Editorial Safeliz, 2005. 310, 311. Print. [wheat germ vs wheat bran]
Last update on 2023-09-30 / Affiliate links / Images from Amazon Product Advertising API