The many medicinal properties of the common rue plant were already known by Dioscorides (1st century A.D.). It was cultivated in monastery cloisters during the middle ages since it was regarded to have antiaphrodisiac properties. At present, it is still used for several female disorders.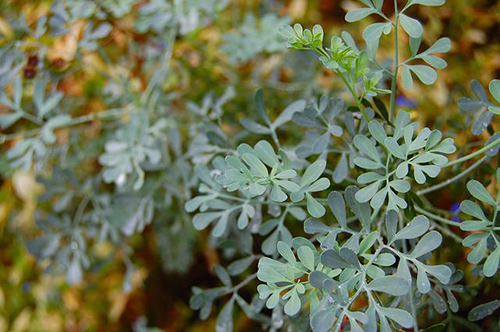 Common Rue Scientific Facts
Scientific Name – Ruta graveolens L.
Other Names – Rue, herb of grace.
French – Rue, peganion.
Spanish – Ruda.
Environment – Native to the Mediterranean countries and Asia Minor, where it grows in dry, rocky soils, it has been cultivated in other warm regions of Europe and America.
Description – Vivacious, herbaceous plant of the Rutaceae family, growing up from 0.6 to 1 m high, with yellow-greenish flowers which gather in umbels. Common rue has a very peculiar intense color.
Parts of the plant used medicinally – The flower clusters.
Healing Properties
Gynecological conditions – Common rue contains an essence rich in methyl-n-nonyl ketone, with vigorous oxytocic activity (it contracts the uterus) and emmenagogue properties. Thus, it is used for amenorrhea (lack of menstruation), once this lack is ascertained not to be caused by pregnancy; and for weak, irregular, or painful menstruation (dysmenorrhea).
Antispasmodic and antiseptic – Common rue essence has both properties and is thus administered to calm colic abdominal pain.
Antihemorrhagic – This plant contains rutin or rhutosid (vitamin P), which increases blood capillary vessels' resistance and can stop some internal hemorrhages. However, the cause of this bleeding must always be determined before taking rue.
Antirheumatic – Externally applied, rue has revulsive properties, and it is used as a compress to calm rheumatic aches.
Skin conditions – Due to its revulsive action, it is recommended for certain skin afflictions: psoriasis, eczema, scabies.
Rue is an excellent antispasmodic herb that can treat bowel cramps, trauma, neuralgia, nervous complaints, and high blood pressure. When used as a warm infusion, it can help with congestion in female organs, nervousness, dizziness, spasms, colic, gas pains, and stomach problems. The plant relieves palpitations in women going through menopause and eases rheumatic and gouty pains.
Rue can also improve digestion and appetite. It can be added to cough medicines, especially when gas and poor digestion is present. It is commonly prescribed as first-aid medication for strained muscles and tendons. In China, they use a rue tincture for rheumatism and sedation. The Chinese also use it to improve metabolism, increase local circulation, and decrease swelling.
If used externally in an infusion, it can help expel worms. Certain types of headaches can be treated by placing a poultice of the herb on the forehead. An application of the fresh bruised herb is an irritant that helps sciatica. It can also promote circulation thanks to its rubefacient properties. (A rubefacient increases blood flow to the surface and increases redness of the skin.) For best results, rub vegetable oil on the problematic area where the poultice will be placed.
WARNING: Avoid taking too much rue at any given time; small, frequent doses are ideal. In the case of overuse, a small amount of goldenseal root can act as an antidote if adverse symptoms develop. Please do not use it during pregnancy because the plant is emmenagogic.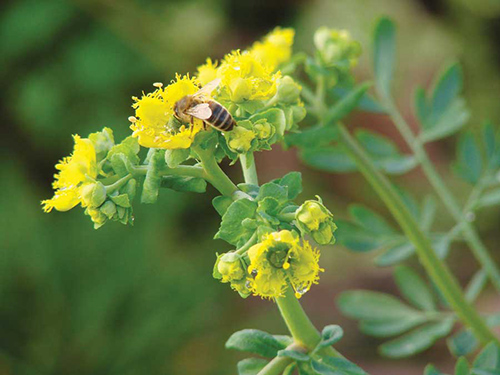 How to use Common Rue
Infusion
Essence
Compresses
Infusion: Steep for five to fifteen minutes and take two ounces three times daily between meals. Tincture: Take five to twenty drops three times daily. Fluid Extract: Take ½ to one teaspoon three times daily. Oil: Take one to five drops three times daily. Powder: Take two to five #0 capsules (10 to 30 grains) three times daily.
REFERENCES
George D. Pamplona-Roger, M.D. "Encyclopedia of Medicinal Plants." George D. Pamplona-Roger, M.D. Encyclopedia of Medicinal Plants. Ed. Francesc X. Gelabert. vols. 2 San Fernando de Henares: Editorial Safeliz, 2000. 637. Print.
Vance Ferrell Harold M. Cherne, M.D. The Natural Remedies Encyclopedia [Book]. – Altamont, TN: Harvestime Books, 2010. – Vol. Seventh Edition: 7: pp. 177.
Last update on 2023-10-01 / Affiliate links / Images from Amazon Product Advertising API